You Can Eat Breakfast For $1 at IKEA. Here Are the Best (and Worst) Things to Order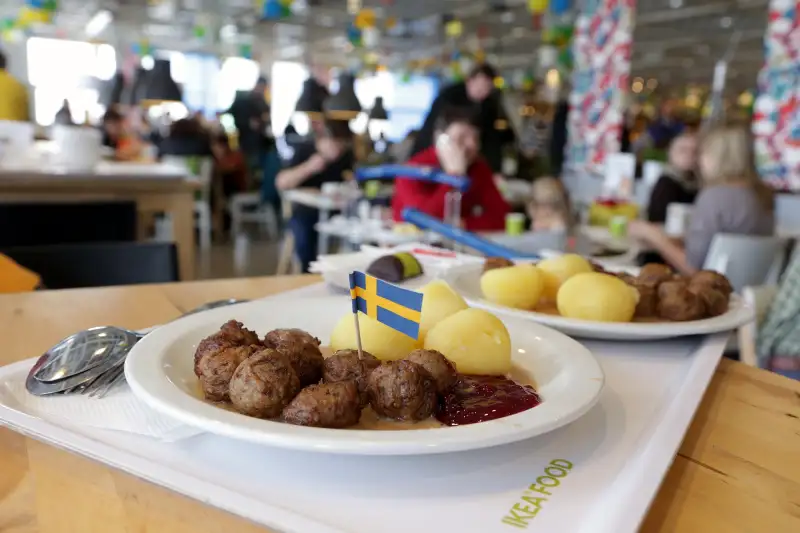 Maxim Shipenkov—Epa/REX/Shutterstock
After browsing and shopping through the seemingly endless floors and departments of an IKEA, it'd be inhuman if you weren't hungry. Over the years, IKEA has become known for its surprisingly delicious offerings at its in-store restaurants, where eating Swedish meatballs, to go along with shopping for minimalist Scandinavian-style furniture, has become a rite of passage. And while the cafe atmosphere and trays may not be glamorous, the prices are hard to beat. We talked to current and former IKEA employees who gave the lowdown on what to get and what to skip.
Value is easy to snag at the IKEA restaurant.
IKEA is ultimately a retail company interested in dominating, well, the entire world of affordable home furnishings. So its cafes are not focused on extracting every possible buck out of customers. "The food at IKEA is sold at the lowest possible prices as the restaurant is really a way to keep people happy while shopping, and so a high profit is not the most important thing," a former employee tells Money. "It's about value for money and being a part of the whole shopping experience." At least you know you aren't getting ripped off.
Meatballs are always the thing to get...
Unsurprisingly, the most popular item in the IKEA restaurant is its order of meatballs, according to the former employee. Diners rave about how much of a bargain and how distinctive it is. IKEA's U.S. website lists the balls with the accoutrements, including mashed potatoes, cream sauce, and lingonberries at $4.99. Try to find that at McDonald's. You can also get some to take home to dazzle your friends with.
...But explore further on repeat visits.
Most people know about the meatballs, but the hot dogs are equally beloved, according to the former employee. And the coffee is of exceptional quality given its pricing, he adds. If you're craving more comforting carbs, don't fret. "Their pizza in the bistro... It's not terrible when in a rush on a quick lunch break," a current employee says.
Noah Seelam—AFP/Getty Images
The seafood is a highlight.
Swedes love their fish. IKEA goes the extra mile to deliver it to Americans at an approachable cost. "I'm a salmon fan," the current employee says. The former staffer wholeheartedly concurs. "At the prices IKEA charges, you get salmon from nurseries with ASC [Aquaculture Stewardship Council] certification." A filet of the pink-hued swimmer with lemon-dill sauce and sides comes to just $6.99.
Don't sleep on breakfast.
IKEA remains committed to serving the first meal of the day for only $1 or €1 internationally. In the U.S., that breakfast includes two sausages, potato, and eggs; members of the free IKEA Family loyalty program always get free coffee, along with discounts on certain meals. "The thought was to give the early shoppers a real deal before they start to shop," the ex-employee says. "The reality has been that it has attracted a lot of people who are in a situation where a €1 breakfast is an essential lifesaver due to their financial situation. IKEA decided to keep on the breakfast because the people who need them now for this may well need IKEA for furniture and other items in the future. It's one of the things that just makes IKEA very special."
Maybe don't dig into the fries.
Hey, if there's something you can rely on inexpensive American fast-food chains for, it's fried potato. Or as the former employee puts it, "I'm not a big fan of fries in general, but I guess that's more of a personal thing!"