10 Big Chain Stores That Will Secretly Match Amazon's Low Prices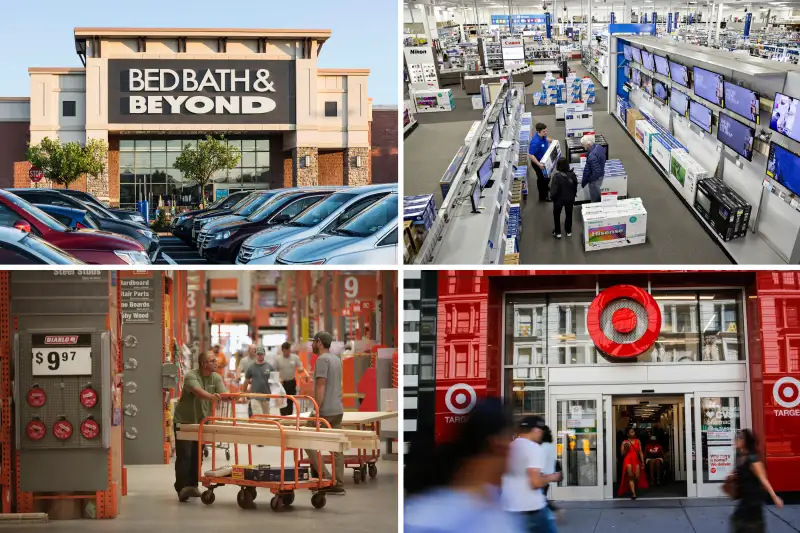 Amazon has dominated retail for a couple simple reasons, among others: It's cheap and convenient. Grabbing an item with free shipping through Amazon Prime and waiting for it to arrive at your home comes with a deep satisfaction. But if you want something that same day, or prefer picking things out in person, you don't necessarily need to fret about missing out on deals.
With Amazon Prime day just around the corner, we rounded up a number of major retailers have price-match policies that extend to products sold by Amazon, even if they don't promote it. From home goods and electronics to a high-end department store, here are shops that will sell you what you want at Amazon prices.
Nordstrom
Among department stores, Nordstrom is famous for its sterling customer service. That includes liberal price matching. If you spot something on its racks that you like, it's worth checking to see if Amazon also carries and ships the product (third parties don't apply) for cheaper. If so, Nordstrom is happy to bring the price down in the store or over the phone.
The Home Depot
Scott Olson—Getty Images.
It's easy to unload quite a bit of money on renovations at The Home Depot. If Amazon itself fulfills and ships what you're looking for more affordably, just ask an employee at a store or contact customer service to match. If you print out the Amazon listing and show it in store, you can get an additional 10% discount.
Lowe's
Ted Shaffrey—AP/REX/Shutterstock.
Lowe's price matching works much the same way as Home Depot's. Items must be identical, but don't need to come from Amazon directly, in order to secure the lower price. The guarantee doesn't apply to certain brands or types of sales.
Best Buy
Daniel Acker—Bloomberg via Getty Images.
The joy of opening a shiny new gadget from Best Buy can't be replaced by click-and-wait purchases—particularly if you're dealing with an eager child. Luckily, Best Buy has a renowned price-match policy ("We won't be beat on price," goes its promise). Though matching is mostly restricted to brick-and-mortar competitors, Amazon is one of the few online retailers with which Best Buy will go head-to-head.
Fry's
Nancy Nehring—Getty Images.
Another electronics chain that aims to be as competitive as possible in pricing, Fry's matches the same items sold by Amazon, among other select online retailers. If the item in question has an applicable Fry's promo code and Amazon still offers it for less, Fry's will throw in an extra 10% discount.
Staples
Justin Sullivan—Getty Images.
Staples is awfully handy when you're out of office supplies and need them immediately. The store matches lower prices on Amazon (and adds a 10% discount) as long as the site is selling and shipping the identical merchandise. Certain sales and categories are excluded.
Bed Bath & Beyond
John Greim—LightRocket via Getty Images.
Bed Bath & Beyond is known for selling basically anything a home needs and putting almost all of it on sale at some point. In addition to the slashed prices, the store will match whatever's on Amazon. The caveat is that the item must be identical in all ways, down to the description and UPC Code, and unfortunately you can't use matching and coupons simultaneously.
Target
Eduardo Munoz Alvarez/VIEWpress—Corbis via Getty Images.
In many ways, Target feels like the physical incarnation of Amazon—a giant store to get lost in and emerge from with things you didn't realize you wanted. Luckily, it will at least maintain Amazon-level spending, so long as the item is the same and in stock on the site. As usual, certain sales and discounts don't apply.
JCPenney
Daniel Acker—Bloomberg via Getty Images.
JCPenney does a little more to ensure that it's delivering optimal prices. It will match prices at any competing physical or online retailer, including Amazon, though third-party sellers don't count. And it will shave off an extra 5%.
Joann
Kristoffer Tripplaar/Sipa USA. J
No doubt trying to fend off the surplus of crafts available on Amazon, Joann both online and in store has a price-match pledge that extends to items on the e-commerce site, as long as they're identical and in stock.