Inside the World's Richest Horse Race — and the Billionaire Family Behind It
Money is not a client of any investment adviser featured on this page. The information provided on this page is for educational purposes only and is not intended as investment advice. Money does not offer advisory services.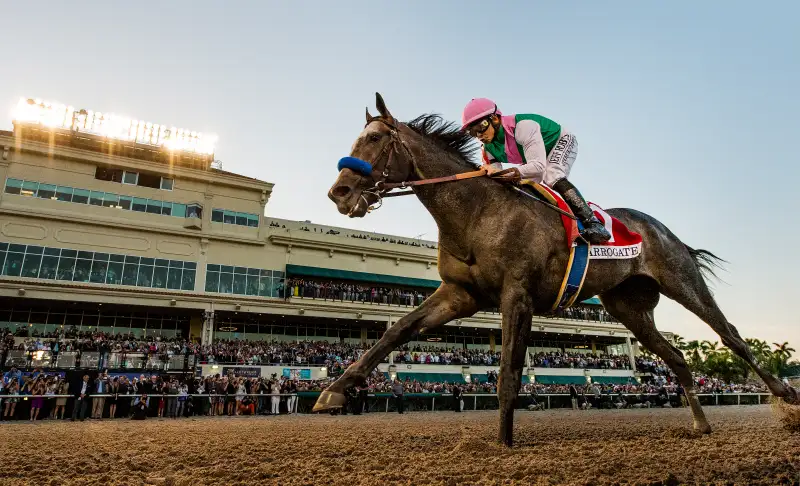 Alex Evers/Eclipse Sportswire—Getty Images
For the average person, horse-racing comes down to just three races: The Kentucky Derby, Preakness, and Belmont Stakes. But this weekend, contenders from around the world will compete in a different contest.
Dubbed the world's richest race, the Pegasus World Cup, set for Jan. 27 at Gulfstream Park in South Florida, has a prize purse worth $16 million—the richest in horse-racing. The entry fee for racers is $1 million.
Compare that purse with the Kentucky Derby's $2 million. And the riches don't stop there.
Cliff Hawkins—Getty Images
Pegasus, now in its second year, will be as much about throwing an exclusive party as it is about the outcome of the race, Belinda Stronach, Stronach Group chairman and organizer of the race, told Money. "We want it to become an event," she said.
Belinda is behind the success of Pegasus, but her accomplishments spread further than the world of horse-racing.
Paul Morigi—Getty Images for The Stronach Gr
In 2002, she made Fortune's list of most powerful women in business for her leadership of Magna International, then North America's fifth largest auto-parts company. During her tenure, the company, which was founded by her father, saw record sales and its stock price doubled. She was also, at the time, the only female CEO of a Fortune Global 500 company based outside the U.S.
Her success in business led to a stint in politics. In 2004, she was named to TIME's 100 Most Influential list as she attempted to become the leader of Canada's Conservative Party. She lost the bid but went on to serve multiple terms in Canada's parliament.
Today, Belinda is charged with keeping The Stronach Group, which oversees the Stronach family's entertainment projects, as a top horse-racing promoter. She plans to do so by making the sport more appealing to a younger, more diverse demographic.
"In today's day and age, it's all about fast, furious excitement," she told Money. "It's the most exciting two minutes of sport, but we want everything else to be fun and exciting. You shouldn't have to be a huge racing fan."
The Pegasus World Cup is an attempt to do just that and to continue the Stronach family legacy.
Belinda took the reins of the family business from her father, a larger-than-life figure who built a fortune from nothing and has subsequently dominated Canadian business for decades.
Jeff Goode—Toronto Star via Getty Images
Frank Stronach was born to a modest family in Austria during World War II, and grew up as Nazis took over the country. After the war, he moved to Canada in his early 20s with scant funds but ambition aplenty, according to Magna Cum Laude: How Frank Stronach Became Canada's Best-Paid Man, a biography by author Wayne Lilley.
Frank took a series of odd jobs and used his savings, a $1,000 line of credit, and an investment from a friend to buy some used equipment to open up a tool and die shop in an abandoned garage in Toronto, Lilley writes. Within a decade, he had turned the shop into a thriving company.
As Frank's business flourished, he began to grow fascinated with horses. He passed by stables on his way to work and bought one from a local farmer when his curiosity finally got the better of him. Not long after, he went to his first horse race. He was instantly hooked, Lilley says.
"Frank discovered that you can make millions of dollars cranking out motor mounts for Chevys and nobody knows who you are," an anonymous colleague told Lilley. "But the owner of a winning horse worth a couple of thousand dollars gets his picture taken and his name in the paper. I think he liked that."
In 1963, he paid $700 for his first thoroughbred racing horse, a yearling named Miss Scooter. He also purchased some farmland and by 1967, he was running a breeding operation.
Frank soon began piling on horse-racing accomplishments, including breeding the first Canadian thoroughbred to win $1 million in stakes money (the horse, Glorious Song, is so legendary that she has her own Wikipedia page).
Today, the breeding operation is one of the leading stallion farms in Ontario (the family also has breeding facilities in Kentucky and Florida). He has won the Eclipse Award—the thoroughbred world's equivalent of an MVP Award—multiple times.
Meanwhile, Frank and his family turned Magna International into a North American industrial powerhouse. Magna became the largest auto parts manufacturer in North America by sales in 2014, a title it still holds today. Frank is one of Canada's wealthiest men, with an estimated net worth of $3.1 billion, according to Canadian Business.
As his wealth climbed, Frank channeled an ever-increasing amount of it into horse racing. In 2016, Frank floated the idea for the world's richest race, which would take place in the doldrums of January. Months later, Stronach Group—led by Belinda—announced Pegasus World Cup, a race observers say only the Stronachs could pull off.
"[Frank Stronach] has always been one to think big," Evan Hammonds, managing editor of Blood Horse magazine, told Money.
There were celebs aplenty at last year's inaugural Pegasus race, including Usher...
Vanessa Hudgens...
Gustavo Caballero—Getty Images for The Stronach Group
Canadian film actress Emmanuelle Chriqui and Czech supermodel Karolína Kurková...
Gustavo Caballero—Getty Images for The Stronach Group
Maria Menounos...
Gustavo Caballero—Getty Images for The Stronach Gr
and UFC champ Conor McGregor.
The track itself has a $30 million bronze pegasus statue that breathes fire.
Ticket sales for Pegasus, which range from $75 to $550, are much more expensive than the Kentucky Derby. But tickets represent only a fraction of where the balance of the purse money will come from. The Stronachs are also banking on pricey concessions, a TV deal with NBC, and, of course, large amounts of wagering—there is a $12,000 buy-in.
That may sound exorbitant, but Belinda says there's already competition from places like Dubai for the richest purse in horse-racing. But she believes Pegasus will continue to prove popular enough to maintain its title as "The World's Richest Race."
At a minimum, it's clear it will be known as the Stronach's race.