Inside the Fabulous Life of Manny the Frenchie, a Beloved Internet Dog Who's Raised Thousands for Charity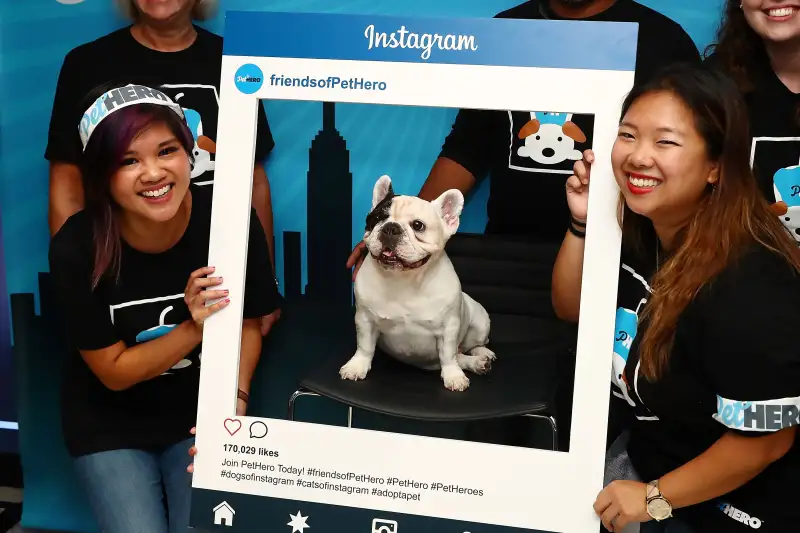 Astrid Stawiarz—Getty Images for PetHero
Wherever Manny the Frenchie goes, a trail of iPhone paparazzi follows.
So far, he's managed to stay grounded. In fact, if the six-year old internet celebrity is fazed by the crowds he draws, he's learned how to play it cool. Case in point: After Manny waddled into the Money newsroom for a recent video shoot, he dozed off on the studio floor, snoring, loudly, within the first 20 minutes.
Despite his laissez-faire attitude, the Chicago pup has about 4 million social media followers — a rapt audience that gets testy if he doesn't regularly appear on their Instagram, Facebook, or Twitter feeds, his owners say.
"People follow him to see what he's doing every single day," says Jon Huang, Manny's dad. "If we don't post, they think something is wrong."
Huang and his girlfriend, Amber Chavez, got Manny as a puppy in 2011. Chavez created an Instagram page for Manny as a joke, and Huang, the president of a marketing agency, took over the account to learn how to use the platform. After Manny started to gain a following, Huang set out to to see how big he could grow the audience.
Six years later, Manny's the (smooshed) face of four-legged entrepreneurship, with dozens of corporate sponsorships (Full disclosure: PetHero, a vet discount service from Money's parent company Time Inc, is among his most recent), and a doting fanbase that includes celebrities like Snoop Dogg and Jason Aldean.
He's got a few trademark moves — Manny babbles for treats ("frenchie talk") and sometimes takes "sink naps" — but for the most part, the French bulldog just ....acts like a dog. And yet, his star power is undeniable: Since 2013, Chavez has been able to work full time as his manager, handling all the merchandising, marketing, and charity work that comes with his budding empire.
This year, the couple launched a nonprofit, "Manny & Friends," an expansion of a fundraising effort that's already used Manny's platform to raise hundreds of thousands of dollars for the ASPCA and other causes. At the time of Manny's studio visit, they were raising funds for hurricane relief efforts.
Manny's fame is still a bit disorienting, Huang and Chavez admit. At home, he's one of five dogs (he puts his pizza sweater on one leg at a time, just like everybody else), but his star continues to rise. Today, the trio can't walk through an airport without a fellow passenger, or a security guard, asking for photos. Recently, when one person on a tour bus recognized Manny, the entire bus pulled over to get a snap.
And then there's Snoop.
"When Snoop Dogg was in Chicago, he invited us to his concert, and his trailer," Huang says. "He was sweet talking Manny, saying, 'Hey Manny I'm the dogfather.' We're standing there, and it's just the weirdest thing."