Inside the Strange and Expensive World of Olympic Torch Collecting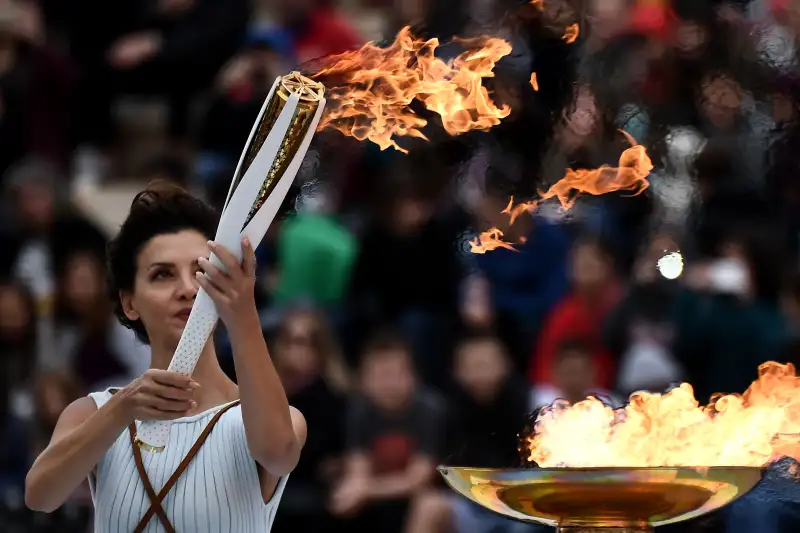 Aris Messinis - AFP/Getty Images
There are allegedly only two collectors in the entire world who own complete Olympic torch collections. Lucky Burke isn't one of them — yet. But he plans to be.
Burke, the 66-year-old CEO of a flooring distribution company in Houston, owns 32 torches and says he needs five more to own one from every single Olympics. The rarest torch he owns cost him $70,000 and is from the 1992 Albertville Winter Games. Though he won't reveal the total value of his collection, saying only that it's "a big number," Burke claims he will never sell it.
He started out collecting other kinds of sports memorabilia, but realized he had stumbled onto something special when he starting buying Olympic torches a decade ago.
"I've got one of the largest vintage collections of sports cards and uniforms around, but when people come to see my memorabilia, they gravitate towards my torches," he said. "They transcend age and politics. Young people don't always know who older baseball players are, but they all know about the Olympics."
Burke says the most significant torches are the ones with the best stories behind them, monetary value aside.
"The 1964 Tokyo torch is my favorite," he said. "Yoshinori Sakai, who was born in Hiroshima on the day the atomic bomb was dropped and is known as the 'Hiroshima Baby,' lit the Olympic flame that year to represent the renewal of Japan."
Other famous figures have also lit Olympic flames — boxer Muhammad Ali lit up the torch at the 1996 Atlanta games. During the torch relay for the Beijing Olympics in 2008, a torch was run up Mt. Everest, and for the 2000 Sydney Games, one of the torches was adapted to stay lit underwater as it was carried over the Great Barrier reef.
When it comes to understanding the market for Olympic torches, Burke breaks it down three categories: The newer torches, which are relatively easy to find and sell for anywhere from $1,500 to $4,500, torches running anywhere from $15,000 to $70,000 — "it's a matter of money and desire at that point," he says — and then the handful of torches that are the most difficult to find, most of which he's never even seen come up at auction and easily go for six figures.
Another factor affecting the value of torches is whether they are from the Winter or Summer Games. Winter Games torches are usually more expensive because there are fewer events than the Summer Olympics, and the torch relays are also usually shorter because of the cold weather, so fewer torches are needed for the runners.
If you're in the market for buying or selling Olympic torches, now is the time to do it, Burke says. Interest peaks for the official flame-holders during years the Olympics are going on, no matter where they are. Official torches from every Olympics in history can be found online anywhere from Sotheby's to eBay. Burke says there's not exactly a community of Olympic torch collectors like there are for other kinds of sports memorabilia — there's no Olympic torch newsletter — so you have to buy them from someone you trust.
Over the years, Burke has purchased most of his torches from Ingrid O'Neil, who owns a Los Angeles-based sports and Olympics memorabilia company.
O'Neil knows more about collecting Olympic torches than almost anyone. She's been running her memorabilia website since 1991 and has held over 82 auctions since. During that time, she says she's sold more than 500 Olympic torches to collectors around the world who are willing to pay top dollar for the torches, which many view as the most recognizable symbol of the games.
But if you're looking to scoop up some rarer, older torches, you may be in for some sticker shock.
In O'Neil's last auction alone, she sold a 1980 Lake Placid winter torch, one of only 52 carried from Virginia to New York, for $50,000, a 1988 Calgary winter torch used in the relay for $35,500 and a 1965 Cortina winter games torch made out of aluminum for $23,500. She also sold a 2018 Pyeongchang winter torch that was used in this year's relay for $4,500, and estimates she has about 15 torches in every auction.
While most collectors prefer torches in pristine condition, some like to buy ones they know have been used in the relays and still have the soot on them to prove it. Most collectors never sell the torches once they get their hands on them, which essentially means you have to wait for someone to pass away for the most unique ones to come on the market again, said O'Neill.
She estimates the world's two complete existing collections are valued somewhere in the low millions up to $5 million, though she can't give an exact figure because the collectors prefer to keep a low profile.
The most expensive torch ever sold is from the 1952 Helsinki Olympic Games, for which only 22 torches total were made, and O'Neil says it sold for around $880,000. But the most expensive torch she ever personally auctioned off? A $412,500 torch from the 1956 Stockholm Equestrian Games, which she said most people don't even realize happened.
"The games were really in Melbourne, Australia that year, but since Australia had quarantine restrictions that were something like six months for horses, they couldn't do those events there," she said. "So all the equestrian events were in Stockholm, Sweden, that year instead."
O'Neil never thought she'd find one of the Stockholm torches — only five were ever made — but that changed with one email.
A man who had gone to Sweden in 1956 as a college exchange student wrote to her and said he was given the torch by his host family, who owned horses, as a souvenir. He left it in a closet in his son's house years later and forgot about it.
"He had to sit down when I told him the estimate was $175,000," said O'Neil. "But it ended up selling for $412,500. It was unbelievable. He was very happy."