An Instagram Ad Tricked Me Into Overpaying for a Bathing Suit. Here's How You Can Avoid Being Duped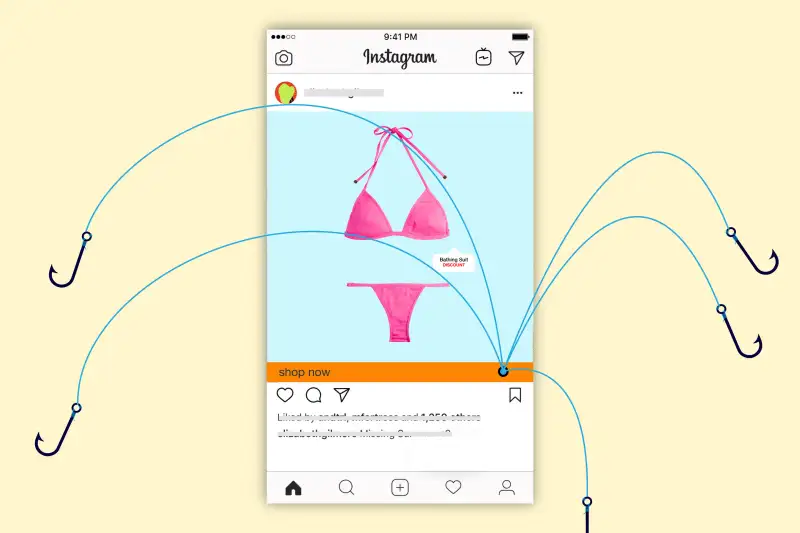 Illustration by Lixia Guo
It was a moment of weakness timed perfectly with a well-placed advertisement — at least that's the short version I tell myself about the time I paid too much for a bathing suit.
On a recent sleepless night, I was scrolling through my Instagram feed, when an ad popped up for a red and white striped two-piece. "Perfect," I thought, fully aware that I was being target marketed because of a Google hole I fell down earlier that day, obsessing over the search phrase "white bathing suit." My bachelorette was fast approaching, there would be a lake and sun involved, and damn it, I needed something pronto.
I had never bought anything off of Instagram before, but this looked promising. It was a women's clothing company called Bisous Wear, and based on its website — which pulled up in the app itself, limiting my ability to x-out and re-open later — the suit I was eyeing was $37, marked down 51% from its usual $75.
A steal, right?
Bleary-eyed and afraid to lose my place or forego this killer bargain, I bought it, returned to my feed, and scrolled down ...only to see that same suit being advertised by a different company. Nervously, I tapped "Shop Now." Another women's clothing store, Zaful.com, was selling my brand new $37-bathing suit for $18.99.
It was the difference of a twenty-dollar bill. Enough to pay for a weekend's worth of s'mores, a tubing excursion down the river, and apparently a second bathing suit from Zaful. I emailed Bisous Wear, vaguely explaining that I'd made a mistake and that I'd like a refund.
"It's only been a few hours," I said. "So I'm hoping this shouldn't be an issue." Here's what I got back:
Thanks for contacting us!
As per policy, orders cannot be canceled once they have been processed and placed, no exceptions.
We can adjust size/color/address if the request is sent within 24 hours of order placement.
We do not offer refunds, we apologize for any inconvenience.
https://bisouswear.com/pages/return-policy
Zaful's return policy, I would soon learn, offers refunds. FULL REFUNDS.
I could see how one could argue that this certainly wasn't the most well-advised decision. But as I sat on my bed at 2:00 a.m. buying things on my cell phone from a platform I had no experience with, I also felt completely and utterly taken advantage of.
I decided to find out what happened that night that made me throw all of my best practices (and senses) out the window.
'Completely Made Up'
"I wouldn't say what you did is irrational," said Americus Reed, Professor of Marketing at the Wharton School of Business at the University of Pennsylvania, drawing me out from my box of shame. "From a behavioral economics perspective, you were responding to the size of the discount, even though the $75 could have been completely made up."
Wait what? Made up?
As I've now learned, it most likely was: On Zaful's site, the bathing suit is currently marked down from an 'original price' of $24.13. But I saw an original price of $75, and that detail — greyed, slashed out, and probably fake — played a two-fold role in my purchasing decision.
First, it presented a facade of scarcity: the idea that if I was this excited by a deal, other people would be too. And if I were to sleep on it, I'd miss out on a great opportunity. It's the same technique that online stores use when they leave a product up on their site even when it's sold out.
"When things are scarce, they're more desirable. So you go get them before they run out," said Reed.
The discount also made sure I didn't feel the need to look anywhere else. Unlike traditional e-commerce websites like Amazon, where sorting and price comparisons would've helped me bypass that particular trickery, products advertised on Instagram aren't sorted by price. In fact, they don't even have the price listed on them — just pretty pictures that I drool over. And by the time I got to the website, that 51% off just drove it home.
"You fell into this mistake because of the linearity of the information search," Reed said, referring to Instagram's feed. "As you get one piece of information, you are coming up with the probability as to whether or not there's a better option out there."
In my case, I simply figured that the chances of finding a discount more drastic than 'half off' were slim to none. I was wrong.
The Cardinal Rule: Shop Around
"Really the only mistake you made was not doing some comparison shopping," said the Better Business Bureau's Katherine Hutt. "But the same thing could happen if you walked into a store."
The major difference, she pointed out, was that when you're shopping in a store, you have a purpose and a goal. Ads like the one I experienced will catch you with your guard down, using any information you've shared elsewhere — like Google searches. Hutt suggests using the blue AdChoices triangles that you see in the corner of ads to prevent tracking.
But Reed's advice is more pointed.
"Don't shop on Instagram," he said. "Do your research, figure out what you want, what's the brand, and then go to a centralized website where you can look at all of the brands and have all the information in front of you [so] you're not in this lottery game."
Beware of 'Masked'
Let's say you find a deal you just can't get out of your head. Both Hutt and Reed advise using well-known review sites like ConsumerAffairs.com or BBB.org. And a quick search on BBB.org showed me that Zaful had a 4.5 star review (although it wasn't "BBB accredited"), while the place I originally bought the suit from, Bisous Wear, didn't even have a page.
That doesn't mean it's a fake — I did ultimately get the bathing suit I asked for, a fact that Hutt explained to me means it isn't categorized as a 'scam.' And Hutt also confirmed that no other BBB complaints had been made about Bisous Wear as far as she could tell. But, based on the website alone, she guessed this was a "dropshipping" store — a website that advertises products for sale that are manufactured somewhere else, like China. When you place your order, they're essentially just re-ordering it, which makes for higher prices.
Companies aren't required to disclose that, so you usually have to look for the signs: curiously long delivery times, an international shipping address ...or the same product being sold in multiple places.
And if you're feeling really investigative, she also suggests checking to see when the domain was registered and whether or not the ownership is public.
"If the website domain registration is masked or private, I would never buy from it," she said.
A store that checks all of those boxes can still wind up making you feel like you just got duped, and in those cases, Reed suggests letting them know — more often than not they won't want to lose your future business. And if they don't care, it means you're not the first sucker and you definitely won't be the last.
"Consumers need to be vigilant, be skeptical, and do their research — but not feel stupid," said Reed.
Worst case, you'll come away from it a humbled person with a new bathing suit.