Instant Pot Could Soon Become an Even Bigger Phenomenon Worldwide. Here's Why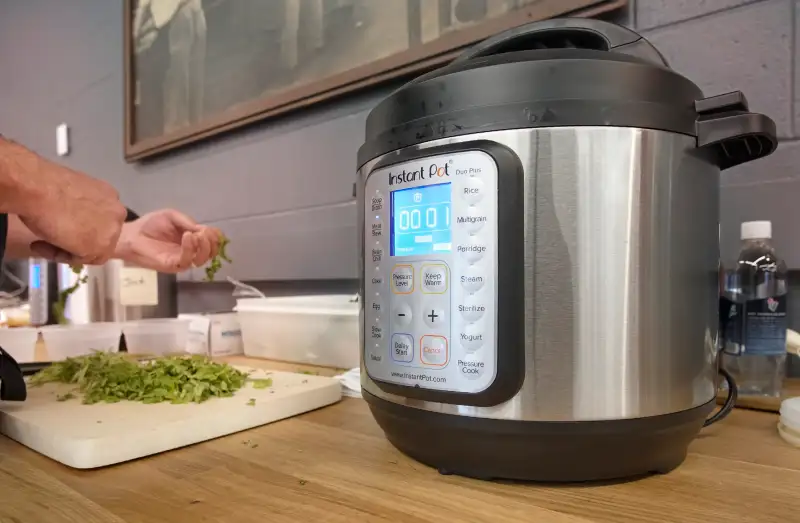 Portland Press Herald—Press Herald via Getty Images
Instant Pot, the cult favorite kitchen gadget that's always a huge seller on Black Friday and Amazon Prime Day, could soon become an even bigger deal around the globe.
The Canadian company that launched the popular Instant Pot line of multi-cookers just announced that it is teaming up with another heavy hitter in the kitchenware space: Corelle, the company behind its flagship brand as well as Pyrex and CorningWare.
Instant Pot parent Instant Brands (formerly named Double Insight) and Cornell Capital LLC, the private equity firm that owns Corelle and its family of brands, said in a press release issued on Monday that they planned to merge. (Financial terms were not disclosed.)
Instant Brands founder and CEO Robert Wang — the computer scientist who made a jump into kitchen appliances because he wanted a more versatile cooking device and wound up with a smash hit on his hands — will remain on board as the combined company's chief innovation officer.
Corelle CEO Ken Wilkes said the Instant Pot is "fundamentally changing how consumers think about cooking" with its innovative designs and product line-up. Instant Brands today has a whole family of Instant Pot products, from its flagship DUO series to the higher-end Instant Pot Plus and Instant Pot Ultra versions, which even includes the high-tech Instant Pot Smart WiFi.
If you can't keep track of all the different versions, or you are wondering which Instant Pot is best, we've got you covered: Check out our explainer here.
What does the merger mean for the Instant Pot's future? It's hard to say for sure, but Instant Brands' Wang teased that there could very well be even more Instant Pot variety and versatility once it is part of a larger company. "Corelle Brands and Cornell Capital will be true partners in supporting our innovation and expanding product development pipeline," Wang said in the press release.
The deal itself is expected to be finalized in the second half of this year. Is it too early to start hoping for a Pyrex-Instant Pot hybrid for Christmas?
We've included affiliate links into this article. Click here to learn what those are.