How Waiting in Line to Buy an iPhone 6 Is Like Burning Man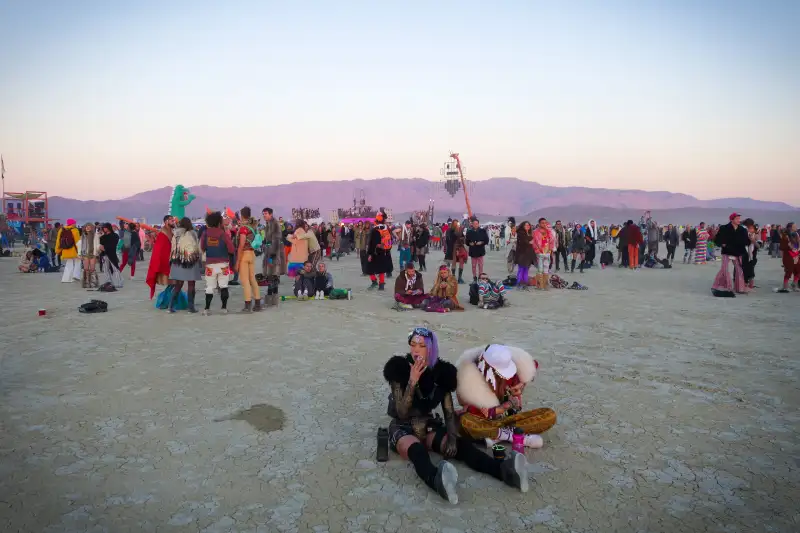 Rumors have been swirling about Apple's iPhone 6 for weeks, and the big public unveiling of the hyped new gadget is set to take place on September 9. The phone itself—which may or may not actually be called the iPhone 6—won't be available for purchase until September 19.
Nonetheless, it's been widely reported that people started camping outside the Apple Store on Manhattan's Fifth Avenue on August 31, 10 days before the new iPhone would be introduced, and nearly three weeks before customers could actually buy one. As Quartz reported, the four individuals waiting in line (a married couple and a pair of cousins who camp out every time there's a new Apple product) are being paid for their time. But the fact that the line—which will surely grow as the purchase date nears—is being used as a marketing ploy by other companies demonstrates just how much of a cultural phenomenon such events have become.
While the rollout of a new Apple gadget is a high-profile, much-mocked example of consumers totally unnecessarily waiting in line, it's hardly the only example. A week ago, more than 200 people waited to be among the first customers inside a newly opened Los Angeles-area Dunkin' Donuts. Consumers have also been known to wait for hours and even sleep overnight just for the right to buy food at new Chick-fil-A and In-N-Out Burger restaurants. They also wait just to shop at Trader Joe's when there's a new one in the neighborhood, and to buy stuff like video game consoles and Nike sneakers when they're new to the marketplace. The lines outside sneaker stores have on occasion been magnets for violence and riots, even shootings thanks to loads of antsy, irritable customers eager to get their hands on the new kicks.
Then there's Black Friday, which in recent years has drawn shoppers to go to such lengths as camping outside Best Buy for two weeks in early winter.
Sure, there are some rewards for such endurance. The first guy in line at the California Dunkin' Donuts (who camped out 30 hours before the doors open) got a free year's worth of coffee, for instance, while the next 99 customers got a swag bag full of DD merchandise. Those waiting in line on Black Friday get access to doorbuster deals that, presumably, folks sleeping in on the day after Thanksgiving miss out on. The fanboys camped outside stores for iPhones and Air Jordans and Play Stations get pride in ownership of the latest models before the masses, as well as the bragging rights that come with that. In cases where merchandise is being sold only in a limited supply (as with Nike), waiting in a gigantic line might be the only option for a fanatic to take possession of the hottest gadget or accessory.
But let's be honest: However cool these rewards seem, they're never worth the tradeoff of sleeping outside on a curb for days. There's just no logic to it. We live in a time, after all, of one-click buying, same-day delivery, online grocery shopping, and startups that deliver quarters for laundry. None of these services would have been created if it wasn't clear that people hate having to wait for pretty much anything. People try to save time at every turn.
So why are so many people willing to waste their time waiting outside a store or restaurant? According to Kit Yarrow, a consumer psychologist, author, and frequent contributor to Money, the willingness of these consumers to wait in line "has nothing to do with the freebies, or buying, or stuff." Instead, people are drawn to participate in what they perceive as a cultural event, with like-minded people.
"It's about human connection," says Yarrow. "It's an excuse to be with other people, to be part of a festival or event. It's basically a mini Burning Man. People with shared values hang out together and have something to talk about."
(Side note: The only woman among the first four people camped outside the Apple Store is named Moon Ray, which sounds just like a pseudonym someone would take on during the course of the hedonistic Burning Man festival that takes place every year at summer's end in the Nevada desert.)
In certain circles, the bragging rights factor is undeniable as well. There is the "allure of being first—it's it's a badge," says Yarrow. "There is a demographic that feels wily and special when they are first or get an elusive item before others."
But first and foremost, Yarrow—who "won't stand in line for anything, ever"—says that the seemingly bizarre line-waiting phenomenon makes sense because it's not really about the stuff people are waiting for. People are there for the experience of waiting itself. They want to be a part of the spectacle, and they want to be able to say that they were there. Sorta like Burning Man.
Interestingly enough, an ongoing subplot to this year's festival was the idea that Burning Man has been ruined by the rich, wealthy tech titans in particular, who have been accused of destroying the creative, capitalism-free spirit of the event by arriving via private jet with cooks and masseuses in tow. Likewise, there are plenty of fans of Nike and Apple that hate the idea of some rich person buying a spot in line or paying someone to wait in line to buy the new Air Jordans or iPhone. Doing so spoils the spirit and camaraderie of the event—which, again, is what the wait is really all about.