Is Your Locksmith Ripping You Off?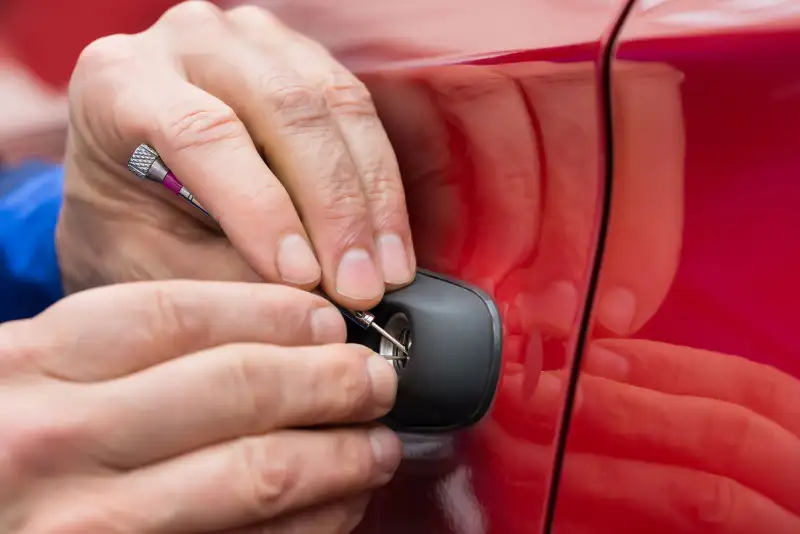 Ask a group of people to describe their memories of paying for a locksmith, and you're likely to hear a series of adjectives along the lines of "too much," "expensive," "hundreds," or "rip off."
Paying to be let back into your own car or house, like coughing up your hard-earned cash on a parking ticket or a water heater replacement, is a special kind of nuisance. But are locksmith prices really so bad?
Professional locksmiths, perhaps unsurprisingly, don't think so. But even the professionals admit that the service is ripe for ripoff artists.
For a typical lockout call, you can expect to pay between roughly $75 to $100, depending on where you live, says Barry Roberts, an attorney in Florida who's done work for the Associated Locksmiths of America. The website Home Advisor, meanwhile, places the range between $95 and $200, based on reviews from about 6,500 users.
It matters, of course, what time the locksmith has to show up. Call in the middle of the night or the weekend, and you'll likely pay more. Chris Olson, president of Hoernel Lock and Key in Kenosha, Wisconsin, charges $30 to pick a lock plus a $70 service call. But he charges time-and-a-half on after-hours calls.
There are roughly 18,000 locksmiths in the U.S., according to the Bureau of Labor Statistics, and they earn a national median salary of about $40,000—hardly the sign of someone who's cashing in at the expense of customers.
Michael Norton, a professor of business administration at Harvard University who specializes in psychology and consumer behavior, has a theory for why you may feel you're being overcharged: to the unacquainted, picking a lock looks easy. Norton's research has found that we value things more if we've made them with our own hands. The same effect holds when we can see the work someone or something has put in to making something for us, whether it's a web site or a freshly mowed lawn.
"When you see people doing work, you feel a sense of reciprocity," Norton says.
In the case of hiring a locksmith, you'd obviously like to get back into your house or car quickly, and you'd prefer it your door wasn't damaged in the process.
But when a locksmith shows up, take out one tool, and quickly picks your lock—in other words, when he or she does exactly as you'd want—you feel like you're being overcharged. With a plumber or an electrician, you can see them fiddling with the pipes or wires. That doesn't happen as often with a skilled locksmith.
"Now he can do that because he's amazing at his job," Norton says. "But you look at it as if he hasn't done any work."
That scenario does sound familiar to Jim Wiedman, a third generation locksmith in Nashville who sits on the board of directors for the Associated Locksmiths of America. If he's quick, customers have asked: $75 for less than a minute of work?
But the opposite has happened, too, Wiedman says laughing. If he's working on a particularly challenging lock and it takes him a few minutes, sometimes the customer quips that they've see locks on TV picked in no time.
All the locksmiths interviewed for this story agreed that clients don't understand the skill and practice the trade requires.
"They think we just sit there at our house waiting for our phone to ring," says Kenny Briggs, owner of Chippewa Valley Lock & Key in Wisconsin. "They have no clue what a locksmith does."
To start, there are some 35,000 different keyholes manufactured. Locksmiths have to be decent with numbers so they can accurately measure the different types of cuts and pins, and they operate expensive specialized tools. Because of the growing number of electronic systems, they can't balk at running wires. The same goes for HVAC systems and smoke detectors for calls to businesses. They also need some automotive knowledge to avoid messing up a car door or ignition.
Olson, of Hoernel Lock and Key, says it takes him at least three years to fully train someone.
So one reason you feel you paid too much is that you don't see the work or appreciate the nuance of the profession.
But there also could be a more nefarious explanation for why you felt like you were overcharged when you called a locksmith: You were ripped off.
Locksmith scam artists are rampant in most urban areas. The scammers manipulate Google adwords so that illegitimate locksmith businesses appear at the top of the search engine. When you're locked out and you pull out your phone to search for a nearby locksmith, if you choose one of the first links to appear, it's likely to be a scammer based out a call center in a different city, says Roberts, the attorney who's worked with the national locksmith group.
You'll get an unrealistically low price on the phone. Then when the the locksmith shows up, he say he has to drill your lock and charge you for a new one—often times a knock off inferior lock. You end up paying hundreds more than the $20 quote you started with. Legitimate locksmiths, on the other hand, should be able to give you a pretty accurate quote on the phone that includes a service charge and labor fee; and they never whip out a drill right off the bat. Using a drill is a last resort.
Nearly every locksmith has anecdotes about customers who've been hit by the scam. In one story, for example, a scammer drilled hole, installed a new lock, then drove off without handing over the keys for the new lock. He tried to charge the client for having to turn around and come back 15 minutes later.
"They've been giving legitimate locksmiths a bad name," says Jim Ashley, who runs Agency One Security Corporation in Indianapolis.
How can you avoid being ripped off? Brian Sinkoff, owner of American Locksmiths LLC in Waukesha, Wisconsin, recommends you look up a locksmith right now. Spend some time researching to find a local company with good reviews. Ask co-workers or friends who they've used. Then save the name and contact info in your phone so you're ready on the below-freezing winter morning when you realize your keys are on your dashboard.
That's a fine plan, except, of course, no one will do it. (Even Sinkoff admits few people will.) Who ever thinks about getting locked out until they're actually locked out?
In reality, you'll probably have to wade through the phony and legitimate ads in real time. For one, don't be fooled by a local phone number or address. Many of the scammers take the address of empty lots, gas stations, or abandoned businesses and claim them as their own. Next, ask what is included in the price quoted on the phone. If it's unclear, that's a red flag. If you're stranded in a commercial area, you can also go into a nearby business and ask if they can recommend a locksmith they've used.
Even if you fallen for the low-price bait, if a locksmith shows up in an unmarked car, or if he can't provide you some kind of identification, especially one for a locksmiths' association, you can decline the service.
"No legitimate locksmith is going to roll a truck for $15 or $20," Ashley, the locksmith from Indianapolis, says. "It's the old cliché: if a deal sounds too good, it probably is."