'Insecure' Creator Issa Rae: How I Made It, From Light Bulb Sales to HBO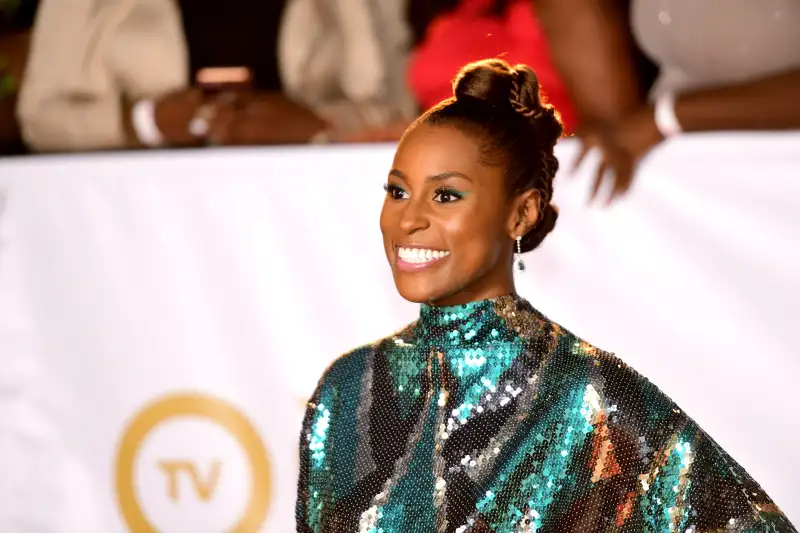 Matt Winkelmeyer—Getty Images
Issa Rae's career sprang, somewhat serendipitously, from the drudgery of office life.
Her 2011 breakout web series The Misadventures of Awkward Black Girl lampooned her experiences punching the clock, and like anyone with a temp job and a side hustle that requires expensive camera equipment, she maxed out her credit cards in the process. But the gamble paid off: The series became an underground sensation, and fans raised more than $50,000 to fund it through it's first season — HBO came calling soon after.
Now Rae is one of the most sought-out names in Hollywood. The 33-year-old writes, produces, and stars in HBO's Insecure, which was picked up for a third season last year. She's also signed on to develop three more projects for the network. Her first major film role, for the screen adaptation of the young adult novel The Hate U Give, is currently in production. And last fall, she became the new face of CoverGirl makeup.
On a recent break from filming, Rae spoke with Money about credit card debt, salary negotiating, and what she refuses to spend her paycheck on.
You used to work in corporate America. What do you remember about that time in your life?
There's an ingrained work culture that doesn't really differ from office to office. So whether I was at a company that sold light bulbs or whatever else, the culture felt very similar. Especially the coworker dynamics, which would simultaneously frustrate me and crack me up.
Wait you used to sell light bulbs? At like, a call center?
No it was a supplier. It was just making sure offices had their specific supplies of lightbulbs. It was a very menial job. It didn't fulfill anybody who was working there.
A lot of your work focuses on the challenges black people face in the workplace. Were you the only person of color at those jobs?
I've been the only one at various jobs. And a lot of our [Insecure] writers have been the only black person, the only woman, the only gay person. There is something so ostracizing and isolating about that. You end up being the spokesperson for all gay people or all black people or all women.
In what way?
You have to assimilate more, or speak on behalf of, or defend. And that further isolates you because people feel like they have to tiptoe around you. Sometimes you're like, I just want to come to work to work. Not to be an advocate or to put whatever I identify as on display.
How much did you spend getting Awkward Black Girl off the ground?
The first episode cost like $5. And the second and third were a couple hundred. The more people that came on, the more elaborate it got, we got into the $1,000 range. That was without being able to pay people. Once we were able to Kickstart, we were finally able to pay people for their services.
In your book The Misadventures of Awkward Black Girl, you recall convincing your dad to help you buy some film equipment, which ended up getting stolen before you started filming your web series. So you must have had to buy the replacement equipment yourself …
Yeah, credit card debt.
How much?
All of my credit cards were maxed out. It was like $10,000.
What was going through your head at the time?
There were definitely moments of despair. Just thinking, "Will I ever get out of this hole? Will I ever make enough money to get out of debt?"
Do you remember how it felt to finally pay it off?
I got completely out of debt the second season of Awkward Black Girl. It was the second time I was able to be debt free. The first time an aunt had passed, and bless her heart, she had left us an inheritance. I used that money to get myself out of debt, and made a vow to myself to never be crippled by debt ever again. So when I ran up a few cards again, I was devastated. This time I knew it was for real.
You've been in the TV industry for a few years now, which means you've probably sat in lots of meetings where you were the only woman, or the only black person, in the room. Do you have any advice for navigating something like salary negotiation when there's an obvious power imbalance?
It's so hard, but now I'm in a position where I have employees. Men have no problem asking for what they're worth, [and] it's changed my attitude. I employ men and women, and on several occasions I've had men approach me with, "I need to be making this," or "is there room for this?" And I'm like, wow, why haven't women approached me, or been as vocal about that? So now I just think, why should I feel ashamed? If I've generally been working hard, and have been an asset to the company, why would I not ask for my worth? If a company does not value you, you don't belong there. And if you don't feel comfortable asking, know that the person next to you does. There shouldn't be anything stopping you.
Your style has evolved since your career took off. Are there other things you're more willing to spend more money on now?
I'm not a big shopper. But I eat at restaurants a lot more, and I travel more. There are certain things that I couldn't do as freely that I embrace now that I can afford it, now that I'm comfortable.
Are there things you refuse to spend money on?
I don't splurge just because. I will never have 17 cars. I will never have expensive jewelry. I don't spend that much on my clothes, or shoes. I will spend money on a stylist, and a makeup artist, because those things feel necessary for work. But material things? No.
Correction: An earlier version of this article stated that a Kickstarter funded Awkward Black Girl for two seasons. It was only one.