Jimmy Kimmel Tearfully Explains Why It's Wrong to Deny Health Coverage for Pre-Existing Conditions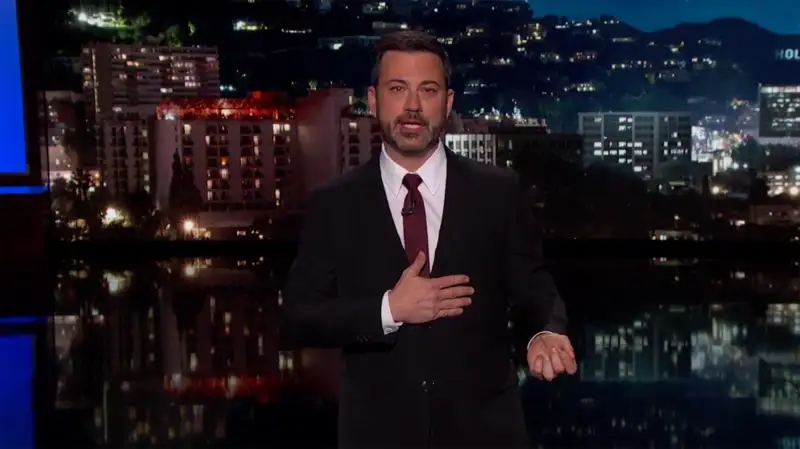 Late night host Jimmy Kimmel and his wife Molly McNearney welcomed their second child last week, a baby boy named William, or Billy. And while the delivery went well, Kimmel said during a monologue Monday night, there were complications soon after.
What followed was a tear-filled speech that ended with a plea for Congress to keep health care protections established by the Affordable Care Act in place for people with pre-existing conditions.
Shortly after Billy's delivery, an attentive nurse "heard a murmur in his heart and noticed he was a bit purple, which is not common," Kimmel said. Doctors soon determined that Billy had a congenital heart condition. He had to be transferred to Children's Hospital Los Angeles to undergo open heart surgery, the first of several he will likely experience.
While Billy is healthy now, Kimmel noted that before 2014—when the ACA went into effect—millions of people in the U.S. were routinely denied health insurance if they had a pre-existing condition (like a congenital heart disease), including millions of children like Billy. The Affordable Care Act bans this practice.
In fact, the ACA's pre-existing conditions provision, which bans insurers from denying sick people coverage or charging them more than healthy people, is one of the most popular aspects of the health care law. A recent poll found 70% of Americans believe states should protect these people.
The latest version of the American Health Care Act, the Republican replacement plan for the ACA, would reverse these protections, though President Donald Trump has vowed they will stay in place. A report from the AARP found scrapping these protections could increase premiums to more than $25,000 per year for people with pre-existing conditions, making it unaffordable for many low-income Americans.
"If your parents didn't have medical insurance, you might not live long enough to even get denied because of a pre-existing condition," Kimmel said. "If your baby is going to die and it doesn't have to, it shouldn't matter how much money you make. I think that's something that whether you're a Republican or a Democrat or something else, we all agree on that, right?"
He also praised the budget agreed on by Democrats and Republicans this past weekend for increasing funding for the National Institute of Health, which researches diseases like Alzheimer's and cancer, by $2 billion for the current fiscal year. Earlier in the year, it was reported that President Trump's initial budget proposal would have slashed funding to the organization by $6 billion.
"Let's stop with the nonsense. This isn't football. There are no teams. We are the team. It's the United States. Don't let their partisan squabbles divide us on something every decent person wants," he said. "We need to take care of each other."
He also asked his audience and viewers to consider donating to the Children's Hospital Los Angeles, which took care of his son.
The hospital relies on private donations and federal funding from the NIH, including tens of millions in grants for cancer research.
"No parent should ever have to decide if they can afford to save their child's life," he said. "It just shouldn't happen. Not here."