How Much Kate Middleton's Custom Red Hospital Dress Would Cost, According to Fashion Experts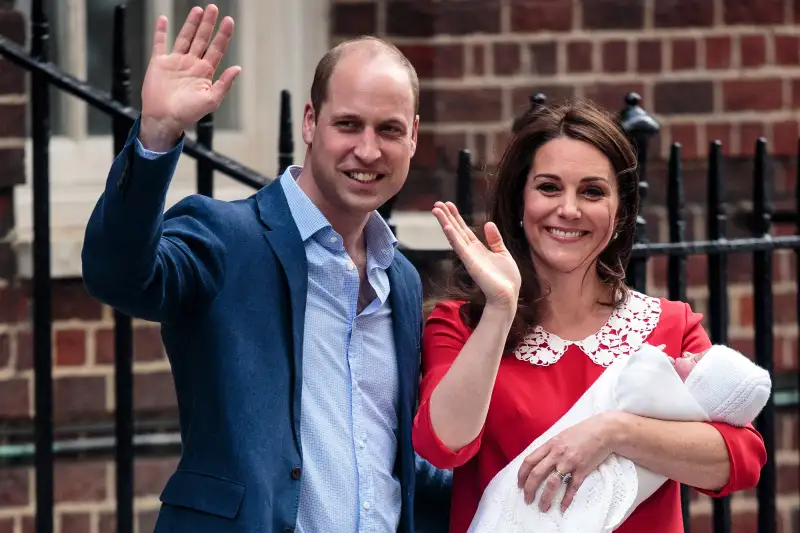 Catherine, the Duchess of Cambridge emerged from the hospital on Monday mere hours after giving birth to the third royal baby, a prince whose name has not yet been announced. And — in keeping with what the British public has come to expect from the not-so-new mom — she looked impossibly flawless.
Kate Middleton wore a custom red dress designed by Jenny Packham as she left the Lindo Wing at St. Mary's Hospital in London, according to Good Housekeeping. The prince may have been the center of attention, but the white lace collar on the dress also caught royal fans' eyes: It was inspired by Kate's late mother-in-law, Princess Diana.
Kate has made a habit of paying homage to Prince William's mom in her post-delivery appearances. In 2013, after she gave birth to Prince George, the duchess wore a light blue polka-dotted dress not unlike the green one Diana wore right after having William in 1982. Her Monday look was also significant, because Princess Diana wore a red dress with a white collar in 1984 after the birth of Prince Harry.
Because Monday's red dress was custom made for Kate, it's hard to say exactly how much it costs. Sarah Boyd, a fashion expert who founded SIMPLY, tells Money that designers "go above and beyond" when they take on high-profile projects like Kate's. If the red Jenny Packham dress was created for a regular customer, Boyd estimates that it could cost "upwards of $2,500 depending on the time and fabric."
Style expert Dawn Del Russo, who founded the brand Bella Dawn, says the price could be even higher.
"We can estimate a price range for a custom dress around $3,000-$7,500 based on her other well-known pieces," she wrote in an email to Money, noting that Maje makes a less-expensive version for $245.
The luxury look went all the way down to her toes. Kate's shoes were Gianvito Rossi pumps, which go for about $675 online.
Mike Marsland—WireImage/Getty Images
However, if you're looking to match Kate's look without spending that much, you're in luck. Boyd says cheaper brands are already probably making copycat dresses so they can capitalize on the buzz.
"Lookalikes will appear for under $100 at many of the fast fashion brands within weeks of Kate wearing it," she added.
That's probably a smart business move. In 2015, after the duchess appeared outside the Lindo Wing wearing a yellow floral dress by — who else? — Jenny Packham and nude shoes, people clamored to match her style. Ebay.co.uk reported a 58 percent increase in the sales of yellow dresses, according to the Independent. Interest in nude high heels skyrocketed by 94 percent.
But if you're really hoping to cut costs, you could always just wear what the yet-to-be-named prince did for his first appearance: this $97 knit shawl from G.H. Hurt & Son.