Here's How Much Money the Kentucky Derby Winner Gets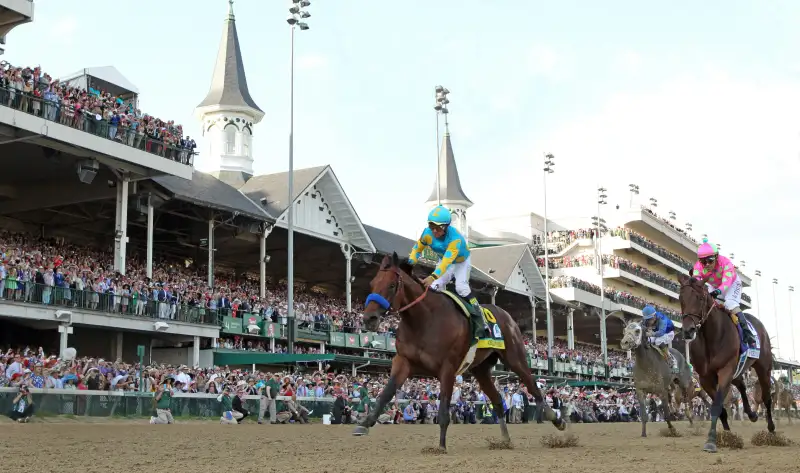 The 2018 Kentucky Derby takes place this Saturday, May 5, with a start time scheduled for a little after 6:30 p.m. ET. If you're wondering how to watch the Kentucky Derby, coverage begins on your local NBC station at 2:30 p.m. ET, and you can stream the Kentucky Derby on the sport-focused service Fubo TV, as well as streaming services like Hulu Live and YouTube TV, which often include NBC channels in their packages.
What's at stake? Well, besides a whole lot of glory, the prize money—otherwise known as the purse—for the Kentucky Derby winner and the other top finishers now comes to a total of roughly $2 million. Meanwhile, it's expected that some $200 million will be bet legally during the course of the big race day.
Those are lofty sums, but the Kentucky Derby is known as a place where money is tossed around freely: The standard mint julep at Churchill Downs costs $11, while a limited-edition version of the cocktail with Woodford Reserve bourbon goes for a cool $1,000.
With the Kentucky Derby now in its 144th year of existence, it's particularly amazing to see how huge—and expensive—the event has become. When the Kentucky Derby was first run in 1875, the event drew about 10,000 spectators. Today, as many as 170,000 fans watch the Kentucky Derby in person, and more than 16 million viewers tune in on TV.
As late as 1938, Kentucky Derby general admission cost just 50 cents. Nowadays, the cost of attending the Kentucky Derby starts at about $75 for a general admission pass, and some premier tickets in the "Millionaires" section sell for upward of $6,000. As you'd imagine, the amounts of money wagered on the race, as well as how much is handed out to Derby winners, has risen steeply over the decades as well.
Here's a look at the prizes paid out to Kentucky Derby winners and jockeys.
How Much Does the Kentucky Derby Winner Get?
In 1913, the Kentucky Derby winner received $5,475. The purse hit $100,000 by the 1950s, increased to $1 million in 1995, and is approximately $2 million today.
Not all of the Kentucky Derby prize money goes to the winner. The purse is split among the top five finishers, with the winner receiving roughly $1.24 million and the four fastest other teams getting between $60,000 and $400,000.
The Kentucky Derby winner's owners can make even more money from stud fees, which accumulate for years after a horse's racing days are over. Take American Pharoah, who won nine out of the 11 races he entered, including the Triple Crown in 2015. American Pharoah brought in total prize money of $8.7 million—and after retiring, he has commanded a $200,000 fee for each healthy foal he sired. The farm that bought American Pharoah's stud rights made more than $20 million in 2016 alone.
How Much Money Does the Jockey Get for Winning the Kentucky Derby?
As a general rule, jockeys get 10% of the prize from races in which their horses win or place. So for the Kentucky Derby, the winning jockey would receive gross pay of roughly $124,000. Of that amount, though, a jockey coughs up about 30% to his agent and valet. Everyone has to pay taxes on this income as well. By the time all of the money is divided up, the net takeaway for the Kentucky Derby's winning jockey is much closer to $50,000 than it is to $100,000.
What's more, many jockeys earn meager wages. A jockey might make as little as $28 to $100 for riding in a race in which the horse does not win or place.
To earn a living, jockeys try to ride in as many races as possible. Even elite jockeys like Victor Espinoza, who rode American Pharoah to the Triple Crown in 2015, ride in multiple races on big days like the Kentucky Derby. And the very top jockeys can make good money: According to Forbes, the five top-earning jockeys in 2015 each grossed more than $1.3 million. Espinoza's gross earnings totaled $1.68 million that year—but he rode in nearly 500 races to reach that sum.
How Much Money Is Bet on the Kentucky Derby?
On Derby Day in 1908, the crowd bet a total of $67,570, including $18,300 on the Derby race itself. In 1984, fans broke the North American record for betting on a single horse race, wagering nearly $19 million on the Derby.
More recently, well over $130 million has been bet each year on the Kentucky Derby race, according to its official history, and total legal wagering for all of the day's races has topped $200 million. Mind you, those figures don't include the vast sums of illegal bets placed on the event.