3 Career Lessons From Kevin Durant's Blockbuster Nike Deal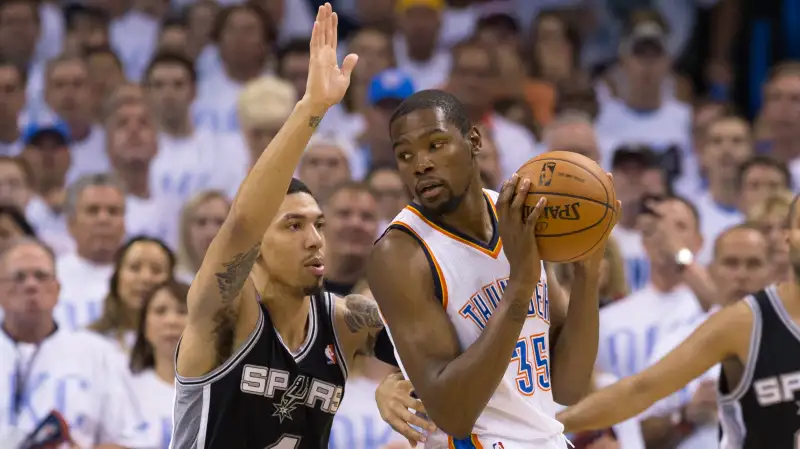 Richard Rowe—NBAE/Getty Images
On Sunday, Kevin Durant celebrated Labor Day weekend by signing a monster endorsement deal with Nike. Various news outlets report the contract could be worth anywhere from $265 million to $300 million over the next decade, and may span 20 years. That's a lot of money, but Durant could very well be worth it. According to the Wall Street Journal, the Oklahoma City Thunder star's shoes are a top seller for Nike, second only to four-time MVP LeBron James's own line of footwear.
More noteworthy than the deal's price alone, however, is that Durant had to make a choice between suitors: Sportswear maker Under Armour also offered him a similarly rich compensation package that Nike—which had the option of matching any competitor's offer—was reportedly forced to top.
Sure, the numbers are astronomical, but Durant faced some of the same issues as ordinary people weighing compensation offers. Here's what you can learn from his decision to stick with the swoosh.
Whether to Accept Cash vs. Stock
The most striking difference between Nike and Under Armour's respective offers is that, according to ESPN, 10% of UA's deal was in company stock. Even assuming the lowest estimates of Durant's deal are true, that would mean Under Armour offered around $26.5 million worth of company shares. UA stock has more than doubled since January 2013 and is up about 90% year-to-date. If Under Armour grows as much in the next half-decade as it did in the previous one, Durant could have earned $300 million in in 5 years from stock alone.
Viewed that way, it seems like the the Thunder player may have picked the wrong offer—but the more lucrative deal also had outsized risk. There is no guarantee that Under Armour will continue its recent growth surge. Worse, Under Armour could falter, and Durant's association with the company could end up hurting his brand. Nike might not offer the same upside as its competitor, but the shoe giant might be a more stable bet in the long run.
What you can learn: Even if you're not an NBA superstar, you may face a similar decision, both when it comes to where you work and how you structure your compensation. Do you want to work for a startup that could be worth billions —or fail—in a few years, or join with an established corporation that is slower growing but more secure? Is it better to get a bigger paycheck or take some compensation in stock options?
Ultimately, it depends on how much risk you're comfortable with taking. In Durant's case, he chose the conservative approach instead of risking it for the highest potential returns.
Join the Leader or Be a Big Fish in a Small Pond?
Had Durant signed with Under Armour, he wouldn't just get a fat paycheck—he would have become the virtual face of the company. Under Armour's only major basketball endorsement is Stephen Curry of the Golden State Warriors. Curry's a good player, but he doesn't have the star power of Durant. Had the OKC forward jumped ship to a new brand, his success would be Under Armour's success, and vice versa.
That's an enticing prospect, but, once again, Under Armour's offer carries more uncertainty. Being the face of a brand sounds nice, it would also put a lot of pressure on Durant to carry the Under Armour torch. Joining Nike, on the other hand, means being associated with the company's other big names: Jordan, James, and Kobe. With colleagues like those, Durant doesn't have to worry about carrying all of the load.
What you can learn: That same thinking applies to your career too. Being "the man" or "the woman" can be exhilarating—or exhausting. Sometimes it's more enjoyable to join a larger organization with other equally skilled colleagues, even if that means less personal prestige.
Play Prospective Employers Off Each Other
Durant also benefited from a bidding war. Before Under Armour entered the picture, Nike was offering Durant roughly $20 million per year. Once Under Armour entered the game, that number shot up to potentially $30 million annually for the first 10 years, and another $50 million over the following decade.
What you can learn: As Durant found, having multiple offers rarely fails to increase your value. If another employer is dangling a higher salary, ask your boss to match it. At worst, you could take the higher offer, and at best, both companies will compete, boosting your pay even further. It's a game you should play carefully, so you don't create bad feelings with either your current employer or potential boss.