Krispy Kreme Is Giving Away 1 Million Free Donuts on Tuesday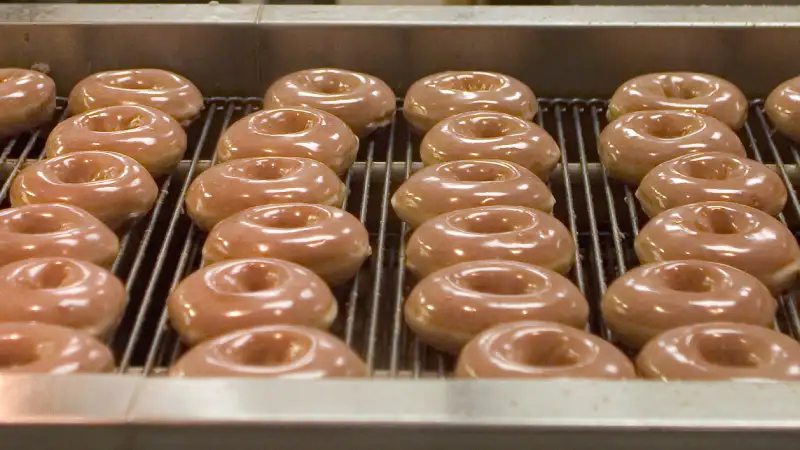 Tuesday is not the deliciously wonderful fake holiday known as National Donut Day (which takes place in June). But it's a pretty good runner up. If you're one of the first 1,000 customers at a participating Krispy Kreme donut shop on Tuesday, you'll be rewarded with one glazed donut, free of charge.
The promotion is being held to celebrate the opening of a new Krispy Kreme location in Kansas City, which will be the donut chain's 1,000th location around the globe. The Kansas City location will open at 6 a.m., and there is sure to be quite a long line well before dawn. That's because the first person in line will get one dozen donuts for free, once a week for a year. The next 99 people in line, meanwhile, receive a dozen free donuts once a month for 12 months. The first 150 folks in line get commemorative T-shirts as well.
Krispy Kreme isn't limiting the celebration to Kansas City, however. The company has 1,000 locations in 24 countries around the world, and all participating stores are giving away 1,000 donuts to the first 1,000 customers. A thousand locations multiplied by 1,000 donuts equals a Dr. Evil-ish 1 million donuts.
The promotion is not valid in grocery stores, and as the Consumerist pointed out, some locations might decide not to participate because of "stingy or joyless managers who chose to not take part." But surely most Krispy Kremes will play along, and collectively they'll give out something close to a cool 1 million donuts. If you want to score your free donut, it's probably best to hit your nearby Krispy Kreme early on Tuesday morning.