Kylie Jenner's 'Rise and Shine' Moment Goes from Meme to $65 Hoodie in Record Time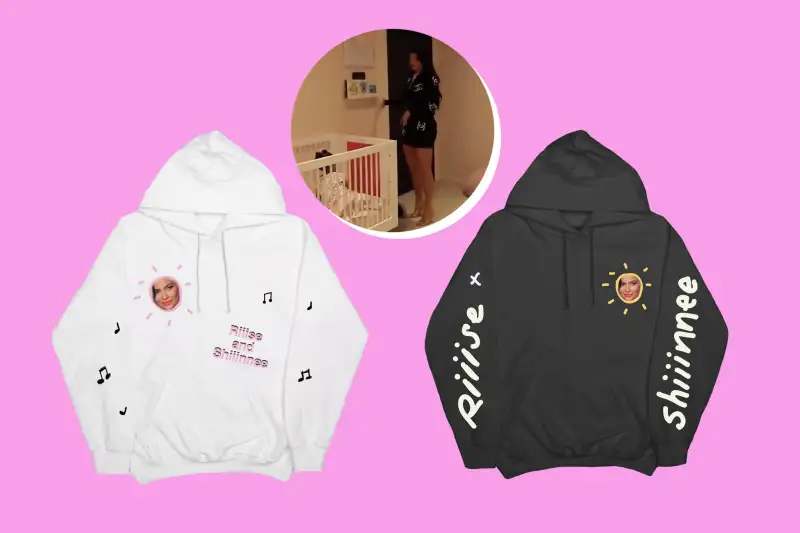 The Kylie Shop / Instagram
Kylie Jenner, never one to turn down a good branding opportunity, has spun a viral social media gaffe into official merchandise.
It started with a YouTube video: Jenner gave a tour of her Kylie Cosmetics headquarters in California, and uploaded it to her official channel. Near the end, Jenner walks into her daughter Stormi's playroom, waking up the toddler with a sing-songy, three-word greeting that set Twitter on fire.
Jenner's very earnest, very "mom" moment went viral on Twitter, and over the last few days, has been passed around TikTok, turned into dozens of remixes, even "covered" by a handful of pop stars. Miley Cyrus and Ariana Grande made their own "rise and shine" videos; Lizzo gave it the flute treatment at a concert appearance in Pasadena, Calif.
Now, if the spirit moves you, you can buy an official "Riiise and Shiiinnee" hoodie from Jenner's online store, The Kylie Shop. It comes in two colors, black and white, and costs $65 (plus shipping).
No matter how you feel about Jenner, you've gotta admire her chutzpah. The 22-year-old reality star-turned beauty mogul got in on the joke early — sharing an Instagram photo of her face photoshopped onto the "baby sun" from Teletubbies late last week, followed by a video of Stormi dancing to one of the remixes.
Branding the moment is another clever bit of PR. Jenner has one of the largest celebrity social media presences around — she's got 149 million followers on Instagram alone, and her online shop has another 1.4 million — so she's sure to make a buck or two. No matter that the hoodies won't ship for another four to five weeks, long after everybody's forgotten about the moment that inspired them.