Last-Minute Summer Child Care: It's Cheap to Pay the Y-M-C-A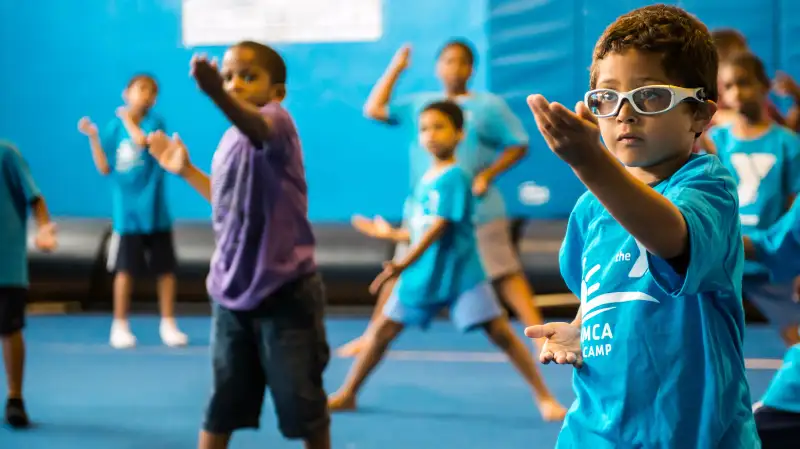 Raymond Liang/courtesy of YMCA
Will the leaders keep track of my kid? What if he wanders from the group? What if he eats a container of glue?
These are all the thoughts that went through my mind the first day that I dropped my two-year-old son off for child care. Nothing could have changed those thoughts. Like most parents, my first priority was finding a safe and caring environment for my child—but second after that, I'm looking for a great value, too.
Luckily, there is a place possibly in your very neighborhood with a reputation for being safe and family-centered, while also offering care at a reasonable cost. That place is the YMCA.
Now before you start singing the song in your head—oops, too late!—consider that in most areas of the country, a full day of YMCA summer camp will run you less than $200 per week. The cost of a week of camp at my local Y here in Atlanta is $132 per week for members and $147 week for nonmembers. When I called a local daycare, they wanted $90 for two half-days of care. While the Y's sticker price already seems low in comparison, keep in mind that there may even be additional discounts if you send multiple kids. Plus, depending upon your income, you may be able to apply for scholarships or financial assistance.
Even better, unlike other camps, these programs are generally available for the duration of the summer. That means you won't find yourself trying to fill in your child's summer calendar a week at a time, jumping all over your city. Between gas and registrations, there is no way that's thrifty.
I have a unique insight into the YMCA's offerings, since back in my college days at UNC Charlotte I worked for the local Y as a camp counselor. Not only was I subject to a background check—something I now like to hear as a parent—but I went through 40 hours of training that included child safety courses and certifications in first aid and CPR. I also liked that the activities at the YMCA program were diverse, allowing campers to engage in swimming, arts and crafts, and sports, among other things. Those experiences shaped my confidence in the YMCA, and now I'm taking my almost-three-year-old to the Y each day and leaving him in that same program.
If you have a YMCA conveniently located near you, check out their available summer programs. Many Y programs are accredited by the American Camp Association, which sets high standards for running camps. You can see if yours is accredited at that organization's website. Then call the Y to find out more about how it selects, checks and trains its staffers.
I think you'll find that the Y provides a safe place to send your child for the summer—filled with fun, physical fitness, and personal growth—and at a great value. For these reasons, I don't hesitate to send my child to a Y-M-C-A. Okay, sing it with me this time...
__________
Kim Anderson lives in Atlanta with her husband, 2-year-old son and beagle Bit. She has written two e-books and loves saving money on everyday necessities, tends to craft usable things and can't function without coffee. Her daily goal is to spread thrifty, creative ideas to others through her blog Thrifty Little Mom.
Watch for other topics this week on affordable last-minute child care:
TUESDAY: Bartering with family and friends
THURSDAY: Finding a good deal on camp
FRIDAY: Negotiating with your boss for flex time