5 Best Ways Men Can #LeanInTogether to Help Women Get Ahead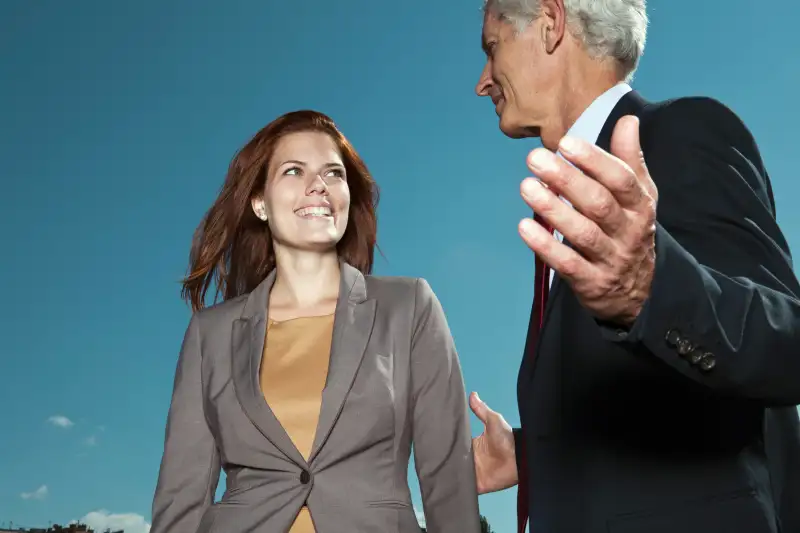 Supporting women in the workplace is just a decent thing for men to do. But there's also a selfish reason for men to care: Helping a woman get ahead on the job can help your career, too.
That's the message from #LeanInTogether, a new campaign from Sheryl Sandberg's women's career empowerment organization LeanIn.org.
Coming on the second anniversary of the launch of Sandberg's Lean In initiative, the campaign makes the case that changing women's roles in the workplace can't happen without a change in behavior from their male colleagues and partners. #LeaninTogether kicked off this week with PSAs from NBA and WNBA stars on ESPN (which has mostly male viewership) and an editorial in The New York Times.
"From stronger marriages and healthier, happier children to better outcomes at work, the benefits of men leaning in for equality are huge," Facebook COO Sandberg and Wharton Professor Adam Grant wrote in the Times.
So, guys, are you ready to lean in together? These are the five best ways to be advocates for women—and indirectly, yourselves—in the workplace.
1. Be a Mentor.
Women often seek out other women as mentors. But research shows that women who also have male mentors get more promotions and make more money than those who have only female advisors.
A study of MBAs by Harvard Business School found having a mentor raised a man's salary an average $9,260 vs. just $661 for women. That's because the mentors for men tend to be male and higher up the corporate ladder (where there are fewer women) than women's mentors, who are more likely to be female.
Offering to mentor an up-and-comer has some kickback for you as well: "Mentoring is a great way to identify future leaders, which can raise your profile," says Anna Beninger from Catalyst, a nonprofit that works to expand opportunities for women in business.
2. Be an Advocate.
Look for ways for female employees to be better seen, heard and recognized, says Kathy Caprino, who runs a women's career success and leadership coaching business.
For example, if you see female colleagues get interrupted in meetings, interject and say you'd like to hear them finish. Openly ask women to contribute to the conversation.
If you manage a team with women, give them chances to lead, present projects and manage others.
Women are less likely to toot their own horns, so help make sure your colleagues get the credit they deserve. So look for opportunities to acknowledge women when their ideas are implemented, both publicly and to higher ups. When you introduce female coworkers, emphasize their accomplishments.
3. Recruit women.
Hiring women can be a good thing for your company. One study found that start-ups that had more women on staff have greater odds of success. For start-ups with five or more females, 61% were successful and only 39% failed.
But know that some of the most promising candidates won't come to you: Men will apply for jobs when they meet 60% of the hiring criteria while women wait until they meet 100%. So go after them, finding qualified candidates using LinkedIn and references.
Also when you see a job listing you think would be a slam dunk for one of your former colleagues, send it to her. She might not otherwise think of herself for it. Consider it good karma.
4. Promote women.
Make sure you're helping to give the women who are already a part of your organization an opportunity to rise.
When it comes to performance reviews, be specific about what constitutes top performance so that both men and women equally know what to do to get ahead. Also get to know your female employees' ambitions and make clear to them what they need to accomplish to get to the next step.
When you think a woman is ready for the next step and you're not in control of the promotion process, tell her manager.
Tell her, too, so that she can advocate for herself. And push back when she says she's "not ready" or "not qualified" for an opportunity—or when others say that about her.
5. Share the office housework.
Changing gender stereotypes about duties isn't just for the home front.
Women often take on more "office housework"—things like taking notes at a meeting, organizing the office parties and training new hires. Those tasks steal valuable time away from core responsibilities and can keep a female colleague from participating fully, says Sandberg.
"The person taking diligent notes in the meeting almost never makes the killer point," she writes on the LeanInTogether website.
Two-thirds of women in Fortune 200 companies are in support roles, but line roles with profit-and-loss responsibility more often lead to senior leadership positions.
Don't fall into the trap of expecting women to take on stereotypical support roles like note taker. Raise your own hand. Not only will you make sure that a woman doesn't get held back, but you may find yourself having new opportunities to collaborate with different coworkers and develop new skills.
Above all, understand that your actions can help set the tone for other men in the office. Be aware of your subtle biases when it comes to gender. You may not realize it about yourself - or others who work with you. "Walk the talk, be a role model," says Caprino.
Read next: 5 Ways Women in Tech Can Beat the Odds
More from Money.com:
5 Signs You Will Become a Millionaire
Check Out the Insane Rewards Offered by this New Credit Card
Graduates of These Colleges Make the Most Money (and It's Not Just the Ivies)