LGBTQ Adults Feel More Shame, Anxiety, and Depression About Their Money Than Their Straight Peers, According to a New Study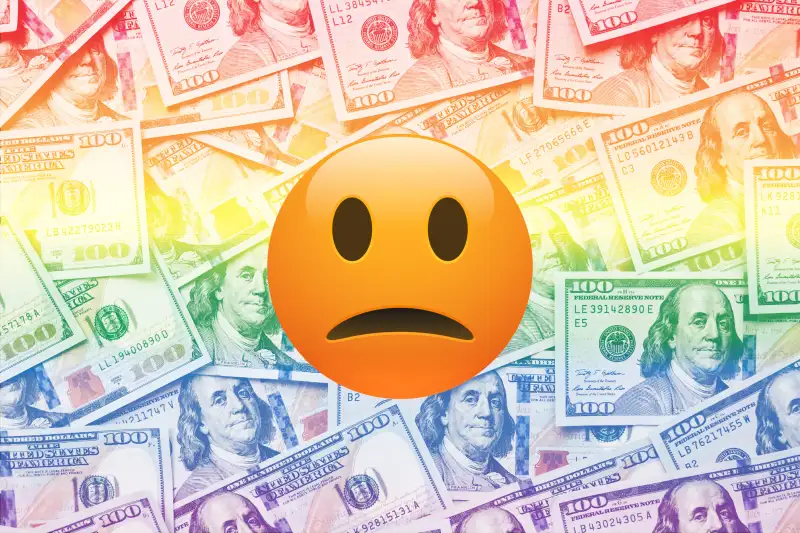 Photo illustration by Sarina Finkelstein for Money; Getty Images (2); Shutterstock (1)
Thinking about personal finances has a way of making people feel unsure and uneasy, no matter their job or social status. But a new survey shows that this is even more prevalent for people in the LGBTQ community.
WNYC Studios' Nancy podcast teamed with Morning Consult and found that more adults in the LGBTQ community felt negative emotions like anxiety, shame, depression, and pessimism towards personal finance than straight adults did. Conversely, fewer felt positive emotions like confidence, control, and excitement.
The survey — which polled over 6,500 U.S. adults, about a tenth of who identified themselves as being part of the LGBTQ community — showed that 15% to 20% of LGBTQ respondents said they were no longer able to rely on family or friends financially after telling them about their sexual orientation or gender identity.
And not because LGBTQ adults are any more prepared than straight adults: 17% of all LGBTQ adults said they knew "not much" or "nothing at all" about managing personal finances, compared to 8% of straight adults. Those numbers were more like 26% and 18% when the respondents were in their 20s, but the disparity between the two groups decreased gradually with age.
The same was true of emotions towards personal finance — the older the respondents got, the more similarity there was between their answers. The chart above shows that 52% of all LGBTQ respondents said they feel anxious about their money at least "some" of the time compared to 41% of straight respondents who said the same.
In the charts below, we see that 10% more LGBTQ adults said they feel anxious about money from ages 18 to 29, but from ages 45 to 54 the numbers are almost equal
By 55, the trend actually reverses, with fewer LGBTQ adults than straight adults feeling anxious, more feeling in control, and so on.
That trend holds true for almost every sentiment, according to the data. And while all of these categories reverted back after age 65, the survey did show that retirement is a tricky time for everyone. When asked if they feel like they're saving enough (or have saved enough) money to live a comfortable life during retirement, 61% of LGBTQ respondents said "No," compared to a similar 59% of straight respondents who said the same.
So what guarantees positive feelings? For both LGBTQ adults and straight adults, the respondents who were most likely to feel "in control" of their personal finances were government employees, made more than $100k, or had a post-graduate degree.
This survey is discussed in great detail on WNYC's Nancy podcast, which is launching a 6-part series "Queer Money Matters" starting this week and running into next. Listen to the first episode here.