'March for Our Lives' Protesters Can Get Free Rides, Food and More This Weekend. Here's the List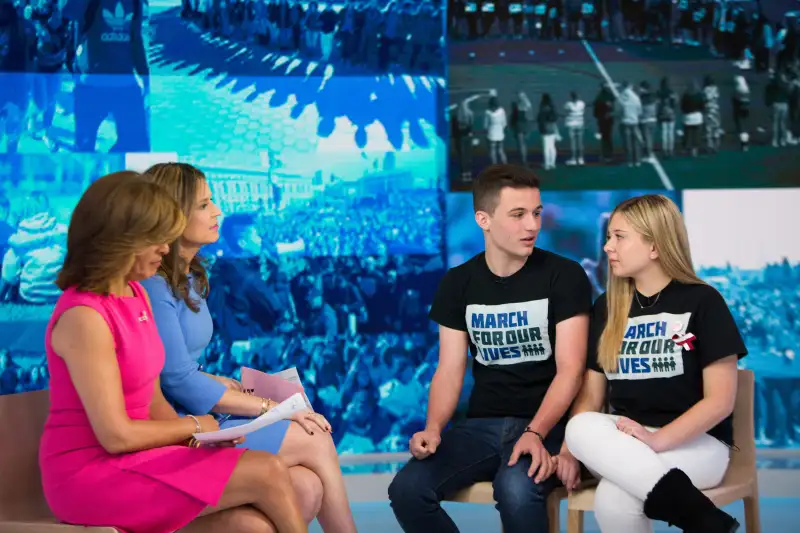 NBC—NBCU Photo Bank via Getty Images
This Saturday, March 24, "March for Our Lives" rallies to end gun violence and school shootings will take place in Washington, D.C., and in cities around the world.
March for Our Lives events are planned in more than 800 locations worldwide—including not just Washington but also New York, San Francisco, London, Tokyo, and more—on Saturday, a little over one month after the February 14 school shooting in Parkland, Florida, that left 17 dead. Student survivors from Marjory Stoneman Douglas High School, where the shooting occurred, will lead the march in Washington, D.C., which is expected to be the biggest of all the demonstrations.
Many businesses and grassroots groups have pledged to support protesters by providing free food, lodging, and rides at the March for Our Lives rallies in Washington and other locations. Here is how they are trying to help the cause with discounts and giveaways to students and other demonstrators.
Free Rides to March for Our Lives Rallies
The rideshare service Lyft has announced that it will give demonstrators free rides to March for Our Lives events all over the country on Saturday, March 24. Lyft is providing free rides worth up to a total $1.5 million to rallies in 50 U.S. cities. To get a free ride, Lyft says that you should RSVP to one of the 50 rallies, and starting on Friday, March 23, Lyft will send out promotional codes for free rides to those who have RSVP'd. Lyft will also post the codes for free rides on Saturday morning at lyft.com/MFOL.
March organizers have also arranged for free buses to help people get to Saturday's demonstrations in cities like Des Moines and Boston, as well as the big national rally in Washington, D.C.
Free Shake Shack Burgers and Sugar Shack Donuts
The Shake Shack location at Union Station in Washington, D.C., is hosting a poster-making session on Friday, March 23, the day before the rally, from 3 p.m. to 5:30 p.m. Poster supplies will be available for free, and participants are welcome to free ShackBurgers during the event.
Also, on Saturday, all high school students under the age of 18 with ID can get a free house donut at the Shaw, Alexandria, and Arlington locations of Sugar Shack Donuts.
Free Food Near the March
Several restaurants near the March for Our Lives route in Washington, D.C., are providing free food to high school students. The Eatwell DC restaurants, including The Bird, Logan Tavern, and The Pig, are handing out bag lunches for free from 10 a.m. to noon, while supplies last. Another distribution point for free bag lunches is Think Food Lab, the restaurant run by food activist and celebrity chef Jose Andres at 701 Pennsylvania Avenue.
50% Student Discounts on Food
In addition to free lunches being donated and distributed on the morning of the March for Our Lives, several restaurants in the nation's capital are giving students 50% off discounts throughout the day.
Students who show ID proving they are under the age of 18 get 50% off their bills from 11 a.m. to 5 p.m. on Saturday, March 24, at Rasa Grill, and at D.C.-area locations of Shake Shack, Beefsteak, Sweet Green, Sugar Shack Donuts, and Cava.
Go to FoodForOurLives.com for more details about participating restaurants.
Free Lodging in Washington, D.C.
As the Washington Post reported, several grassroots organizers are also arranging free places to stay this weekend for out-of-town high school students (who are generally too young to book hotels or Airbnb rentals on their own).
One such group, March for Our Lives Lodging, bills itself simply as "a network of DC metro area moms " that has been working for weeks to connect marchers with local homeowners willing to host them this weekend. A few high schools, colleges, and faith groups in the D.C. area are also hosting out-of-town marchers free of charge, the Post reported.