Marcus Samuelsson Says He Wasn't Paid for His First 3 Jobs. Now He's One of the Top Chefs in the Country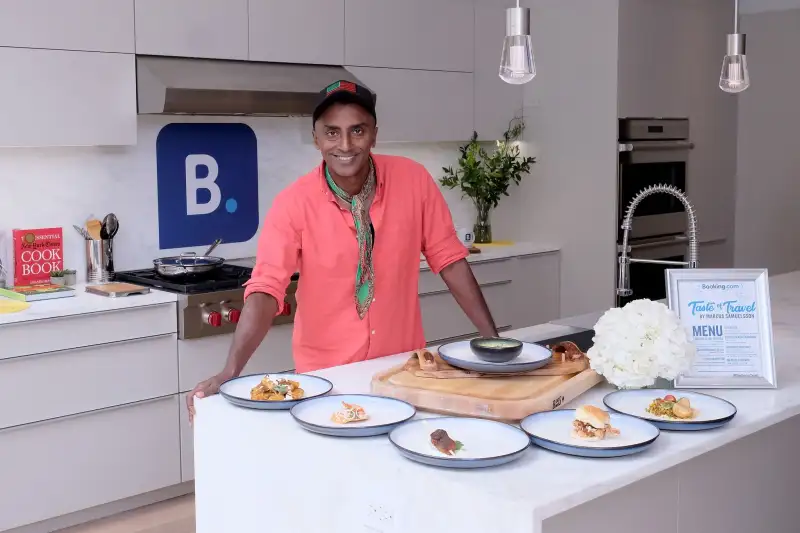 Getty Images for Booking.com
Marcus Samuelsson knows the best meals can cost less than $2 — and be found in auto repair garages in the middle of Mexico.
Though Samuelsson now enjoys celebrity status as a James Beard award winner and through appearances on Iron Chef and Chopped, he was born amid poverty and civil war in Ethiopia. Through the help of his adoptive Swedish parents, Samuelsson immigrated to the U.S. and built a career in restaurants, in part by blending the flavors of his diverse cultural influences — a combination that has enticed even President Barack Obama.
Now, Samuelsson is spotlighting other immigrant experiences across the United States on his new show, No Passport Required (which you can watch for free on PBS and Eater.com). At an event promoting the show, Money sat down to ask Samuelsson about his biggest money mistakes, the immigrant food scene, and how to find the best cheap eats wherever you travel; the following interview has been edited and condensed.
What was your relationship with money when you were growing up?
Even though I grew up in a middle-class family in Sweden, knowing that we came from poverty in Ethiopia, the Ethiopian heritage was always there. My grandparents in Sweden were also very poor, so poverty was something we discussed. Money was something that we had to respect. Also, watching my father go from being a fishing village kid to an entrepreneur and have his own company helped me understand my relationship to money as a teenager. Our house got bigger, we traveled more. When you're 9 to 12, you don't think about it — but as a teenager, I definitely saw that he evolved and he thought about money and us in a responsible sense.
But in the beginning of my career — and still — you can never do something because of money. Cooking, for me, was my passion and I never linked it to money. I just wanted to be really good at it, and trusted that the money would come.
Did you make money mistakes early in your career?
My first three jobs, I didn't get paid. When I was in cooking school, I was working for free in France for a year, I was working for free in Japan. But it was my investment. I had to invest my time.
How did you end up making money during this time?
I worked really hard, working extra jobs, so I could save up money. I did all kinds of odd jobs in between. I took a job in France for a year, and then I took three months where I worked hard to make that up. But I also stayed for free, I ate at the restaurant. You didn't need money. I just couldn't afford to take anybody out. (Laughs.)
What was your first big purchase?
I think my very first thing was buying my own apartment, in the mid-50s on the West Side of New York.
Your show looks at immigrant-owned restaurants. What advice do you have for travelers who want to find an authentic place to eat?
What's great about the show is to have it on a platform like Eater. When you go to a new place it's very hard to find a trusted voice. Since No Passport curates restaurants in specific areas, you can get on your phone when you go to Detroit, or when you go to New Orleans. Those places we feature live on after the show.
What's the best way to do research?
Follow people you trust, and really ask people where to go. Say, "Marcus has been to NOLA, so where did he go?" Maybe ask for advice on Facebook or Instagram: "I'm going to so-and-so, any advice?" I sometimes shoot that out and I get great responses.
You've said you ask your taxi driver about where to go for food. Why?
Always, especially when you travel abroad. If you're in Mexico, some of the best food is always in shops where cars are being fixed. Find out where working people are working, and where they eat lunch.
You're here to promote No Passport Required's Queens episode. What do you think about New York's food scene?
New York is the best food place because of its diversity, because we get that influx of immigrants and tourists and New Yorkers, all pushing up on each other. Queens is an embodiment of that. Queens, for me, is the best place to go for foodies.
Is it better to go to a "cheap eats" place or a high-end restaurant?
You want to do both in life. I've had some of my best meals for under $2, and amazing meals for over $300. Life is limitless; we can wear both shorts and fancy suits.