Meet America's Most Beloved CEO—Too Bad He Just Got Fired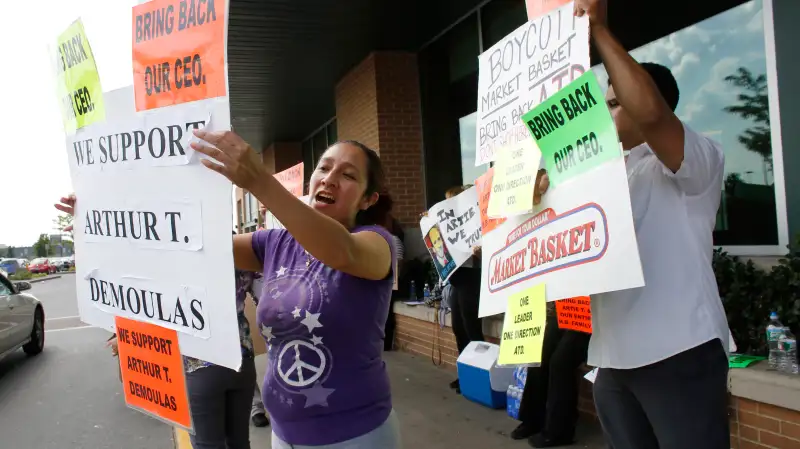 Workers understandably tend to go on strike or protest for selfish reasons—more pay, better benefits, improved working conditions. Over the last week in New England, however, thousands of employees at Market Basket, a supermarket chain with 71 stores in New Hampshire and Massachusetts, have been sticking their necks out (and in some cases putting their jobs on the line) in support of Arthur T. Demoulas, who was the company CEO until he was fired in June.
Rallies pushing for "Arthur T." to be given his job back were held at the Market Basket headquarters in Tewksbury, Mass., on Friday and Monday, drawing upwards of 5,000 protestors. Meanwhile, the shelves of many Market Basket locations have gone barren, as there are too few employees still on the job to stock them. At least eight employees were fired over the weekend related to the protests.
"I have no regrets—I would do it all over again, and I leave the company I love with my head held high in the knowledge that there wasn't a single thing more that I could have done," said Tom Trainor, a Market Basket district manager who was one of the leaders of the protest, and who was fired, according to Boston Magazine. "I knew the risk but I also knew that I was fighting for something much bigger than myself. I was fighting for my family, for Arthur T. Demoulas, a man that I have tremendous respect, loyalty, and admiration for."
In an era overrun with CEO hate and 1% bashing, such comments—and the actions of all those who have put their jobs in jeopardy—are nothing short of astonishing. When CEOs are in the news nowadays, it's often because of things like their astronomical pay packages, or that they've insensitively laid off thousands of employees in a memo.
The backstory of how Arthur T. Demoulas was ousted in June, alongside a pair of other experienced high-level executives for the family-owned company, is a complicated tale. The CEO was fired by a board led, believe it or not, by his cousin, Arthur S. Demoulas. Apparently the family has been feuding about control of the business for years, with the battles for power including tactics that seem like they would only be found in fiction—fake identities, secretly taped meetings, and more.
Amid the struggles for control, it's overwhelmingly clear where employee loyalty lies. Arthur T. was known for treating employees, who were not unionized, particularly well, with good benefits and above-average pay. More important, he was renowned as something exceptionally rare in high-power executive ranks: He's just a good guy. During the rallies, employees spoke often about Arthur T. always having time for his workers, including frequent attendance at their family weddings and funerals.
"He's George Bailey," Trainor explained to the Washington Post, comparing Arthur T. Demoulas to the beloved savings-and-loan manager played by Jimmy Stewart in It's a Wonderful Life. "He cares more about people than he does about money."
That's probably not something they teach in business school. Nonetheless, several academics have been monitoring the Market Basket situation, and they've noted that many lessons can be learned about how the controversy is playing out. Michael Roberto, a management professor at Rhode Island's Bryant University, wrote that "every CEO should wish that his or her employees would stand up so forcefully for them even at great personal risk."
The board that ousted Arthur T. and fired the employees leading protests, on the other hand, seems to have its priorities wrong, and seems tone deaf to how this plays with the public. "The Board has badly miscalculated by firing managers who objected to the CEO's dismissal. It only added fuel to the fire," noted Roberto. They also drastically underestimated the importance of maintaining company values and low employee turnover, Roberto wrote.
Market Basket's current leadership has defended its actions in a few statements released to the media this week. "The individuals who were terminated took significant actions that harmed the company and therefore compromised Market Basket's ability to be there for our customers," read a statement from co-CEOs Felicia Thornton and James Gooch. A later statement urged employees to return to work, according to the Boston Herald:
Nonetheless, the situation appears to be damaging Market Basket's relationship with employees and customers alike, who naturally sympathize with their middle-class peers who have walked off the job to support a beloved good-guy CEO. And one who, Boston columnists have noted, has made sure over the years that groceries are fresh, of good quality, and priced low. As of Wednesday, the Save Market Basket Facebook page, in support of Arthur T., had close to 60,000 Likes, more than double the total one week ago.
"The employees and the customers -- they see themselves as the organization," Daniel Korschum, a marketing professor at Drexel University, explained to the Washington Post. And they therefore feel a sense of ownership and responsibility for Market Basket. "The board and the new CEOs are seen as the outsider. It's the exact opposite of what you usually see."
Risking one's job to save that of your boss, rather than going about your business or even pumping your fist when a high-paid CEO gets canned—that's also the exact opposite of what we expect to see. But under the current circumstances at Market Basket, things make more sense.
"It's been a very difficult time for the hard-working associates of the company this past few weeks," Arthur T. Demoulas said on Monday, after remaining mostly quiet regarding the protests, according to the Boston Globe. He called for the company to rehire the employees who were fired, immediately. "I love these people very much."
Another rally in support of Arthur T. Demoulas is planned for Friday, again at the company headquarters in Tewksbury, Mass.