Marshalls' Online Store Is Finally Live, and Yes, There Are Amazing Deals on Designer Clothing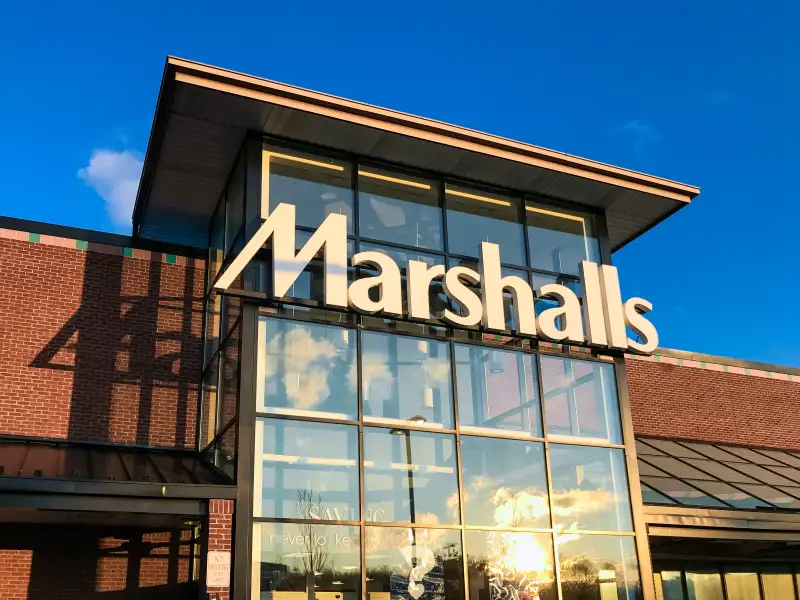 John Greim—LightRocket via Getty Images
Attention Marshalls shoppers: You can finally hunt for deals from the comfort of your home.
In an exciting move for Marshalls fans disappointed by the brand's odd lack of digital presence, the 1,100-store discount retail chain and notable e-commerce holdout launched its first-ever digital shop this week at marshalls.com, the company announced in a press release.
Of course, it's impossible to fully recreate the essence of a Marshalls run — stopping in for some socks or an umbrella, getting distracted by aisles of clothing and knickknacks, and finally reaching the long, winding checkout line with two T-shirts, a vegetable slicer, and some weird crackers — on a website.
But the Marshalls online store gives it a shot. Looking specifically for a marked-down Gucci tote bag, Lucky Brand jeans or UGG slippers? Get ready to scroll. Searching for any one of these products in the toolbar returns the same message: "Some Of Our Brands Can Be A Bit Shy," the website warns. "Try browsing by department instead – you never know what surprises will pop up!"
If you're lucky, you might find some deals exclusive to the website. While Marshalls.com, like the chain's physical stores, is broken down into departments, the website "boasts its own assortment of merchandise," the press release says. "Just as every Marshalls store has a different mix of product, the site will also feature its own unique mix; adding new, brand name, designer and other high-quality pieces every day."
Keep in mind: while the website might carry different goods than your local Marshalls store, it also comes with an extra, less welcome surprise: a $8.99 shipping fee on orders below $89. (Shipping is free right now for Marshalls orders over $89 when you enter the code SHIP89 at checkout.) Anything you buy from Marshalls online can be returned to a local Marshalls store, within 40 days of the order date.
Here are some of the most exciting deals on the website right now, and how Marshalls prices compare with major retailers offering the same or similar items:
Sperry Waterproof Duck Boots
Sperry.com price: $100-$130 (similar items)
Marshalls.com price: $59.99
Fans of Sperry's waterproof boots can find an assortment of marked-down options on Marshalls.com, like these gray duck boots, which appear to be unavailable on Sperry.com.
Yankee Candle Made In USA 22oz Large Storm Watch Candle
Yankee Candle price: $29.50 (similar items)
Marshalls.com price: $14.99
One of the true joys of any brick and mortar Marshalls visit, big jars of discontinued Yankee Candle scents are now available online, too.
Gucci Made In Italy Leather Rajah Large Tote
Gucci.com price: $2,500 (similar items)
Marshalls.com price: $1,999
I'm not here to tell you to spend thousands of dollars on a tote bag — but if you're considering it anyway, Marshalls.com can save you some money. The website is packed with marked-down Gucci products, like the eye-wateringly expensive bag above.
Lucky Brand Bridgette High Waist Skinny Jeans
Lucky Brand price: $59.97-$129 (similar items)
Marshalls.com price: $39.99
While unearthing hundred-dollar discounts from big-name designers can be fun, some of Marshalls' best deals are less obvious, like these significant savings on Lucky Brand jeans.