Mayor Pete Buttigieg Is Raising Millions for His 2020 Campaign. This Map Shows Who's Giving the Most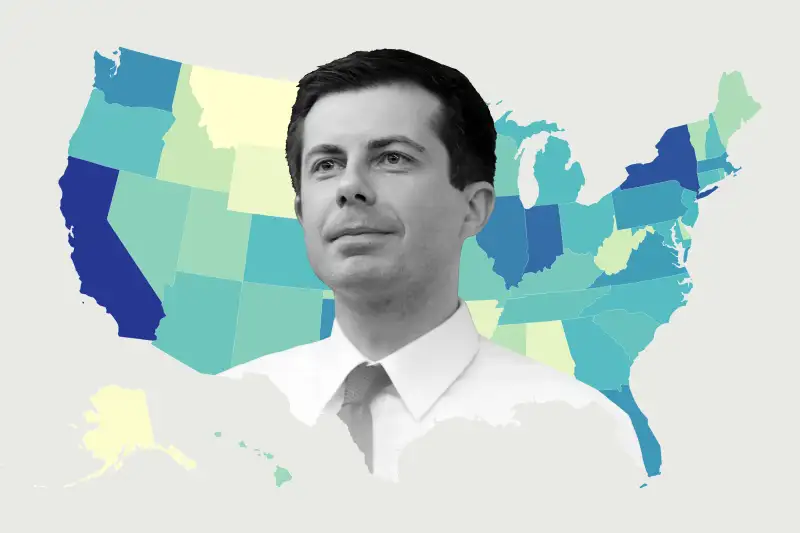 Photo illustration for Money by Sarina Finkelstein; Shutterstock (1)
Democratic presidential candidate Peter "Mayor Pete" Buttigieg is on America's radar, and he has the receipts to prove it.
Currently the Mayor of South Bend, Indiana, "Mayor Pete" announced his candidacy for the 2020 presidential election on Sunday night. His campaign is noteworthy in many ways — he's the first openly gay major presidential candidate and the youngest running candidate on either side. But what's piquing everyone's interest right now is how this small town mayor has raised some major dollars already.
Buttigieg (pronounced "boot-a-judge" or "boot-edge-edge," as husband Chasten Buttigieg so aptly explained) wasn't even on RealClearPolitics' national polls as recently as February 25. He showed up polling at an almost insignificant 0.3, and seven weeks later he's polling at 5.2 — sixth in a race of 15, behind Joe Biden (whose bid is still pending), Bernie Sanders, Beto O'Rourke, Kamala Harris, and Elizabeth Warren.
Those are some big Democratic names he's facing, and yet support for Mayor Pete is undeniable, especially when you look at his campaign financials.
The morning after Buttigieg announced his candidacy, the Federal Exchange Commission released the finance reports for every presidential campaign. They showed that the young politician had raised $7.1 million in contributions since January — far behind some of his primary opponents, sure, but an impressive figure for someone who until two months ago was only known by name in South Bend, Indiana.
Now his supporters extend across the country, and thanks to the $2.5 million in itemized receipts uploaded by the FEC, we can see where some of them are.
Buttigieg raked in the most cash from California and New York, followed by his home state of Indiana, Illinois, D.C., and then Washington — all historically blue states, with the exception of Indiana, which has only voted for one Democrat for president in the last 50 years.
Of course, population plays a big role in these totals. California and New York are home to more Democratic bodies than any other state in the country, and a big state like Texas — the historically red state that brought in almost $100,000 to Buttigieg's campaign — puts smaller, blue states like Rhode Island ($15,000 in cash contributions) at a disadvantage when you compare their contributions side by side.
Looking at dollars donated to Buttigieg per capita (or rather, per person who's old enough to vote) it's safe to say that the northeast is here for the Mayor from South Bend. Washington D.C. soars above the rest with $217 donated to his campaign for every 1,000 of-age people.
Indiana isn't playing around, either. Despite having a smaller Democratic-voting population than California or New York, the Hoosier state has sent more than twice as many dollars per adult to Pete Buttigieg's campaign than either one.
Mayor Pete also raised $7,400 in non-cash contributions and expenditure refunds for things like travel and lodging. But there was one other major source of proceeds: The remaining $4.5 million of his $7.1 million in contributions came entirely from small-dollar donors, which means that 64% of his receipts were thanks to individuals who donated less than $200 to-date. Only Sanders and Warren claim a higher fraction among the Democratic candidates.