Mexicans Are Flooding Across the U.S. Border…for Cheap Gas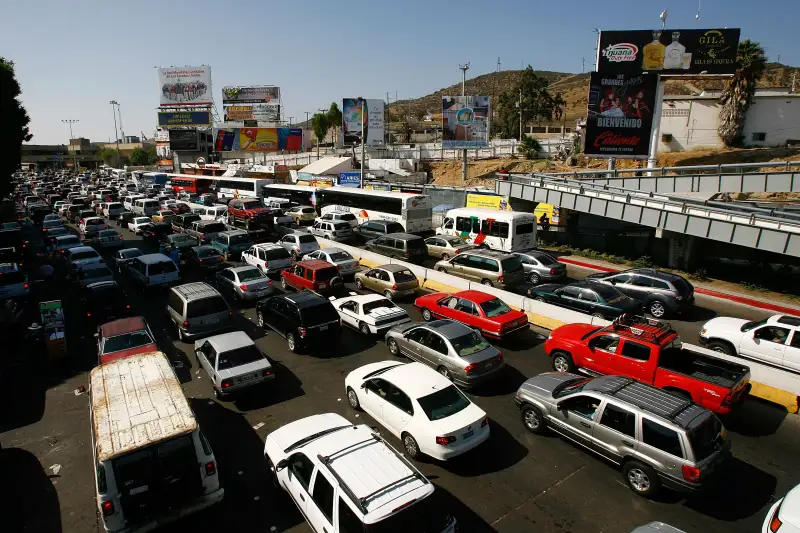 With less than two weeks before President-elect Donald Trump takes office in the White House, there has been a sharp increase in Mexicans streaming over America's southern border. They're not trying to sneak into the U.S. before Trump builds the border wall he's promised, however.
Instead, they're simply driving over to save money by fueling up at America's gas stations. Mexico instituted a price hike of about 20% to gas prices throughout the country at the start of the new year. The sudden price increases led to looting and protests in some parts of Mexico, as well as run-of-the-mill frustration among drivers forced to cope with higher costs for fueling up.
Predictably, many Mexican drivers in border areas have been heading into the U.S. to gas up and save some money, not unlike the way many U.S. citizens over the years have headed south to take advantage of cheaper prescription drug prices in Mexico.
Mexican nationals explained to one TV station in Texas that they'll save 60¢ per gallon by fueling up in Brownsville, Texas, rather than across the border in their hometown of Matamoros, Mexico. Some drivers said that the fuel is higher quality in the U.S. too, and that they're tired of the long waits—sometimes an hour or more—typical at gas stations in Mexico lately.
One gas station owner in the border town of San Luis, Ariz., said he had mixed feelings about the boost in business from Mexican drivers coming into the U.S to fuel up at $2.18 per gallon, rather than $2.78 at home. "If you look at how badly jobs are paid in Mexico, and for gas to be more expensive in Mexico than here, it's ridiculous," he said.
Detouring from Mexico into the U.S. is hardly quick or easy at some border areas. Bloomberg reported that drivers in Mexicali face waits of four to five hours to cross into Calexico, Calif. After fueling up, it's been taking drivers another two hours to cross the border back into Mexico.
Nonetheless, California gas stations near the border have been slammed with business thanks to the influx of Mexican drivers. One station reported as many as 10 cars lined up at time waiting to fuel up. Because of the heightened demand, the gas station has been forced to refill its own tanks once a day, compared to every three or four days normally.
What may seem particularly crazy to most American drivers is the idea that anyone would head to California for cheap gas. The state is infamous for routinely posting gas prices at or near the most expensive in the country. As of Thursday, according to AAA, the average price for a gallon of regular was $2.81, second only to Hawaii ($3.05), and far higher than the U.S. national average ($2.35).