6 Crucial Life (and Money) Lessons I Learned Playing in the World Series of Poker
Money is not a client of any investment adviser featured on this page. The information provided on this page is for educational purposes only and is not intended as investment advice. Money does not offer advisory services.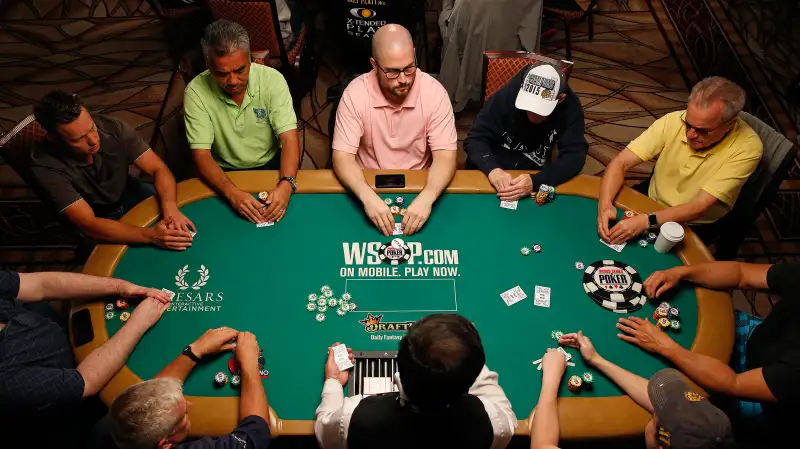 I'm not the kind of person that can't sleep. But at the World Series of Poker last week I found myself up both early and late, a nervous energy stealing my natural sense of calm. That's ok. My adrenaline would sustain me—and this is just one of the things I learned playing in the biggest game of them all.
Much has been written about the life, business, and investing lessons you can learn at a poker table. The game trains you to read body language and spot opportunity; to lose with grace and focus on decisions, not outcomes; to choose battles wisely and be aware of what others see when they look at you.
It's all true, valuable, and widely applicable. I've even suggested that kids take up poker (with age appropriate stakes, of course). It can help youngsters strengthen memory, improve math skills, learn to consider risks, and practice money management. Playing for the first time in the Main Event in Las Vegas, an elimination tournament with more than 6,400 entrants, I discovered still more ways this game teaches success.
Passion is everything Isaac Newton's mother had to remind him to eat because he was so busy discovering the laws of gravity that he might go days forgetting he was hungry. Newton did pretty well for himself. For me, losing sleep to thoughts of strategy and analysis reinforced that I was doing something I find exhilarating. Sleep is important. The mind must rest. But in the short run the thrill of passion more than compensates. Tournament poker is just a game, and because I enjoy it I am consumed by improvement. But the same principle applies in other endeavors. I apply it in my day job too. When you love what you do, you keep doing it better—an important ingredient of success. So do what you love, not what others expect of you.
Nice guys finish last…or first You meet all kinds of people around a poker table. Some yak incessantly and others remain stone faced for hours; some are unassuming and engaging and others snarl and trash talk. None of it matters. What counts is focus. The two nicest guys at my first table went opposite ways, one to an early exit and the other to the next stage as a chip leader. Heck, I'd have a beer with either of them, and both were solid players. The only real difference was that one paid attention to the table all the time; the other only while in a hand. Guess who advanced? In life, career, or at the poker table, the things you learn while others are taking it easy give you an edge. Smiles and snarls are immaterial if you stay focused.
Down is not out In 1997, a little computer company named Apple was floundering, having lost money for 12 consecutive years. But Steve Jobs returned to the company he had founded, struck gold with the iPod and by 2011 Apple had become the most valuable company in the world. At my table on the second day, the guy that started with the fewest chips kept fighting. He didn't panic. He kept his wits. Like Jobs, he never gave up. This player, after hours on the brink, finally began to rake some pots and later advanced deep into the tournament. In any pursuit, you may fail or get bested. So you try again. You are only out when you quit.
Your comfort zone should make you uncomfortable People who challenge themselves tend to rise to the occasion, psychologists have found. Children are fearless. They try anything. That's how they grow. But most adults have tasted enough failure that they tend to avoid difficult situations, which leaves them trapped within personal and professional boundaries. Fear of failure is a powerful obstacle to growth. "There is no learning without some difficulty and fumbling," John Gardner writes in Self-Renewal. "If you want to keep on learning, you must keep on risking failure—all your life. It's as simple as that." At the poker table, you can play safe a long time before your chips run out. But they will run out—unless you get out of your comfort zone and make the occasional bet that scares you half to death.
There is no such thing as house money The economist Richard Thaler pioneered the notion of mental accounting, where individuals treat money gained in different ways with more or less care. You are more likely to spend $20 that you found on the sidewalk than $20 you earned at your job. Why is that? Simple: The money you stumbled into on the sidewalk was found money; you are no worse off when it is gone. Similarly, a gambler on a roll might raise the stakes, reasoning that since he is wagering only money he has won—house money—he can't really lose. And yet $20 is $20, no matter how you got it. When you spend or lose it, you have less money than before and have missed a chance to improve your financial security. The most impressive player at my table on the second day was a guy with a bunch of chips who remained true to his game. Despite his bountiful resources, he kept methodically building a bigger pile, avoiding the trap of taking unnecessary risks with his "house" money.
Sometimes you have to wing it Most information is imperfect. When you invest in a stock, you know what the company has done in the past. You think you understand how it will do in the future. But you cannot be sure. You gather as much information as possible and buy when you sense opportunity. You might be wrong. Warren Buffett bought shares of ConocoPhillips just before oil prices unexpectedly tanked a few years ago and he lost $1 billion. My tournament ended late on the second day—after 21 hours of card playing—when I bet all my chips at a time when, using the best table information I could gather, I sensed opportunity. It turned out the guy to my left was holding two aces and, alas, I had essentially bought ConocoPhillips ahead of plunging oil prices. That really hurt. But I can live with the Buffett comparison.