5 Money Steps Huma Abedin Needs to Take Right Now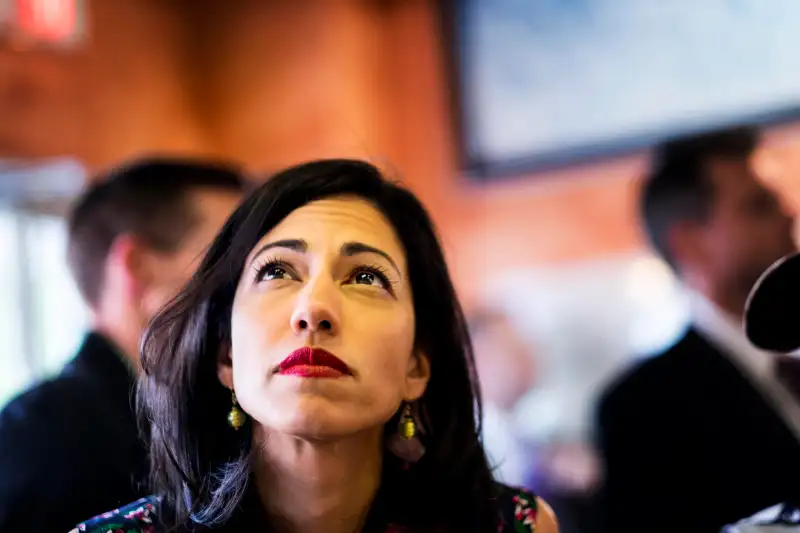 The Washington Post—The Washington Post/Getty Images
On Monday, Huma Abedin had enough. Hillary Clinton's right-hand woman announced that she would leave her husband, disgraced congressman, former aspiring New York City mayor, and serial sexter Anthony Weiner. While divorce is always emotionally fraught, it can be financially devastating as well.
This is what financial advisers say Abedin — or anyone in her position — should think about once they decide to split.
Tally up and verify assets. "Get an inventory of all their assets — pensions, 401(k)s, insurance policies, [and] any real estate holdings they have as a couple," said Zaneilia Harris, certified financial planner, president of Harris & Harris Wealth Management Group, and author of Finance 'n Stilettos. Along with cataloging joint assets and verifying the amounts in each of them, Harris said Abedin would be wise to check her credit report to make sure no new accounts had been opened in her name, and do a little digging to see if Weiner has been hiding more than his online flirtations. "Sometimes if a spouse has kind of checked out of the marriage, they start opening accounts in their name only," she said. "Pay attention to what notifications are coming into the house."
Contact banks, brokerages, and advisers. "Once the decision is made, the first step should be to notify banks and investment managers," said Daryl Patten, senior vice president and financial adviser at Fort Pitt Capital Group. "Notify them and request that written approval from both parties be required if one party would like to remove funds," he said. "That way, it alleviates one person taking all the assets out before things are finalized."
Get a rough idea of the alimony situation. Abedin has pretty much said Weiner has been the stay-at-home parent while she works on Hillary Clinton's campaign. "I don't think I could do it if I didn't have the support system I have, if Anthony wasn't willing to be, essentially, a full-time dad," she told Vogue. That means she probably will have to fork over some of her earnings to her husband, financial advisers say.
Read next: Can I Check My Soon-To-Be-Ex-Husband's Credit While We Are Getting Divorced?
"If you're the primary breadwinner in your household, you need to think about the fact that you're probably going to have to pay him alimony," Harris said.
Make a budget. "Create a spending plan — how much do you spend on various items?" advised Dana Levit, a certified financial planner and principal of Paragon Financial Advisors. "I always recommend starting with the monthly reoccurring expenses," she said, then make sure you've included annual costs like car insurance and taxes.
"We would recommend to her at least to make sure she understands the household budget," Patten said, and does a cash-flow analysis based on what's likely to change. If Abedin gets custody of the couple's son, Jordan, for instance, she'll need to factor childcare expenses into her budget.
Read next: Don't Let Divorce Derail Your Retirement
Start setting aside cash. Even as well-connected and well-compensated as Abedin is (the couple's joint tax return from 2012, which Weiner released during his New York City mayoral bid, showed them as earning nearly half a million dollars that year), experts say it would still behoove her to set aside a cash cushion, because divorce can radically change your cash flow situation. Living in Manhattan isn't cheap — even though tabloids reported that Weiner and Abedin were planning to "downgrade" from a $12,000-a-month apartment to an $8,000-a-month one a couple of years ago.