More Millennials Leave the Driving to a 100-Year-Old Bus Company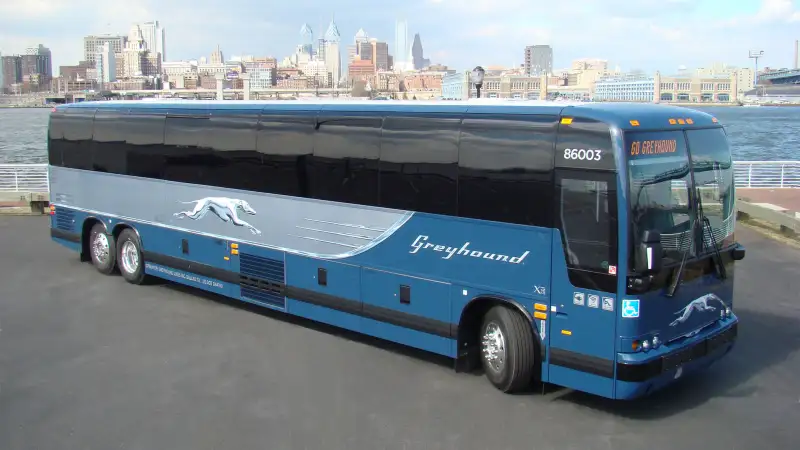 Ten years ago, Greyhound used the occasion of its 90th anniversary to launch a campaign to woo younger customers. A gimmicky "spokesdog" named Friendly was unleashed as a strategy to reach out to college-age riders to take a second look at Greyhound, known primarily among consumers for its "grimly spartan, ill-maintained terminal facilities, road worn vehicles and the general low-end milieu of bus-station culture, a 2004 AdAge story summed up, all of which had "endowed [Greyhound] with a less-than-cool reputation among the younger set."
Friendly may not have made much impact on Greyhound ridership, but apparently a widespread shift to urban living, combined with decreased car ownership—especially among millennials—plus substantial changes over the years made by the company in terms of routes, passenger amenities, buses, and terminals seem to have put it on the right path.
About the time Friendly appeared in Greyhound ads, the company began restructuring its routes to better match up with the needs of the modern-day marketplace. Few travelers would even consider seriously long (coast-to-coast) bus rides, so instead of keeping the focus on being a national network, Greyhound put much more emphasis on better serving urban areas.
In particular, Greyhound positioned itself to be a convenient option for travelers heading in between two cities that are fairly close together—say, within 300 miles or so. At such a distance, one might also probably consider flying, renting a car, or hopping a train. Compared to these options, the trusty old bus has some appeal because it's cheaper, quicker, more convenient, less of a hassle (no TSA checkpoints), or all of the above. It made much more sense for Greyhound to increase nonstop service from New York City to cities like Boston and Baltimore, and from Dallas to Austin and Houston, rather than keep offering abundant multi-stop (read: frustrating seemingly endless) cross-country trips.
"We took miles driven between New York and Los Angeles and put them into New York to Boston, which we do every 45 minutes," David S. Leach, president and CEO of Dallas-based Greyhound, recently told the Dallas Morning News. "We continue to rationalize our miles, putting buses on routes that people want to ride."
Greyhound is a privately held operation, and it wouldn't give up all of its financials to the Morning News, but it did reveal one eye-opening stat: Its broadly expanded Express service, which tends to be used on nonstop city pairings like those mentioned above, produced $121 million in revenue in 2013, compared to just $2 million in 2011. Greyhound also said in light of shifting demographics and living preferences, its "potential prospects" as customers could triple in the near future.
As Fast Company reported, the motivation for many of Greyhound's changes was the realization that more and more people—young people in particular—want to live in cities, and they like the idea of not owning cars. "Times change, [the] country changes. People are moving to big cities," Leach explained to Fast Company.
When Greyhound asked people what they wanted out of a city-to-city bus company, unsurprisingly, many indicated that they of course demanded the basics—including clean, on-time service. But they also wanted tech amenities to make the trip go by quicker, and perhaps even be productive. This translated into outlets for charging devices on buses, as well as wi-fi, which are increasingly standard on Greyhound buses.
Bus fares are cheap too. This is undeniably a big part of the equation. Millennials need affordability at least as much as they need wi-fi. It's not unusual for a rider who has booked in advance to pay under $15 for a one-way journey of a couple hundred miles. As gas prices have spiked and remain high today, even people who own cars are apt to consider hopping Greyhound—or Megabus or another bus competitor—for a ride of four hours or less.
While the fares are cheap, Greyhound has taken many steps so that the overall "Greyhound experience" doesn't feel grungy and cheap. Beyond wi-fi and on-board outlets, Greyhound has refurbished three-quarters of its terminals over the past decade.
In some ways, Greyhound can thank the competition as the impetus for its transformation. Increased competition among bus companies has not only served customers well, with lower fares, better amenities, and more convenient routes, it's arguable that the rise of Megabus and various "Chinatown shuttles" popular among younger travelers has helped reintroduce Greyhound to the college-aged set. Interestingly, a Cleveland Plain Dealer reporter recently took a side-by-side look at Megabus and Greyhound Express on back-to-back rides between Cleveland and Columbus to compare the operations. Among her observations:
As for the rides themselves? They were mostly good:
Well, some things never change.