The 4 Most Expensive Mistakes We Made on Our Cross-Country Move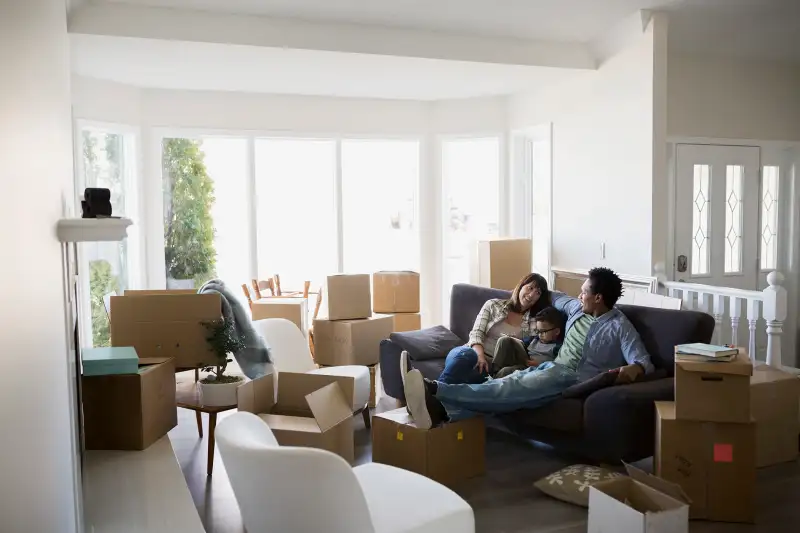 My husband, two kids, and I made a move this year, going from eastern Pennsylvania to Eugene, Ore. Even though a new employer kicked in a chunk of the moving costs, we still racked up plenty of bills.
Some of these costs were unavoidable -- I paid $872 for a piano mover, for instance, to take a baby grand that had been in the family for 60 years to my sister's in Connecticut. But others? An embarrassing number of expenses were a function of either less-than-stellar planning or some irrational clinging to memories of childhood and family members who are no longer with us.
How could we have done better? Mostly by planning ahead. Too late for this move, but here's what we know for next time.
Mistake No. 1: We rushed to find movers.
It took us a long time to decide whether we were going or staying, so once we got around to calling moving companies, it was mid-July -- and we were hoping to leave the last week of August.
As it turns out, that's exactly when everyone else with school-age children was also trying to move. Our delay left us without enough time to do a thorough search for movers -- a few were already booked solid -- and no bargaining power.
Better option: Be flexible on dates, and get multiple bids
Scott Michael, president and CEO of the American Moving & Storage Association, tells people to avoid summer moves completely, if at all possible. You'll get better discounts, and be able to negotiate, if you try to book a move from late September through early May, he says. He also advises against moving during the last week of the month, when movers are busier (because leases end at the end of the month).
More flexibility means more choice, Michael says. "Planning ahead is absolutely critical," Michael says. "You want as much time as you can get to research the companies."
Other tips from AMSA: Get written estimates from at least three movers, and get company representatives to come look at what's in your home to form an accurate idea of what you have. "That's better than a telephone survey or a customer typing inventory into an online form," Michael says.
Mistake No. 2: We're bad packers.
We dropped hundreds of dollars of storage containers and packing supplies -- many of which barely survived the trip. Every weekend, sometimes twice, we'd be heading back to Target, Walmart, or Home Depot to buy 25-quart storage totes -- which, we figured, would be better than cardboard boxes for long-term storage of our stuff.
Buy 10 at a time for $4.99 apiece, throw in a roll of packing tape or bubble wrap, and it adds up quickly -- to the tune of at least $500, according to our receipts. Then we spent day after day in our dusty basement, sorting through old stuff and trying to put together logically organized boxes we could easily unpack at the other end.
As it turns out, those storage totes aren't really meant to survive a cross-country move, especially if you don't fill each one to the top. They all made it to Oregon, but several got crushed en route.
Better option: Consider having movers pack for you
For an hourly rate, your movers will pack everything -- even the garbage, if you don't tell them otherwise.
Rachael Fischer Lyons, director of marketing & business development for Olympia Moving and Storage in the Boston area, says that to pack up a three-bedroom home for a local move, the company would charge $145 per hour to send a crew of three, which would probably require about eight hours. Add in packing supplies of roughly $450 and you're looking at an extra $1,600. (Interstate moves are calculated by weight of the boxes packed, and Fischer Lyons says they don't charge for the packing materials.)
That's more than we spent, of course -- but it doesn't factor in the value of our time. "It takes families so long to pack, because they are looking at and considering their belongings as they pack, trying to decide whether to keep it, and they're browsing books or photos they have not seen in a long time," Fischer Lyons says. "A professional packing crew will take care of the items, but they don't have the sentimental attachment, so they can pack quickly."
We never even got a bid for packing help, but when I think about all those weekends in the basement, well -- I wish we'd spent those days hanging out with East Coast friends instead of stressing over the Christmas decorations.
Mistake No 3: We had too much stuff.
Big moves across state lines are done by weight. The truck is weighed before your stuff goes on and then again afterward, Michael says. So the less you put on the truck, the less you pay.
We did a fair job of getting rid of heavy items, handing off a treadmill to a grateful runner and a snowblower to a family in the Northeast that will use it. But I think we could have done better with books, which add a lot of weight, and kitchen and dining items.
Some of those items might even have been valuable. Back in June, we sent a chunk of never-used-in-14-years wedding gifts to the annual yard sale at our kids' school. But I wasn't nearly as proactive as I should have been, hemming and hawing over every item -- and I didn't put any effort into getting some cash for our goods. By August, when the move was days away, I just wanted everything gone. All I've got to show for it is a fistful of Goodwill receipts.
Better option: Start early and think online auction
One thing I did correctly was to enlist the 70-year-old mom of a friend to sell some more valuable items for me. She's semiretired, has endless energy, and loves the challenge. But I should have given her even more to offload.
You know those items in your attic that your parents always told you were worth something? Give those pieces a close look to see how much they might be worth. In addition to the usual sites, like eBay and Etsy, some services will help with stuff you think might be valuable to collectors. Jennifer Pickett, associate executive director of the National Association of Senior Move Managers, says she points clients to Everything But the House, MaxSold, and Chairish for furniture and heirlooms that you think might be worth more than a year-end tax deduction.
Mistake No. 4: We created too much stress for ourselves.
All that stuff -- both the things we kept and the things we got rid of -- took a toll on us. When you're looking through boxes of old letters and photographs and gifts from people who have passed away, you think you can't get rid of any of it, and it just makes you sad -- so you put the cover back on the box and ship it off to Oregon.
I started to look askance at my husband's collections, which include antique typewriters, a few stadium seats from bygone sports venues, and every Sports Illustrated going back to 1992 and dozens more from the '70s and '80s.
And he didn't feel so great about my bins of letters from high school friends that I didn't read before packing -- and then there's my attachment to a glass cake platter we use maybe three times a year. At a certain point, we just let each other be. Experts aren't kidding when they say it's stressful to move.
Better option: Confront your stuff
Here's the thing about those letters from my high school friends: We've been here about two months now, and they're still in a bin, staring at me every day in our new location. I haven't put them in the basement yet because I swear I'm going to go through them.
Pickett, who is used to dealing with much older clients than us, is adamant on this point: "You've got these things; you've got to deal with them head on."
She suggests you create time for sorting: Make a weekend of it, engage your children and parents so you can share the stories, and then let those old things go. For important memories -- Grandma's teapot collection, say -- take photos and put the grandchildren to work producing a memory book. "It's okay to part with the possession without parting with the memory," Pickett says.
There's nothing scientific about what to keep and what to toss. But she suggests a few questions that can help:
Will you actually miss it if you get rid of it?

Are you keeping something because you want it, or because you feel guilty that it came from someone who has died?

Would the person who gave it to you want you to feel guilty if you don't want it anymore?

Can you keep the note and get rid of the object?
Finally, Pickett says, put the things you treasure on display. That note from your late grandfather belongs framed, on your desk or on your wall, so you see it every day -- not in the bottom of a $4.99 storage crate with an ill-fitting lid.