7 Smart Ways to Cut Your Moving Costs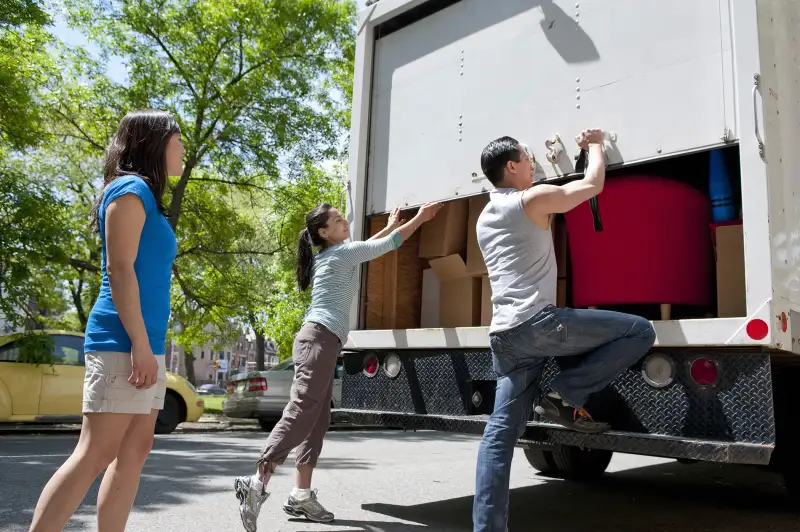 Yellow Dog Productions—Getty Images
June to August is peak moving season, since most families want to relocate when their children are out of school. And for many families, a relocation can be expensive. The average professional move costs a whopping $12,230, according Worldwide ERC, an association that tracks mobility costs. (Moving can also be stressful: One study in Europe of 2,000 adults found that moving triggers more anxiety than even bankruptcy or divorce.)
If you're relocating for a job, you can ask your employer to foot the bill. But if you need to pay your own way, follow these tips to make moving less painful.
1. Unload First
Many movers charge by the hour -- so by lightening your load before you move, you'll shave money off your bill by reducing how long it takes for them to get the job done.
Need help doing a purge? To see where you'll need to free up space, start by comparing the floor plan of your new home to that of your current home, says professional organizer Regina Leeds, author of Rightsize … Right Now!: The 8-Week Plan to Organize, Declutter, and Make Any Move Stress-Free. If you're losing closet space, for instance, focus on downsizing your wardrobe. Moving to a smaller kitchen? Say goodbye to that waffle iron you haven't used in years. (And keep receipts if you donate what you don't need; you could wind up with a nice tax break.)
2. Pack Small Items Yourself
This is another way to reduce how long the move will take. For unbreakable goods such as books, DVDs, and linens, Leeds recommends packing them yourself. Wrap everything in packing paper ($6 at Home Depot) rather than newspaper -- this is a place where short-term savings could end up costing you, she says: "You don't want ink bleeding into your possessions."
For fragile items like glasswares, china, and artwork, Leeds says it's best to let the movers do the packing. "You want to ensure everything gets there in one piece," she says.
3. Shop Around
By all means, get mover recommendations from your social circle or your real estate agent, but be sure to vet at least three before deciding whom you want to hire. To get an apples-to-apples comparison, set aside the time to get in-home estimates from each mover, advises Nancy Nolan, a real estate agent who specializes in downsizing at Pacific Coast Realty in Santa Barbara, Calif.
Look at more than just price: "Ask how many men they're going to send the day of the move," says Nolan. "If you're paying by the hour, you'll save money if you have three movers instead of two." Granted, you'll have more men to tip ($20 per person is reasonable) -- but if the hourly rates are comparable, you'll probably come out ahead.
4. Adjust Your Timing
Since there's more demand for movers on the weekend, companies typically charge less for a weekday move, says Scott Michael, president and CEO at American Moving & Storage Association. Be sure to ask if they'll give you a break for taking an off-peak time slot.
Similarly, because rental leases typically expire at the end each month -- causing demand to spike around that time -- Michael says you may also be able to save by scheduling your move during the second week of the month, instead of the first or last.
5. Invest in Insurance
Moving companies are typically required by federal law to provide basic coverage -- meaning they'll be responsible for $0.30 per pound per item for an in-state move, or $0.60 for an interstate move.
If you're transporting valuable items, however, you'll want to pay extra for "full replacement value coverage." Doing so provides that the moving company pay for the actual cash value of an item if it gets damaged during the move. Costs for full replacement coverage tend to be around $8 to $10 per $1,000 of declared property -- so coverage for $20,000 worth of goods would cost $160 to $200.
If your possessions would cost a lot to replace, it's probably worth the splurge. After all, if your 50-inch flat screen TV weighs 28 pounds but would cost $400 to replace, basic coverage would get you only $17 if it were damaged in an interstate move -- while the replacement coverage would get you the full $400.
6. Take the Tax Break
If you are moving for a job change, your new boss isn't covering the costs, and your new workplace is at least 50 miles farther from your old home than your last office was, you may be able to deduct some of your moving costs at tax time. Check the IRS guidelines or consult a tax professional to see if you'll qualify.
7. Go It Alone
Not everyone will want to DIY a move, but of course you'll save the most money by getting a truck, packing everything yourself, and rounding up some friends to help. If you (and your back) are feeling up to the challenge, you'll still incur some costs, but they'll be relatively minor..
For a three-bedroom move, for instance, U-Haul recommends a 20-foot truck to haul everything from point A to point B. Rates vary widely, and costs depend on how far you're moving, because companies typically charge by both the number of days used plus the distance you travel -- so in-town moves are cheaper than moving out of state.
To get a rough idea of pricing: Renting a 20-foot U-Haul for a same-day move within Manhattan in mid-June would cost $40 for the day, plus $2 per mile traveled -- but that's before taxes and doesn't include a $16 damage protection option (although you may already be covered by your credit card company or car insurance). Renting the same sized truck to move from Cincinnati to Louisville would cost roughly $150 but include up to 2 days of use and 118 miles, according to U-Haul's website -- plus enough gas to cover the drive.
And don't forget to budget for a nice thank-you to the buddies who help you move. Pizza and beer should do the trick.