5 Smartest Moves for Downsizing Your Home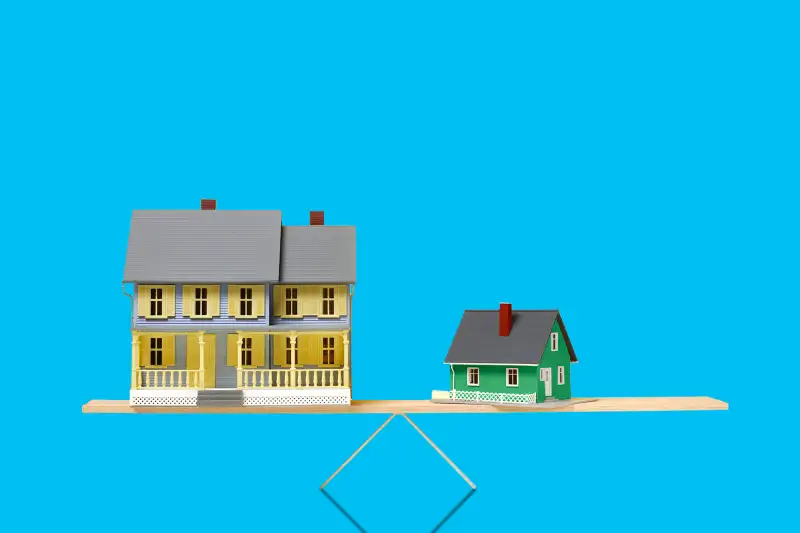 Tony Cordoza-Getty Images
Once the kids are grown up and the house is well on its way to paid off, many couples start to think about scaling back their real estate footprint. Perhaps you want to simplify your life, easing some of the hassles of home-ownership. You probably also want to convert some of your equity to cash; and you may even want to move to a different location -- a resort town or a lively urban center.
The balancing act can be tricky: You need to pull off a profitable sale to pad your retirement savings, then land in a place you'll enjoy for the next decade or so. On the other hand, with plenty of equity, you have more cash to work with than some of the younger buyers you're competing with. You may also have fewer geographic constraints: You're no longer worried about school districts, and if you're retired or self-employed, proximity to the office is also a nonissue.
Here are the best moves for you to make as you begin to think about selling your current house and scaling back.
1. Stage Your House Before a Sale
If your last big move was when the kids were small, your interiors may look dated. Even low-cost upgrades can help, says Redfin agent Jordan Clarke: Add newer bedding and fluffy towels, for instance, and clear out the last decade or so's accumulated clutter. (Bonus: Paring down your belongings will make the transition to a smaller place that much easier.)
For higher-priced homes, a professional stager can add more contemporary furnishings. Staging services, and price tags, range widely, but a 2015 NAR survey pegged the median cost at $675—and 90% of seller's agents (81% of buyer's agents) said staging increased the price buyers would pay.
2. Look at Townhouses and Condos
Want extra cash for your retirement fund? Townhouses and condos can get you a better deal; their prices rose just 3.1% in 2015, NAR says, vs. 7.2% growth among single-family homes. They also require less upkeep, which may be tempting after years of maintenance.
Just be wary of high homeowners-association fees and surprise costs. Ask the seller for a building's financials and meeting minutes, and look for potential red flags: a history of assessments, problems raised by owners, or reserves that look insufficient to cover any planned work.
3. Rightsize Your Mortgage
With money in your pocket, you can afford a higher down payment, which bolsters your buying position against rival bids; it also cuts your ongoing costs. But you don't need to go all-cash: With 30-year loans still below 4%, financial advisers say it's fine to have some housing debt even in retirement.
Read the whole Spring Real Estate Guide:
"It's relatively inexpensive money, it's tax deductible, and it means that you don't tie up all of your cash in your home," says Joe Heider of Cirrus Wealth Management in Cleveland. How much debt? If you're working, mortgage payments should top out at 28% of gross income. But if you're retired, Heider says, aim closer to 15%.
4. Be Willing to Take on Cosmetic Repairs
Downsizers typically want less space but not fewer amenities, says Cara Ameer, a broker with Coldwell Banker Vanguard Realty in Ponte Vedra Beach, Fla. "Everybody wants what I call the 'rightsize ranch,' but most need work." Ameer is one of several agents across the country to say you'll find bargains among houses that need cosmetic upgrades, because younger buyers are still juggling full-time jobs and family, while you've got the cash and, if you're retired, additional time to manage a contractor. How good a deal will you get? NAR puts fixer discounts at 15% to 55% in several big U.S. cities—so even after you factor in remodeling costs, you'll still probably come out ahead.
5. Test-Drive a New Locale Before Buying
If you're contemplating a big change—a move to the Sunbelt or a condo back in the city—don't buy quite yet. "I recommend selling first and renting something for a while to make sure it's really the square footage you need," says Clarke. Even if prices keep rising, you're better off paying more a year from now than overpaying for the wrong place.
Jim and Fern Frye learned this lesson in 2007, after Jim retired and the couple downsized from a larger home in Jacksonville to 1,200 square feet in Beaufort, S.C. "It just wasn't enough space," says Jim, 68. Jim wound up returning to work (and to a larger house) in Jacksonville, but the Fryes got another shot recently when he retired again. Last November, when a 2,000-square-foot townhouse went on the market nearby, the pair moved quickly.
"We got lucky," says Jim. "We're saving $1,200 a month"—and have just the right amount of room.