Why Investors Suddenly Love Restoration Hardware, the Hippest Spot for Buying Home Furnishings in the 2000s
Money is not a client of any investment adviser featured on this page. The information provided on this page is for educational purposes only and is not intended as investment advice. Money does not offer advisory services.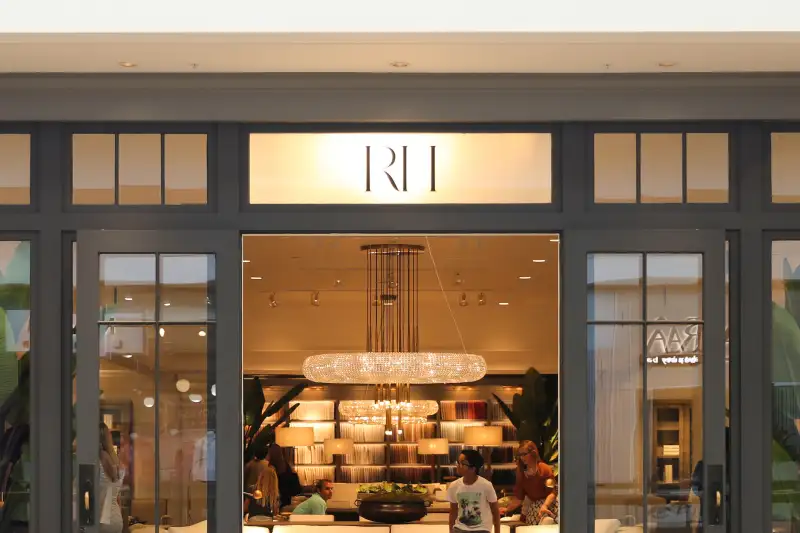 Helen89—Shutterstock / Helen89
At a time when many bricks-and-mortar retailers are limping along, home-furnishings company RH –– née Restoration Hardware –– is in the midst of an ambitious renovation of its own. And it seems to be working.
The company has been growing sales, improving its gross margins and generating more free cash flow –– which it could use to pay down debt and buy back shares. Investors have taken note. At a recent $168 a share, RH stock has returned more than 45% for the year through Wednesday, versus 16.6% for specialty retail companies tracked by Morningstar.
"They've gone through a real fundamental shift over the last several years," says Curtis Nagle, an analyst with BofA Merrill Lynch Global Research; he upgraded the stock to a "buy" in August and recently increased his one-year price target to $200.
The company once known for its telephone-book-thick catalog has gone from selling houseware novelties –– think retro fans and garden gnomes –– to one focused on luxury furniture, fixtures and other high-ticket items. "They've really done a good job building a brand that is aspirational and, for lack of a better word, cool again," Nagle adds.
Restoring its Reputation
The 40-year-old company was inspired by founder Stephen Gordon's own frustrations with not being able to find affordable high-quality hardware and fixtures while restoring a Victorian home. It went public in 1998, and by 2001 had more than a hundred stores around the country.
In June 2008, the company's chief executive, Gary Friedman, and private equity firms Catterton Partners and Tower Three Partners took the company private. So began its own restoration, which entailed revamping the distribution model, rethinking its bricks-and-mortar strategy.
In 2012, the Restoration Hardware Holdings went public again at $24 a share, donning the new brand and ticker of RH.
At a time when other retailers are shrinking their footprints, RH is embracing bricks-and-mortar. "It wasn't the internet that killed retail stores; it was a lack of imagination and investment," chief executive Gary Friedman said in an interview in Architectural Digest.
Rather than open more locations, it's focusing on larger, grander "galleries" that showcase its wares and double as destinations, complete with farm-to-table cuisine, craft cocktails and pour-over coffee. The 90,000-square-foot RH gallery in New York's Meatpacking District, in the company's own words, "blurs the lines between residential and retail, indoors and outdoors, home and hospitality."
The experience may be somewhat blurry, but the business plan is not. Perhaps the most meaningful shift in RH is that it's consolidated its back-end operations and adopted a membership model, whereby members pay $100 a year for 25% discounts. Members now account for a reported 95% of sales.
"They're controlling the brand from design all the way to the manufacturing to the distribution," says Brian Brian Flanagan, lead manager of Thrivent Mid Cap Stock fund. This has brought RH closer to its customers, he says, and opened doors for just-in-time inventory management. The result has been significantly better gross margins.
"Before, they would produce a lot of inventory for an upcoming season or product launch, and that would create is situations where they would have too much and need to discount; or they would have too little and need to catch up," says Flanagan, whose fund first bought RH in April of 2018 when it was trading around $85 a share.
Though the stock has since doubled, its valuation –– about 14 times forward earnings –– is in line with other publicly-traded furniture companies that "don't have nearly as many things going for them," Flanagan says.
Looking ahead, RH has planned more gallery debuts in key U.S. cities, including one slated for San Francisco next year. There's also talk of RH taking its concept overseas, notes Chad Miller, who is a co-manager on the Thrivent fund. "Over time, this could have the potential to more than double what they're doing," he says. Such expansion coupled with other initiatives, including hospitality and design services, offer different "legs of the stool" for growth.