It's Not Just You. Wall Street Loves Costco, Too — and Its Stock Is Beating Amazon and Walmart in 2019
Money is not a client of any investment adviser featured on this page. The information provided on this page is for educational purposes only and is not intended as investment advice. Money does not offer advisory services.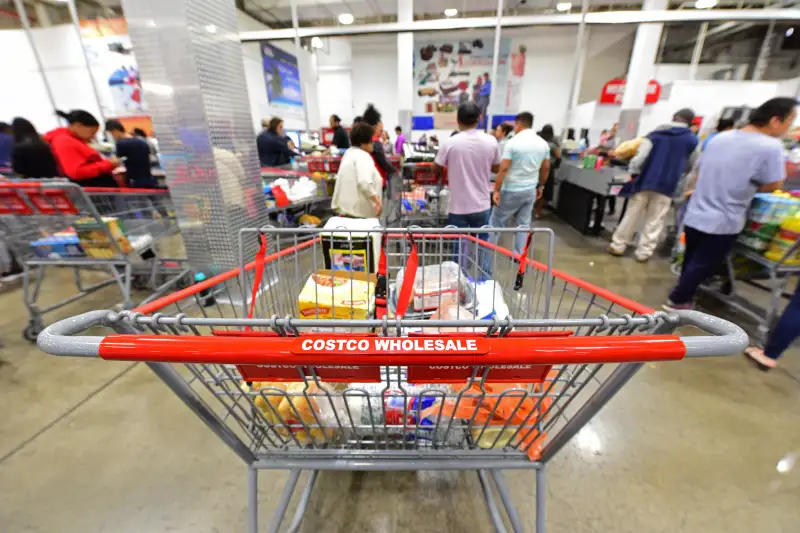 Pull into a Costco parking lot on virtually any day of the week, any time during warehouse hours, and you'll likely be hard pressed to find a parking spot. People aren't just there for the free samples. The aisles are buzzing with members loading up their extra-wide carts with household staples, plus those one or two novelty or seasonal items they just couldn't pass up.
Retail may be dead, but Costco is thriving -- and so is its stock. Costco stock is up nearly 30% in the first six months of 2019, versus about 20% Walmart and 28% for Amazon.
Why Is Costco Stock Up?
This isn't an anomaly. In fact, one of the big attributes of Costco is its consistency. "Pretty much month in and month out, same-store sales are growing around 6% to 8%," says Brian Yarbrough, an analyst Edward Jones who covers consumer discretionary and consumer staples. (Same-store sales, a common retail industry metric, refers to sales at stores open at least 12 months.)
Costco's membership is also key to its success. Consumers and businesses pay $60 for a basic membership and $120 for an executive card that offers 2% cash back on purchases and other perks. Not only does membership help ensure repeat business, it accounts for nearly 70% of Costco's total operating income. "Renewal rates run north of 90%, and every five years they raise the price of membership by $5 or $10," Yarbrough says. "Wall Street loves that consistency."
While Amazon.com and other online players have put pressure on retail stocks, Costco is relatively insulated from such disruption. First, its prices are already low. "Other retailers, including Amazon, can't even come close to the same prices," says Yarbrough. Indeed, while other big discounters carry around 100,000 unique items, or SKUs, Costco has fewer than 5,000; that translates to serious buying power. Plus, Costco's store label, Kirkland Signature, accounts for about 25% of sales.
Consumers flock to Costco to buy such necessities as milk, cereal and dog food -- staples add up to more than half of Costco's business -- but that just gets them in the door. "I can't tell you how many people always tell me, 'I go into Costco, I got like three things to get, and I end up buying six things because there's these deals. You just can't pass them up.'"
Price of Costco Shares
At a recent $264 a share the stock may not seem like such a bargain. It trades at 30 times analysts' average forecast for the next 12 months' earnings, which is on the high side relative to the market and other retailers. Then again, the stock has delivered an average annual return of more than 20% over the last decade, or close to double that of the S&P 500 index.
For investors worried about a slowing U.S. economy or on-again-off-again trade tensions with China, Costco's straight-forward growth story is also compelling. The company is adding about 20 to 25 new stores a year, and it continues to improve its same-store sales at a high single-digit pace.
Unlike Amazon.com (which, incidentally, trades at 60 times forward earnings), Costco isn't branching into other industries, offering cloud computing services or trying to put an Alexa in every home. "Costco's one of the cleaner stories in retail," says Yarbrough. "I think that's one of the reasons its stock will continue to trade at a premium."