Why NASCAR Races Now Feature DJs, Foam Parties & Go Karts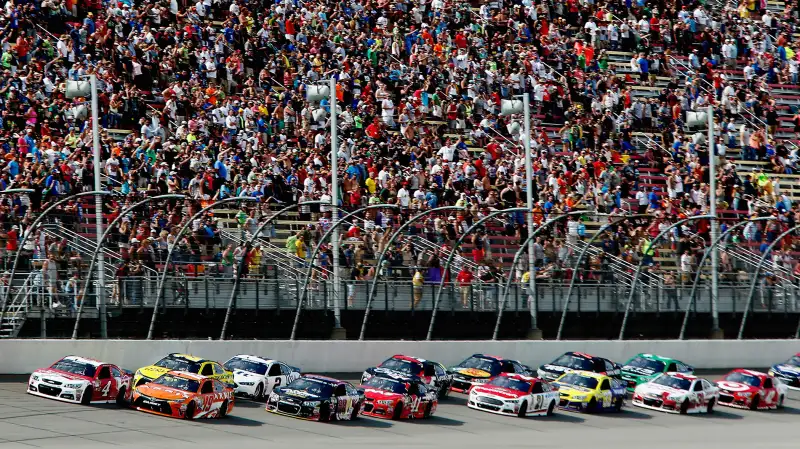 Jerry Markland—Getty Images
The prototypical "NASCAR dad" got a lot of attention in the late '90s and early '00s, when political campaigns—and often, advertising and marketing campaigns—were shaped to win over this large and important middle-class, conservative demographic. The problem, from NASCAR's point of view, is that the once-potent population of NASCAR dads has gotten both older and smaller, and for a long time it's looked like their offspring had no interest in becoming NASCAR kids.
Thanks to "a whole host of social changes," most obviously including technology, how people interact, and ever-shortening attention spans, "we just have not seen the generational pass on of motorsports that we had with previous generations," Roger Curtis, president of the Michigan International Speedway, told the Detroit Free Press recently.
The same old races and the same old sales pitches just hasn't done the trick of winning over the interest (and money) of millennials. This shouldn't be surprising considering that interest among young people in other "old man" sports like baseball, golf, fishing, and boxing has been plummeting.
But NASCAR's sales and marketing forces haven't been sitting around waiting to see the sport's fan base quietly drive off into the sunset. Last weekend, NASCAR's efforts to woo hipper, younger fans were on full display in Brooklyn—not the New York borough renowned for bearded hipsters, but Brooklyn, Mich., where the Michigan International Speedway (MIS) is located. Ticketholders for Sunday's Sprint Cup NASCAR race at the MIS were automatically granted entrance to Keloorah, an on-site festival on Friday and Saturday nights featuring DJs, live music, video games, go karts, and foam and paint parties.
"The MIS team met last July and started to brainstorm the concept of using music as that common language to attract millennials," Curtis explained to the Free Press. He said ticket sales for the June event were up 10% compared to last year, and that another Keloorah—taken from the Celtic word for "celebration"—will take place later this summer when MIS hosts a second NASCAR race the weekend of August 14-16.
Side attractions like Keloorah are part of a comprehensive campaign to convert millennials into fans. "Millennials are different from baby boomers," says Eric Anderson, chair of the Kellogg School of Management's marketing department, who coauthored a 2015 study on NASCAR's marketing efforts. "They want social engagement and digital interaction with brands."
After being warned of its approach into the territory of "dangerous irrelevance" in 2011, NASCAR has made significant changes to become hipper and more fan-friendly, including the expansion of cell phone service and wi-fi at race tracks that host only a couple events annually and encouraging drivers to engage with fans on social media to boost their star power. Also, while races were enough to draw out diehard olders fans, efforts have been underway to transform them into more well-rounded, fun, and exciting "events" that last an entire weekend and feature places to hang out and socialize into the wee hours of the night.
"NASCAR is competing not just for a share of customers' auto dollars or sports dollars, but entertainment dollars," says Anderson. The idea is that a mere race isn't enough to bring millennials out to the track. But when there's a bigger social occasion built around the race, the odds are much better that millennials will be intrigued.