It's National Donut Day 2019! Here Are All the Places You Can Get Free Donuts Today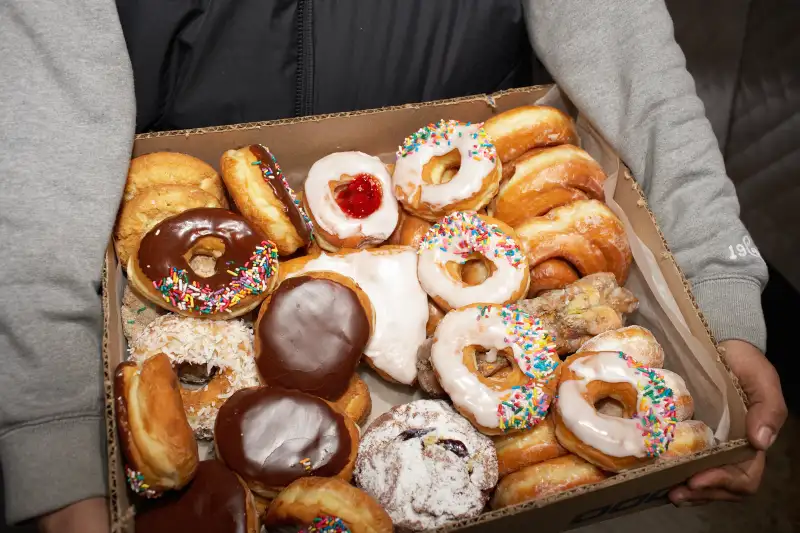 Andrew Hetherington—Getty Images
Happy National Donut Day 2019!
National Donut Day is always held on the first Friday of June, and it always features lots and lots of delicious free donuts. The tradition kicked off during the World War II era when the Salvation Army created National Donut Day as a way to support men and women serving their country — by giving them free donuts.
For National Doughnut Day 2019 (Friday, June 7, this year), big donut chains like Dunkin' and Krispy Kreme Doughnuts are indeed hosting free donut deals. Even some convenience stores (Cumberland Farms) and Walmart stores have free donuts today.
Before getting into the specifics for all the donut freebies on Friday, is the correct spelling "donut" or "doughnut"? Actually, both spellings are acceptable, and different donut chains use their own preferred spelling in logos and branding. So we use "donut" and "doughnut" interchangeably. And really, what matters way more than spelling is that all of the donuts (or doughnuts) are free today.
Here are all the best National Donut Day 2019 freebies and deals:
Dunkin' has free donuts all day long on National Donut Day 2019. To take advantage of the free donut deal at Dunkin', head to any participating store on Friday, June 7, and purchase any beverage. Then you can select any flavor donut, free of charge.
The National Doughnut Day deal at Krispy Kreme comes in the best flavor of all — totally free doughnuts, with no purchase required. All you have to do to get your Krispy Kreme freebie is visit a shop on Friday, June 7, 2019, and ask for a free doughnut. Don't get greedy; there's a limit of one free Krispy Kreme doughnut per customer.
For National Donut Day, Cumberland Farms convenience stores will give you a free donut on Friday with the purchase of any dispensed beverage — including coffee and fountain drinks. Friday's donut freebie is available at new or newly remodeled Cumberland Farms stores throughout the Northeast and Florida.
Duck Donuts locations around the country are giving away free donuts on Friday, June 7. Specifically, you can get a free classic donut (plain, cinnamon sugar, or powdered sugar) for National Donut Day 2019, no purchase required.
Fractured Prune Doughnuts, which is based in Ocean City, Maryland, and has shops along the East Coast (and one in Arizona), is giving out one free OC Sand Donut per customer on Friday for National Donut Day. The OC Sand Donut is honey glazed and covered in cinnamon sugar.
Every customer can get a free donut on Friday at LaMar's Donuts locations, no purchase required.
Southern California's Randy's Donuts is giving away four free glazed donut rounds to customers at all locations from 6 a.m. to noon on Friday, while supplies last, for National Donut Day.
For National Donut Day 2019, Walmart is giving away one free donut on Friday to each customer in its U.S. stores, while supplies last. Just go to the bakery section of a Walmart Supercenter or Walmart Neighborhood Market on Friday, and you can get a free glazed donut.
Voodoo Doughnut shops do not have free doughnuts on Friday. But they do have a National Doughnut Day deal: Homer donuts, with pink frosting and sprinkles, are $1 each all day.