Apple's New Credit Card Has Arrived. Here's How It Stacks Up Against Our Favorites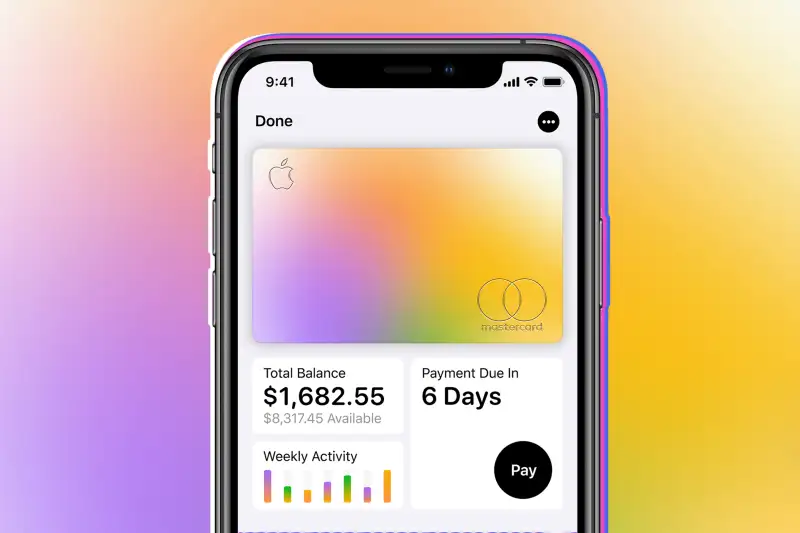 The Apple credit card is here. But unless you really value convenience of paying with your phone, you might find better perks elsewhere.

Five months after the initial announcement, the Apple credit card made its official debut Tuesday — at least, to a select number of iPhone users who had signed up to be the first to get an invitation to sign up for the card. (The broader rollout will take place later this month.)
As a MasterCard issued by Goldman Sachs — an institution more associated with investment banking than credit cards — the Apple Card is already a bit of an anomaly. We wanted to see how it compared to some of the cards we featured in our annual Best Credit Cards roundup.
Here are some of the highlights:
Fees — Or Lack Thereof — And Security Features
Apple is known for premium products with pricing to match, so it's refreshing that its new credit card doesn't charge an annual fee. While we understand that sometimes annual fees can be worth the trade-off for certain high-end cards, especially in the travel space, we also know there are plenty of Money readers for whom paying a fee just to spend money is a dealbreaker. Apple also says on the Apple Card landing page that there are no cash‑advance fees, international fees, over‑limit fees, returned‑payment fees, late fees or penalty APR fees.
The biggest difference between the Apple Card and other cards, though, is that it "lives" in your iPhone's Apple Wallet. (For analog purchases, there's a shiny titanium card). Its digital-first format gives Apple the opportunity to use some of the phone's key security features to make the card safer. Online or in-store, for instance, you authenticate a purchase using Face ID. The card itself doesn't have the numbers printed on it — and you need Face ID to "unlock" the Apple Wallet section where it's stored. Apple also says it's structured account, payment and user data in such a way that preserves your privacy.
APRs and Rewards
The APR range of 12.99% to 23.99% is pretty typical for a bank-issued credit card. In fact, we'd characterize the low end of 12.99% as pretty good; most of the APRs for top-tier credit don't dip much lower than 14% or 15% for bank-issued cards. A rule to follow if you're looking for low interest, though, is to check out credit unions. In Money's "Best Of" annual credit card roundup, credit unions consistently rise to the top, some with APRs that (still!) start below 10%.
Like Money's pick for the best retail credit card of 2018, the Amazon Prime Rewards Signature Visa — which gives users 5% cash back on Amazon and Whole Foods purchases — the Apple Card's rewards structure is designed to incentivize people to spend more on its platform. You get 3% cash back for Apple purchases, which covers hardware and devices, including those bought at an Apple retail store, as well as App Store and iTunes purchases, along with games, in-app purchases and Apple subscriptions to services like Apple Music and iCloud storage. More credit cards today offer accelerated rewards-earning for streaming entertainment services, so Apple's offering here isn't super-unique, although it might be a good deal for someone who's already committed to Apple's media and software ecosystem.

Apple also is trying to promote the use of Apple Pay by offering 2% cash back for purchases made on that platform, along with 1% cash back elsewhere. Depending on the density of offline merchants that take Apple Pay in places where you spend money, the 2% cash back offer could be a good deal.

Still other cards offer potential rewards that are just as generous and arguably easier to claim. Money's top pick among cash back cards for 2018, the Double Cash Card from Citi gives users 2% cash back on all purchases when you don't revolve a balance. Other cards, including the Capital One Quicksilver Rewards and Chase Freedom Unlimited, offer 1.5% cash back on purchases with no special categories or hoops to jump through.
Account and Money-Management Features
Some of the Apple Card features aimed at demystifying or at least making your account management easier seem useful; for instance, the card overlays the iOS Maps function onto your transaction history so you can see where you bought stuff rather than relying a possibly-obscure merchant code. And its seamless connection with Apple Wallet makes buying stuff or sending money to people painless and as quick as a look at your screen and a couple of taps.
Some of its ideas are pretty common among other issuer and budget apps, though: A chart that shows your purchases by category or a reminder to pay your bill, for instance, are nice but not exactly breakthrough innovations. Apple's pitch is that it delivers all this via Apple Wallet rather than a card's own site or app — but again, the advantage there is dependent on whether or not you actually use, or could be persuaded to adopt, Apple Wallet.
Apple's very clear breakdown of how much you pay in interest goes above and beyond what regulators require (and the bare minimum most cards provide). Seeing how much you're paying to service your debt can be a helpful motivator to paying it off sooner (or not acquiring it in the first place).
A Couple of Caveats
There are two big areas where the Apple Card comes up short: One is its lack of a signup bonus. Many credit cards, even among those that don't charge an annual fee, offer either cash back or a bucket or points or miles equivalent to cash, with most valued in the $100 or $150 range — and a few go even higher.
The other is the Apple Card's lack of a promotional 0% APR on either purchases or balance transfers. Many cards out there offer one, if not both, for a year or even longer. Apple obviously has name recognition and a fan base that would inspire envy among even the biggest banks, so the simplest and most likely explanation is that it's not offering these inducements because it doesn't have to.
If you count yourself among the many devoted Apple fans and iOS users, not chasing a signup offer is fine. If you're going to make the Apple Card your primary credit card and plan to keep the account for years, it's definitely arguable that the convenience factor as well as the rewards you could accrue over time might outweigh those other perks. Their absence is worth factoring in, though, if you're looking for a new credit card and want to compare apples to apples (to Apple).