New Senate Health Care Bill Defunds Planned Parenthood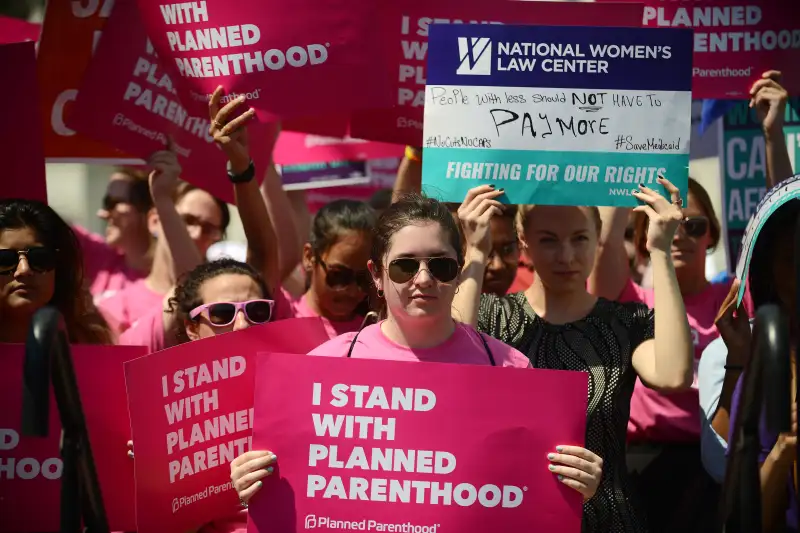 Astrid Riecken—Getty Images
The Senate's long-awaited health care bill, the Better Care Reconciliation Act, defunds Planned Parenthood, the country's largest network provider of women's health care, for at least one year. It also includes restrictions on subsidies for insurance plans that cover abortions.
Excluding Planned Parenthood from Medicaid reimbursements and other forms of federal funding has long been on the wishlist of far-right conservatives. The draft language of the BCRA, the Senate GOP replacement plan for the Affordable Care Act, kicks the women's health organization out of the Medicaid program, which accounts for 75% of the federal money Planned Parenthood receives (the funds come in the form of Medicaid reimbursements for services performed for low-income women).
Conservatives object to Planned Parenthood receiving federal funding because the health care provider performs abortions. But none of that funding can be used for abortion services because of the Hyde Amendment, which was passed in 1976. Instead, much of the money goes towards providing preventive care like birth control and clinical breast exams, and to other family planning services.
The Congressional Budget Office previously estimated that defunding Planned Parenthood would actually cost the government $130 million over a decade, and hundreds of thousands of people would lose access to health care.
A new CBO score is expected in the next few days, and the bill is expected to head to a vote next week.
Correction: An earlier version of this article stated that Planned Parenthood provides mammograms. The organization provides referrals to women for mammograms.