5 Sweet New Trader Joe's Items That Inexplicably Taste Like Fall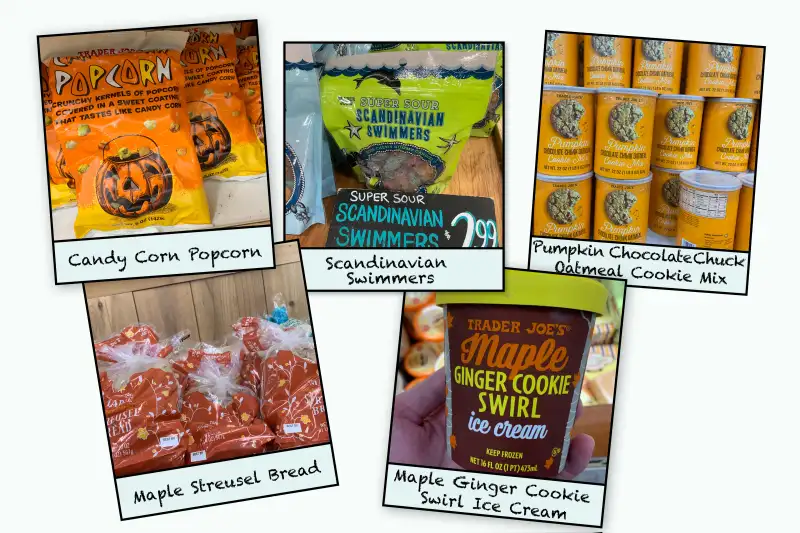 Trader Joe's, which sells many of its own branded creations, is constantly experimenting with new items. The specialty supermarket toys with both seasonal products and one-offs that, if they sell, can turn into mainstays. (If they don't sell, well, they quickly disappear — which is one way the beloved chain keeps prices low.)
It's October, which means Trader Joe's is fully committing to mini pumpkins and pumpkin-spiced everything, plus sweet desserts and vaguely spooky concoctions. I can only tolerate so much nutmeg and allspice in my food and beverages, but I found some brand-new gems hiding in the shelves. (Hint: They're all on the sweeter side, but not in a cloying way.)
Here's what to look out for during your next TJ's run.
(Note: Prices are based on my local Trader Joe's in Los Angeles and may vary.)
Super Sour Scandinavian Swimmers, $2.99
Alright, so this isn't exactly autumnal, but the standard Scandinavian Swimmers — Trader Joe's own adorable riff on Swedish Fish — are a cult favorite. And if you're like me and believe all gummy candies should mix their sweet with a punch of sour, this new version is a must-try. The package lives up to its promise of a pucker. Kids will go nuts for them (if you can bear to share).
Candy Corn Popcorn, $1.99
Some of the best Trader Joe's products are remixed versions of classic snacks that only seem obvious once you've gorged on an entire bag. Case in point: This candy corn popcorn is inspired by the trick-or-treat staple, but vastly improves on it. Candy corn's waxy texture can get boring after a handful, yet this popcorn is covered with a crackling candy shell that gives way to wonderfully crunchy popcorn. I didn't detect any soft or soggy bits in the generously sized bag.
Fair warning: This popcorn is extremely high in sugar content and addictive to anyone with a sweet tooth (and isn't that everyone this time of year?). At least TJ's is sticking to real sugar and natural ingredients including beet juice powder, instead of the typical chemicals and high-fructose corn syrup. Put out a bowl alongside your decorative rubber bats and cobwebs for a delightful Halloween party.
Pumpkin Chocolate Chunk Oatmeal Cookie Mix, $3.99
Pumpkin (and pumpkin-spiced) products tend to taste exactly like what you'd expect: a pumpkin pie. But Trader Joe's pulled out its craftiest kitchen techniques for this ready-to-mix bag of dry cookie batter (you just need to add butter, egg, and water). The rich bursts of chocolate and wholesome oatmeal make for a well-rounded spread of cookies that would impress even the most pumpkin-jaded guests at your party.
Maple Ginger Cookie Swirl Ice Cream, $2.99
It becomes harder to shell out for Ben & Jerry's (woke as they may be) when you get hooked on Trader Joe's own significantly cheaper, loaded-with-mix-ins ice cream options. This fall variation uses real Vermont maple syrup, which is nicely contrasted with bracing chunks of ginger cookie. I don't want to tell you how to live your life, but I suggest scooping it up with ginger snaps for a transcendent layering of textures and flavors.
Maple Streusel Bread, $3.99
When the weather cools off, few things are as comforting as a warm slice of dessert bread. Trader Joe's maple bread hardly resembles bread at all — it's more like a spin-off of coffee cake with its thick, crumbly streusel-style topping and interior maple syrup swirl. It's a bit too soft out of the bag, so I recommend toasting a slice and, for supreme richness, adding a generous pad of Irish butter. Pair it with a strong cup of coffee and all those stresses that arrive with the beginning of the holiday season — travel! family! gift shopping! — will suddenly fall far, far away.