Meet 'Ninja,' a 26-Year-Old Gamer Making Tons of Cash Playing Fortnite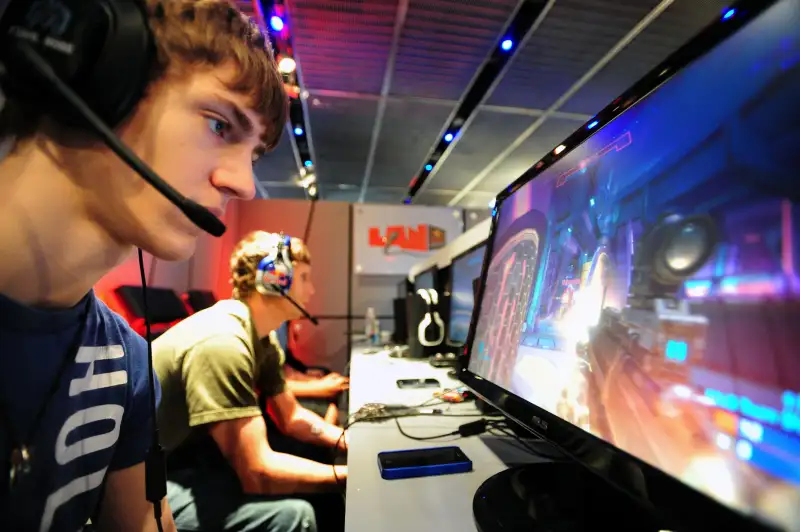 Bryan Smith/ZumaPress.com—Alamy Stock Photo
He goes by Ninja. He has electric blue hair. And he's raking in a fortune by playing a video game online.
Meet Tyler Blevins, an Illinois-based 26-year-old who broke the internet Wednesday night when he live-streamed himself playing the massively popular game Fortnite with rapper Drake. His name may now be bubbling up into the mainstream — he trended on Twitter, and a story about the matchup even made BBC News — but he's no unknown upstart. An Illinois resident with 4.5 million YouTube subscribers, Ninja is the star of the most-followed channel on the video platform Twitch, where so many viewers pay to watch him play Fortnite that he's pulling in more than $560,000 a month.
Yes, you read that right: He's making a half a million dollars a month off of people who pay to watch him game.
Where Did Ninja Come From?
Ninja made a name for himself in the professional gaming industry (a.k.a. "e-sports") by participating in Halo competitions starting in 2009, as Polygon reported. He left e-sports last year to pursue a streaming career, which primarily involves broadcasting himself playing computer games and providing running commentary to a community of interested users.
Fortnite came out over the summer of 2017, and its Battle Royale mode — in which people collect supplies and fight each other on a fictitious island — quickly became popular. Ninja signed on, and since then his rise has been meteoric: He hit 10,000 Twitch subscribers in December, 18,000 in mid-January, 60,000 in late February and 150,000 on Sunday.
Twitch allows viewers to follow and subscribe. Following is free; a basic subscription comes with perks and costs $4.99 a month. Half of the money goes to the company, and half goes to the streamer. (Caveats: There are higher-level subscriptions that give the streamer more money. Twitch also has Twitch Prime, which gives one free channel subscription each month to Amazon Prime members, and it had a special Fortnite deal recently.)
Ninja didn't respond to Money's interview requests, but he did talk about his finances with Forbes. The gamer said that his monthly income is generally about 3.5 times his subscription count, which Forbes estimated puts him at $560,000 before taking ads, donations and his revenue from other sites into account.
Those sums are remarkable, but making big bucks off of Twitch in general isn't unusual. In 2016, CNBC reported that 14,000 "famous streamers" had made $60 million in ads and subscriptions for the platform. Some streamers, treating Twitch like a full-time job, were pocketing up to $5,000 a month.
"Streaming video games for a living is no less of a real job than that of someone who broadcasts sporting events, WWE wrestling matches, or even reports on news," Twitch user Matthew Beardsley told CNBC.
Ninja's Money Habits
Ninja insists he doesn't play just for profit, telling Forbes that "monthly revenue is always something I try not to discuss simply because I do not do it for the 'good money.'" He's also a philanthropist — he pays for shelter animals' surgeries and supports charities like the American Foundation For Suicide Prevention, for which he raised $113,000 last month, according to Kotaku.
But make no mistake: He's a businessman. Email the address on his Twitter profile, and you'll get an auto response asking whether you represent a company that wants to work with Ninja. If so, you're asked to reply with a sponsorship pitch and details on compensation. He promises to reply within three days if you're a potential sponsor. If not, you're warned that you may never hear back: "Ninja receives hundreds of emails per day and may not have a chance to respond to everyone individually."
He'll be busier than ever after his Fortnite session with Drake, which attracted 600,000 viewers and also involved rapper Travis Scott and NFL player JuJu Smith-Schuster. Ninja was all over the internet on Thursday, inspiring memes and responses from celebrities like Terrell Owens and Chrissy Teigen.
He logged on today just after 12:30 p.m. EDT, telling viewers during yet another Fortnite game that the previous night was "epic." (He also briefly freaked out because a spider was in his shirt.)
Looking forward, Ninja has big plans to continue growing. When he hit 150,000 subscribers this week, he made a speech on video thanking his supporters — and promising more to come.
"I think that we haven't even begun to peak, like I'm going to f--king keep grinding, dude, YouTube videos are going to be spammed out every day, f--king streaming every day, like this year's going to be — you guys have no idea," he said. "Sky's the limit, dude. Twitch is blowing up. Be f--king ready. Be prepared."