3 Ways to Buy a Nintendo Switch, the Hot Game Console Sold Out Everywhere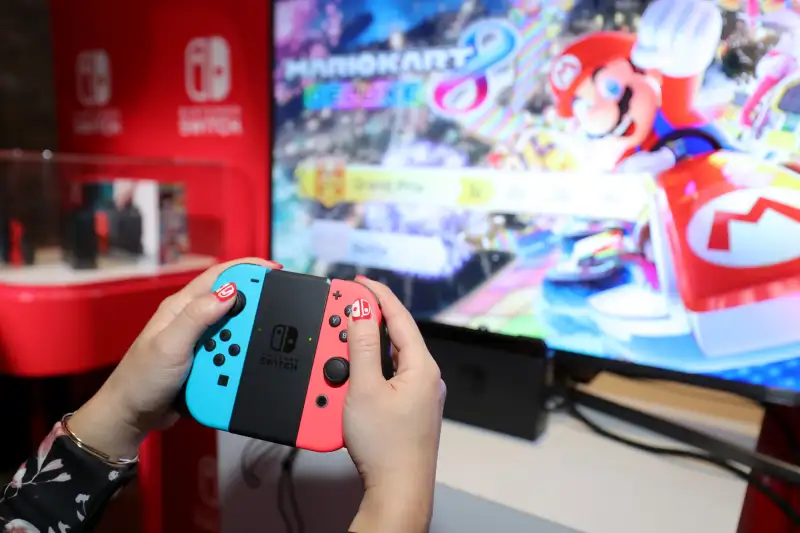 Neilson Barnard—Getty Images for Nintendo of America
The Nintendo Switch officially went on sale this past March for $299.99. But it's been difficult, if not impossible, for gamers to get their hands on the hot new console—especially at the regular price.
What makes it so hot?
The Switch functions as both a home console and a mobile gaming system, so players can have the same experience on the go as on the couch. Thus, it's consistently been listed as out of stock by major retailers like Best Buy, Target, and Walmart. Based on sky-high demand, Nintendo has reportedly boosted the production of Switches from 8 million to 16 million, and perhaps as high as 18 million, for the fiscal year.
Even so, shoppers shouldn't anticipate Switches showing up in abundance on store shelves anytime soon. GameStop COO Tony Bartel recently said in an earnings call that new Switch shipments sell out as soon as they're in stores, and he expects "to be chasing supply this entire year." In other words, expect the Nintendo Switch demand to only get stronger in the back half of the year, especially as the holidays approach.
While there is no magic formula for snagging a Switch without paying through the nose, we've assembled some smart strategies to consider below.
Stalk Stores
Retailers like Target, Walmart, Best Buy, Toys R Us, and GameStop are getting new Switch supplies in stores here and there. It's worth popping in to see if you get lucky, and worth chatting up store managers, with the hope they'll tip you off about an upcoming shipment. For example, this Sunday, Target is reportedly getting shipments — but how many at each store is anyone's guess.
There are also a number of tracking services such as Zoolert, BrickSeek, Now in Stock, and the recently created Nintendo Switch Finder, which promise to give shoppers a heads up where and when hard-to-find toys and electronics are available. Proceed with caution, though: These services tend to be hit or miss (some people complain the notices are inaccurate or too late to be useful), and you often have to subscribe to emails to receive alerts.
Pay a Premium to a Third-Party Seller
No matter if we're talking about Hatchimals or Amazon Echo smart speakers, whenever there's a consumer craze and it's nearly impossible to find an in-demand item in stores, opportunistic resellers pop up online eager to make a buck.
The same goes with the Nintendo Switch. Sellers who have managed to get their hands on the consoles are selling them on eBay for at least $100 over the retail price. There are also third-party sellers on sites like Amazon and Walmart.com listing Nintendo Switches for $97 to $150 above the retail price.
Before buying anything from an individual or a third-party seller you've never heard of, verify the seller actually has the item, and find out exactly when and how it will be shipped. Check if shipping is free, or at least reasonably priced, as well.
Order an Overpriced Bundle
Another way sellers are taking advantage of the imbalance in supply and demand is by offering Nintendo Switches only as part of expensive packages, perhaps with one or more games and some other extras.
Before considering a bundle, price each of the components out and think about which (if any) of the extras you actually want. GameStop has periodically been offering a $500 bundle that seemed like a fairly good deal, with a console and a few peripherals that many people would buy anyway, including two popular games ("Legend of Zelda: Breath of the Wild," "Mario Kart 8 Deluxe"). Unfortunately, that package has been sold out lately.
The bundles that were available when we checked didn't seem to pack in quite as much bang for the buck. QVC is charging $550 for a package that includes a Switch console, a carrying bag, and "Mario Kart 8 Deluxe." The game sells for $59 on its own, and the bag appears to be nothing special, so shoppers are probably paying $100 to $150 more than they should overall.
Another Switch bundle we found available was approaching the $1,000 mark: Walmart-owned Jet.com is selling one package for $930, which includes a console, four games, and a few peripherals.
Finally, be wary of tricky bait-and-switch offers online. During a regular Google search, the e-retailer NewEgg.com appeared to be selling a Switch for $400, but when we tried to add it to our shopping cart we were informed the console was only available as part of a combo—which was priced at $600 and included a second game console, the PlayStation 4.
We've included affiliate links into this article. Click here to learn what those are.