Drink More Than 137 Beers, and a New Cruise Deal Is Totally Worth It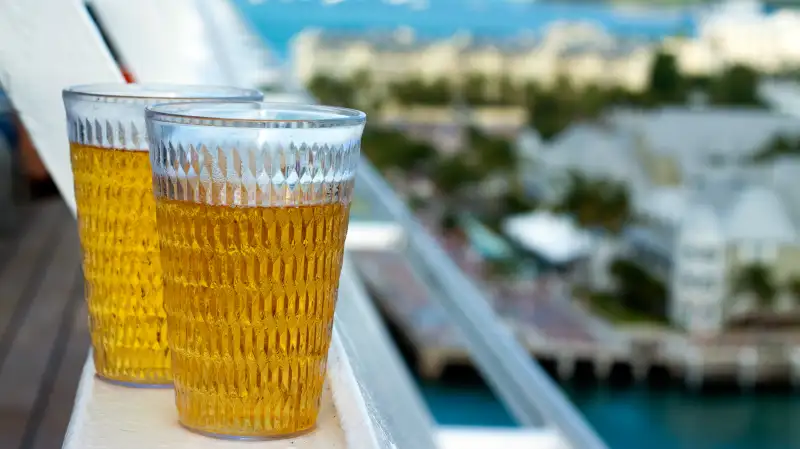 Starting on August 4, Norwegian Cruise Line is offering a limited-time All-Inclusive package option for cruisers, in which one fee covers many of the extras not included in the basic cost of a cabin. The two biggies that are included are the Ultimate Beverage Package and the Ultimate Dining Package. They cover, respectively, nearly everything a passenger will drink and entrance to the ship's specialty restaurants that normally cost extra. Also included are a host of other things passengers would otherwise have to pony up for: 20 photos taken by the on-board photography service, 250 minutes of Internet time, one bottle of wine, chocolate-covered strawberries, one bingo session, bottles of water throughout the cruise, a $100 or $200 credit for shore excursions, and gratuities for staffers.
How much does the package cost? The price depends on how long you're cruising, but a seven-nighter is $899 per person, on top of the price of your stateroom. The option is being offered on a test basis now through August 29, for cruises lasting three to 14 days to nearly all destinations (not available on Pride of America sailings in Hawaii). If it proves to be a hit, we can expect the option to become permanent, and for it to inspire imitators from the competition.
The big question for cruise passengers is this: Is it worth it? Norwegian states that the package represents about $2,400 worth of value. (That's per cabin, so for two people.) Travel Weekly, a publication aimed at travel agents, did its own math and concluded that a passenger paying a la carte for all of the included options would fork over $1,468 during the course of a seven-night cruise. In other words, you'd save $449 by going with the All-Inclusive package.
That's quite a savings. But the customer only comes out on top if he or she actually wants the lion's share of what's included in the package. With the exception of gratuities—which are more or less mandatory—everything that's included is totally optional. Essentially, you're paying for bingo, bottled water, Internet time, photos, booze, and the rest even if you don't partake of them. Travel Weekly pointed out that the commemorative photos included in the package, for instance, would run a fairly absurd $274. So if you wouldn't pay for that in a million years, the deal might not be for you.
Let's be honest: This package is going to appeal most to passengers who want to eat and drink to their heart's content and not have to think about how much each and every beverage or meal is costing them. Some back-of-the-napkin math must be done, to see at what point the package makes sense for the individual.
That $899, for instance, would cover about 151 draft beers at $5.95 apiece, or 100 glasses of wine at $9 per. Subtract gratuities to the tune of $12 per day, or $84 for a seven-night cruise, and $815 is left—making the over-under 137 beers. Drink more than that, and you come out ahead. (You'll also come away with one honey of a hangover, of course.) Add in seven meals at specialty restaurants at an average premium of $20 apiece, plus $29 for a bottle of wine, plus $100 for Internet time, and the math increasingly points in the package's favor.
If nothing else, the offer should make it abundantly clear that the amount paid by cruise passengers above and beyond the cost of a cabin is often quite hefty. The big-ship cruise is billed as the ultimate no-hassle vacation. You pay for your room, and then you never have to touch your wallet while cruising. On virtually every mainstream cruise line, however, that's not how things work. Regardless of whether or not you handle cash or swipe your credit card throughout the cruise, you are most definitely paying up for anything beyond the basics—alcoholic beverages, excursions, fancy coffees, restaurants that are nicer than the buffet, even soda. The expected gratuities are typically added automatically onto a customer's bill.
Take a look at Norwegian's specials and promotions and you'll see several one-week cruises starting at well under $899, some for as little as $429. Those prices don't include taxes and port charges—and they don't include the extras mentioned above.
Does it make more sense to pay for it all upfront, via Norwegian's new flat-price all-inclusive package? That depends a lot on whether you like the idea of handling nearly all of your vacation's expenses in one fell swoop, rather than having every little purchase add up during the course of a cruise in nickel-and-dime fashion. It also depends a lot on how thirsty you typically are on vacation.