Apple, Amazon and More Companies Facing Boycotts Over Ties to the NRA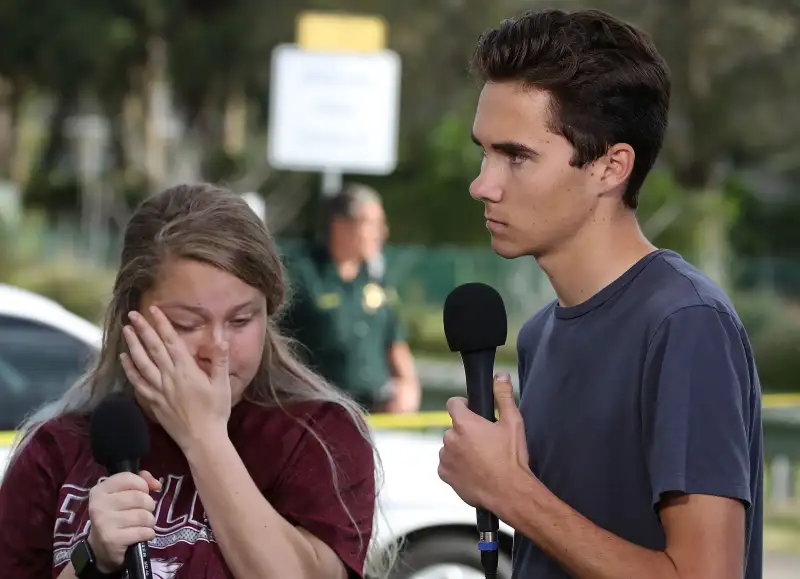 Gun-control advocates have had some success pressuring businesses to cut ties with the National Rifle Association in the wake of the deadly Florida high school shooting.
But several major companies are still under pressure.
Even as businesses like Hertz, Enterprise, United Airlines, and MetLife end their partnerships with the NRA, firms such as FedEx continue offering discount programs for NRA members. And major streaming TV services run by some of the world's biggest tech companies still give the NRA a platform for its message by showing its channel NRATV, advocates argue.
For its part, the NRA stated that the companies ending their partnerships are simply punishing "NRA membership in a shameful display of political and civic cowardice. In time, these brands will be replaced by others who recognize that patriotism and determined commitment to Constitutional freedoms are characteristics of a marketplace they very much want to serve."
Here are nine companies that some gun-control supporters say should be boycotted because of their ties to the NRA or the gun industry as a whole.
Amazon
The nonprofit nonpartisan group Moms Demand Action for Gun Sense in America is calling for all streaming TV services, including Amazon Prime Video, to remove the NRA channel NRATV from their packages. A separate Change.org petition addressed to Amazon founder and CEO Jeff Bezos that also calls on Amazon to stop streaming NRATV has been signed by 173,000 supporters as of Monday afternoon.
Many gun-control advocates, including one of the most outspoken Parkland shooting survivors, high school student David Hogg, say that people should cancel their Amazon Prime subscriptions if Amazon does not cut ties with the NRA.
Apple
Activists are encouraging people to boycott Apple because, like Amazon, the tech company's streaming TV options include NRATV. "It's time for tech leaders to acknowledge their role in helping the NRA spread this dangerous content and cut it out," Moms Demand Action founder Shannon Watts said in the group's press release. "NRATV is home to the NRA's most dangerous and violence-inciting propaganda."
FedEx
Over the past week, many companies, including MetLife Insurance, the software security firm Symantec, Delta and United airlines, and Enterprise and Hertz rental cars, have ended their discount programs for NRA members. While a few smaller companies are maintaining their NRA discount partnerships, the only household brand that is still offering special discounts for NRA members is FedEx: Members of the NRA Business Alliance get up to 26% off FedEx shipping services.
Because of FedEx's business arrangement with the NRA, gun-control advocates say it's time to boycott FedEx and use an alternative like UPS, DHL, or the U.S. Postal Service instead.
On Monday afternoon, FedEx released a statement saying that its views are different from the NRA in that "FedEx opposes assault rifles being in the hands of civilians." Nonetheless, FedEx said that the "NRA is one of hundreds of organizations in our alliances/association Marketing program whose members receive discounted rates for FedEx shipping," and that it would not be changing the NRA discount program.
HotelPlanner
The booking site HotelPlanner.com has a discount program for NRA members, and its CEO, Tim Hentschel, says there are no plans to end it. "We're a classic hospitality company," Hentschel said on CNBC on Monday. "If you ask us to be a part of your boycott war, that's not what we're about. We're about hospitality, we're about welcoming all guests."
It's this stance that has inspired some to push for a boycott of HotelPlanner.
Roku
Like Apple and Amazon, Roku has been under fire from groups such as Moms Demand Action for continuing to stream the NRATV channel. "We are not promoting or being paid to distribute NRATV," Roku said in a statement, according to TheStreet.com. "We do not and have not ever had a commercial relationship with the NRA ... We welcome Moms Demand Action and other important groups to use our platform to share their messages too."
Vinesse Wines
Vinesse Wines runs the official wine club of the NRA. The company has not released any statement regarding its NRA partnership, nor has it said anything in response to calls for consumers to boycott Vinesse Wines.
Vista Outdoor
Until recently, many outdoors enthusiasts probably had no idea that some of their go-to brands for gear are owned by Vista Outdoor. Utah-based Vista Outdoor owns brands such as CamelBak, Giro, Bolle, and Bushnell, which are best known for their hydration products, helmets, goggles, and binoculars, respectively.
The problem, from a gun-control supporter's perspective, is that Vista Outdoor also owns several guns and ammunition brands, including Savage Arms, one of the country's biggest producers of semi-automatic rifles. "Many outdoor enthusiasts—including a number on staff here at Outside—had no idea" about the ownership of Camelbak and the other brands, a story at Outside magazine reported last week.
Like most gun manufacturers, Vista Outdoor supports the NRA. Many runners, bicyclists, and gun-control activists say that all Vista Outdoor brands should be boycotted. In addition to individual consumer boycotts, some bike shops are saying they will stop buying any Vista Outdoor-owned brands until the company cuts ties with the NRA.
YouTube
Critics of the NRA are calling for boycotts of YouTube and YouTube TV because NRA videos and the NRATV channel are available for streaming on the services.