O.J. Simpson Owes Millions. Here's Why He Can Retire Comfortably and Never Work Again Anyway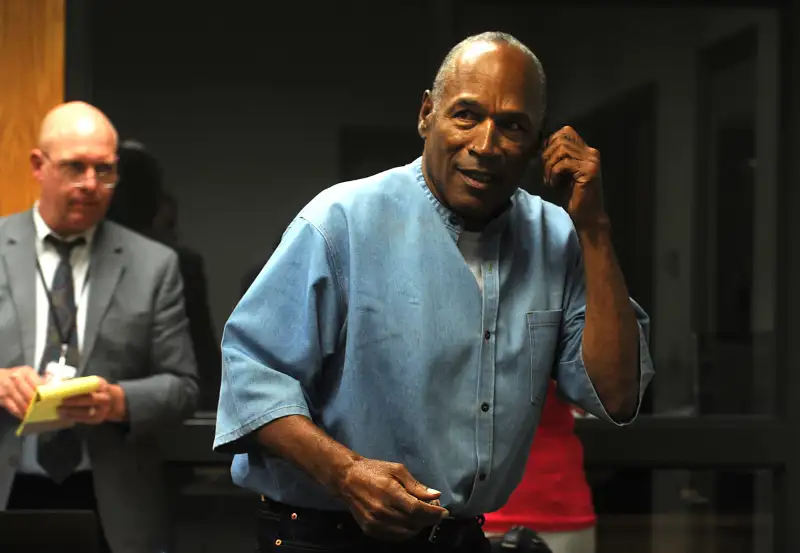 O.J. Simpson has been granted parole, and will be released from prison as soon as October 1.
Once he's a free man, Simpson will be under significant pressure to pay off the tens of millions of dollars he still owes in the aftermath of a double murder that will forever be tied to his name. But will he ever actually pay?
The 70-year-old former NFL player and movie star, who has been in jail for nearly nine years after an armed robbery conviction, was acquitted in the 1995 "trial of the century," in which he was accused of murdering his ex-wife Nicole Brown and her friend, Ronald Goldman. But two years later, Simpson was found liable for their wrongful deaths in a civil court case waged by Goldman's family, and ordered to pay $33.5 million to the victims' families.
Simpson has reportedly avoided paying the damages, and once interest and further court proceedings are factored in, he now owes as much as $58 million, according to Reuters.
The exact state of Simpson's finances are murky, known perhaps only by financial advisors and family. Amid the confusing, sometimes contradictory reports, the consensus holds that Simpson is fairly well off thanks to income from pensions from both the NFL and the Screen Actors Guild. What's more, legal experts say that pension funds cannot be touched by creditors, meaning that Simpson won't have to pay any of this income to over to the plaintiffs who won the wrongful death civil judgment against him.
How much money does Simpson have, and how much will he be making as a free man? Recent estimates for Simpson's net worth range from $250,000 to $3 million. His pensions will most likely be Simpson's biggest source of income going forward.
According to ESPN's Darren Rovell's math, Simpson's pension from the NFL would pay $10,565 per month (over $125,000 per year) assuming he didn't start collecting until he was 65. If Simpson began collecting at age 65—when he was in prison—he would have taken in just over $600,000 while in jail.
Sports Illustrated, on the other hand, previously reported that Simpson's NFL pension could pay out as much as $25,000 per month. That would be $300,000 per year.
A friend of Simpson's told USA Today that Simpson invested $5 million in a separate private pension years ago, and that he should be collecting an undisclosed sum from a Screen Actors Guild's pension.
CNN noted that when Simpson gets out of prison, he will also be eligible to collect Social Security for the first time, which would pay up to another $3,538 per month, or $42,000 annually. (Like pensions, social security benefits generally cannot be garnished by creditors.)
Before being convicted of armed robbery, kidnapping, and other charges in 2008, Simpson lived in Florida, where state laws enabled him to keep a home and other assets out of the hands of creditors. It is expected that upon his release from prison Simpson will move back to Florida, assuming that doesn't violate the terms of his parole. Holding down a job is often required of parolees, but "Simpson won't be obligated to seek and maintain employment" because of his age, Sports Illustrated legal expert Michael McCann reported.
In other words, Simpson could own a home and live a comfortable easygoing life retired in Florida, without being forced to pay much if any of the millions he owes.
So what, if any, hopes do the family of Ronald Goldman have for getting Simpson to pay the damages awarded from the wrongful death civil trial?
While pensions and retirement income are off the table, David Cook, a lawyer for the Goldman family, said that he will make every effort possible to force Simpson to hand over whatever other income he earns that's not protected by law. Cook thinks that in today's world it would be easy for Simpson to make money in fields like social media or reality TV, or otherwise figuring out a way to turn his celebrity into cash.
"The name O.J. Simpson has nearly the same recognition as the person sitting in the White House," Cook said to Reuters.