It's Shocking How Much a Beer Costs at Oktoberfest This Year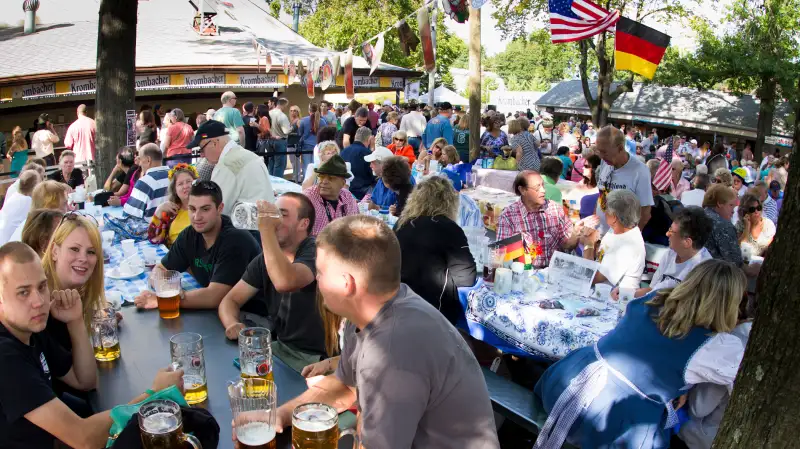 Here's a bit of bad news for beer lovers traveling to Munich for the annual epic Oktoberfest celebration: The average price of a one-liter stein of "bier" served by dirndl-clad waitresses at the festival will run €10.54. That's the equivalent of almost $12!
Beer prices at Oktoberfest are up 3% compared to last year. That doesn't sound too bad, but the rise far outpaces Germany's current inflation rate of 0.3%, Bloomberg reports. In fact, most parts of a trip to Oktoberfest will cost travels more than previous years, as other expenses, like the price for the traditional roast chicken, have also jumped.
Common sense says that people consume less of a good as prices increase. But in economist-speak, Oktoberfest beer and chicken are "Giffen" goods, or products that people consume more of as prices rise, typically because there are no substitutes, Bloomberg notes. As such, the increase isn't expected to impact consumption by Oktoberfest participants, though it should give profits a boost. The price hike will hit all six breweries represented at the Theresienwiese fairground, and experts don't expect visitors to drink—or eat—any less during the annual celebration.
Much like beer is vastly more expensive at festivals and sports stadiums in the U.S., it is unsurprising for beer to be overpriced at Oktoberfest. But the price differential is truly extraordinary. Elsewhere in Germany, a beer might typically cost the equivalent of $5 or less. That's at a bar. A bottle of beer in a supermarket in Germany often costs less than $1. So Oktoberfest revelers are paying quite a premium.
Read Next: The Battle Brewing to Become the Coors Light of Craft Beer
Even so, most of this weekend's six million Oktoberfest attendees will hail from Munich's home state of Bavaria, according to WalletHub. About 19% travel from abroad, and about 3% come from the U.S. The site estimates that the trip would cost the average american about $5,000. The festival is estimated to have a $1.2 billion economic impact on Munich.