Meet the New Old Spice Guy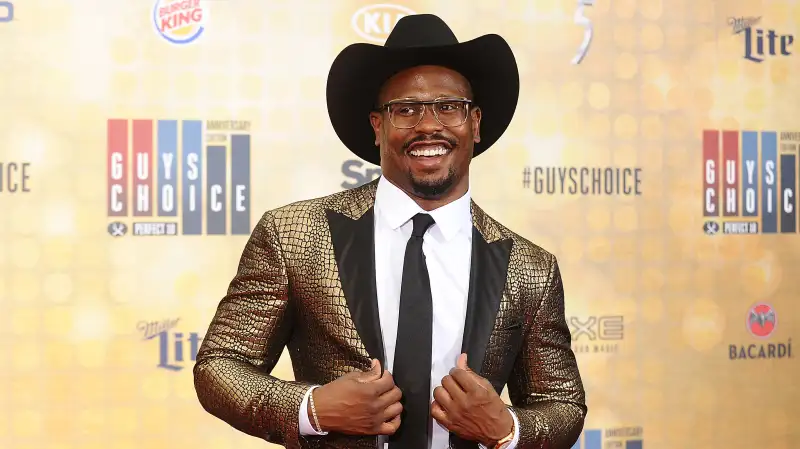 For Superbowl season 2016, Axe debuted a commercial calling on consumers to break the mold, find their magic, and redefine what it is to be cool.
Old Spice is taking its competitor's mantra a step further. Von Miller, the newest Old Spice guy, hasn't just found his magic, he's found several different kinds. And, as a chicken farming, competitive ballroom dancing, Superbowl 50 MVP winning linebacker, he seems to be owning all of them.
In a press release today, P&G announced the Denver Broncos MVP would become the newest Old Spice guy, and the face of their 2016 NFL campaign, stating that "Von's engaging, humorous demeanor and hardworking on-field performance align perfectly with our ridiculously masculine brand."
Miller isn't the first football player to become the face of Old Spice. Terry Crews of the Philadelphia Eagles and Greg Jennings of the Green Bay Packers have also starred in previous ads. The company's clever, weird commercials have helped sales increase by 107% and have been viral hits after the brand looked to revitalize it's slow, older image in 2010.
Here's more on Miller's interests off the football field:
He loves his chickens. If this hasn't been clear already, Miller has become somewhat well-known as a humane chicken farmer, and has about 25-30 birds. He even has a tattoo of a drumstick on his arm, although the chickens he raises aren't for eating. "They're more like pets, those are my guys," he told ESPN's Mike and Mike. Dolphins' player Damontre Moore has spoken about the legitimacy of the operation. "He's even got roosters. If you go down to DeSoto, Texas, you can stop by Von's farm and get yourself a dozen organic eggs."
He was a competitor on Dancing with the Stars. After winning the Superbowl, Miller went on to compete on the 22nd season of the ABC reality show. After dancing the salsa while dressed as Elvis Presley, he was eliminated and took eighth place.
He started a children's eyewear foundation. In 2012, Miller founded Von's Vision, a charity working to provide low-income children in the Denver area with eye exams and eyewear. Every year, city-wide day of eye screenings and exams takes place in schools, after which Miller hosts a reveal party and personally delivers the glasses for kids to try on. Recently, Ellen Degeneres became a backer on the project.