10 Olympic Gold Medals That Sold for Big Money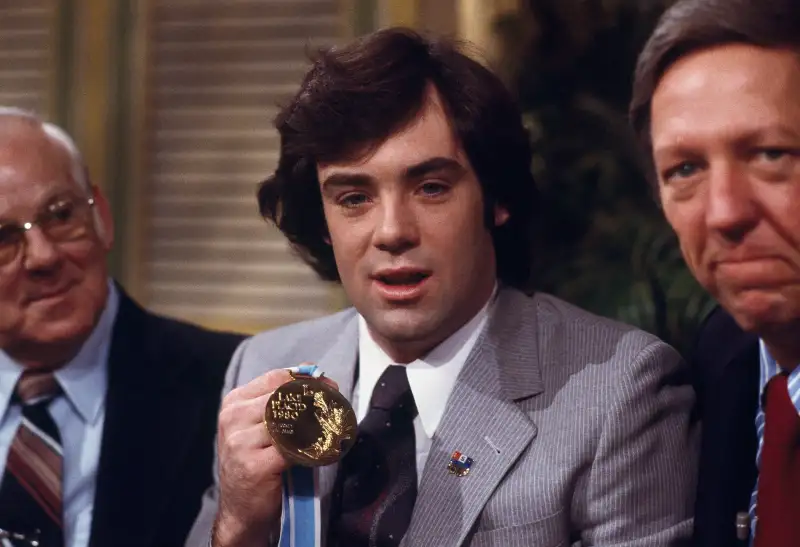 The 1980 "Miracle on Ice," in which the U.S. men's hockey team beat the Soviet Union at Lake Placid, is almost universally accepted as the greatest upset ever in the Olympics—and in the history of all sports, period. The Cold War-era game and its aftermath have been the subject of two acclaimed documentaries and one phenomenally inspirational Kurt Russell movie. The image of Team USA celebrating its victory was named the most iconic Sports Illustrated cover of all time, and the magazine also named the "Miracle on Ice" as the #1 Greatest Moment in Sports History.
None of it would have happened were it not for goalie Jim Craig, who was described as "flat-out phenomenal" and a "tower of strength" at the time. The Soviet Union was considered by far the best team in the world in the 1970s and early 1980s, and just before the Olympics started they scored 10 goals versus USA in an exhibition game. The Americans entered the games seeded #7 out of eight teams, and the Soviets had 39 shots on goal to only 16 by USA in their historic Winter Olympics matchup. Thanks to Craig, Team USA's defense, and some clutch scoring, that was enough to win the "Miracle."
It's hard to say how much the historic gold medal won by Jim Craig is worth, but auctioneers recently tried to find out. In June, a collection of Craig's Olympics memorabilia that included his jerseys worn at Lake Placid and his gold medal, was put up for auction. Lelands, the auction house charged with selling Craig's "Miracle on Ice" medal, described it as "arguably, the most important gold medal ever to be publicly sold," and estimated its value at $1 million to $1.5 million.
The true value of any collectible is what the market is willing to pay for it, though, so we don't really know how much Craig's medal is worth. While the goalie mask Craig wore during the 1980 Winter Olympics sold for around $115,000 and several other items were also snatched up by buyers, no one bid enough to win the gold medal during the June 17 auction. So we'll have to keep waiting to see how much someone is willing to pay for the historic medal, assuming Craig will put it up for sale again.
Here are some of the prices other Olympic gold medals have fetched at auction over the years, including one that went for $1 million and another that sold for well above that.