What's the Cheapest Place to Buy Groceries Online? We Compare Amazon, Walmart, Peapod, and FreshDirect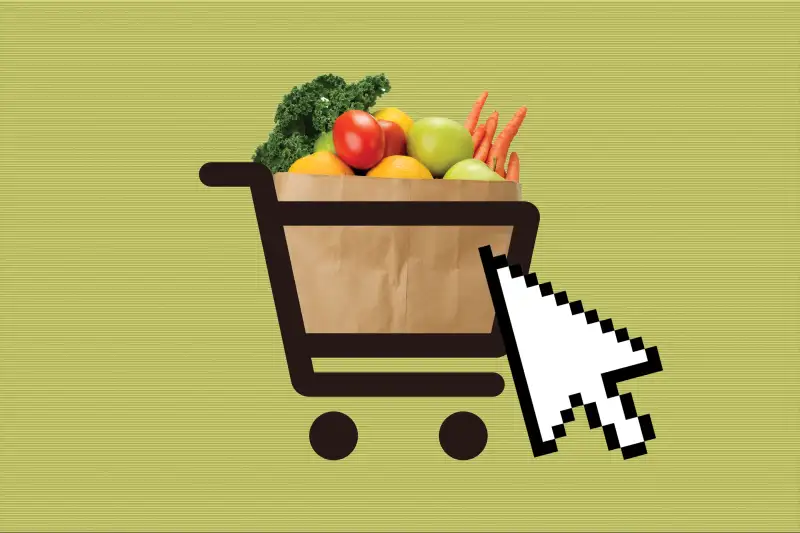 Odds are, you're at least curious about online grocery shopping because it's annoying to have to constantly run to the supermarket and load up with food.
But even if you buy everything from toilet paper to dog food to sneakers online, you probably still shop for groceries the same way your parents and grandparents did. Buying food is a process that remains firmly rooted in the 20th century: Years into the e-retail revolution, and even after huge players like Amazon and Walmart have launched major online grocery shopping services, the category is responsible for just 3% of grocery sales overall.
As numerous corporate executives and business writers have pointed out, there are reasons for the glacial pace of online grocery sales adoption beyond people just wanting to pick out their own chicken drumsticks or apples in person. Here are a few of the reasons most people still don't buy groceries online:
The service might not be available where you live. Even if you wanted to

order groceries online

, the sheer number of people and miles means it's not feasible in parts of the country with far-flung populations to get

online grocery delivery

.

It's labor-intensive (a.k.a. expensive) for companies to implement. While shoppers are used to fast, free shipping on almost everything else they buy online, even for huge retailers like

Walmart, free grocery delivery

just isn't a financially feasible service.

Comparison-shopping and even browsing grocery prices online are difficult, to say the least.
It's especially difficult to figure out the overall cheapest place to buy groceries online because you must factor in subscription costs (if required), as well as the possibility of delivery fees added to each order, the degree to which online and manufacturing coupons are allowed and available, and so on.
Here's a look at how Amazon and Walmart, two companies that are aggressively expanding in the online grocery space, charge for their services.
This service is actually sold as an add-on of Amazon Prime, so you'll need to pay for Prime ($12.99 monthly or $119 annually) first, then another $14.99 monthly for AmazonFresh.
Then, there's a slightly confusing tiered system for delivery fees beyond that. Customers in seven metro areas and Northern California have to have a minimum order of $35 before tax, and customers outside of those areas have to spend $50 or more per order, or else pay an additional $9.99 delivery fee.
Complicating things further, AmazonFresh is a separate animal from Amazon Prime Pantry, which lets Prime members buy non-perishable foods and household items and has a similar two-tiered pricing structure.
Walmart doesn't have a subscription-based plan for ordering online groceries like Amazon. Instead, Walmart has a $30 order minimum for online groceries, and delivery fees range from $7.95 to $9.95, depending on the time of the delivery.
With a quick glance of Amazon's subscription costs, and the minimum purchase requirements and delivery fees at Walmart and AmazonFresh, it's easy to see that if you don't shop for food often or if you cook for only one or two people, it probably doesn't make financial sense to buy groceries online.
But if you can live with the fees and purchase requirements, the next question you probably have is: What's the cheapest place to buy groceries online?
Comparing Online Grocery Prices
If you're looking for the cheapest place to buy groceries online, comparison-shopping to figure out how much the actual groceries cost isn't easy or intuitive. We took a look at a few fresh-food staples as an example, and tracked down online grocery prices at Amazon and Walmart, along with two other big online grocery services, Peapod and FreshDirect.
We used the same target zip code for each site in our grocery price searches, but prices are subject to change and vary by location. So online grocery prices from these services may be different where you live. (Also, like online groceries services from Walmart and AmazonFresh, Peapod and FreshDirect may not be available where you live, and the minimum purchase requirements and delivery fees can be confusing. There are also different fee structures for customers who order groceries online and pick up at a store or other location.)
In some cases, just finding comparable products was a challenge, because online grocery providers have slightly different sizes and packaging configurations. When we were able to compare (figurative) apples to apples, we found that some items were very similar in price across the board, while others varied widely.
Gallon whole milk (non-organic)
AmazonFresh: $4.99
FreshDirect: $4.29
Peapod: $3.89
Walmart: $3.66
16 ounces Barilla dried penne pasta
Amazon: $1.59
FreshDirect: $1.59
Peapod: $1.45
Walmart: $1.38
5 ounces organic spring mix greens
Amazon (Whole Foods brand): $3.49
FreshDirect: $3.99
Peapod: $3.49
Walmart: $2.56
Pint organic grape tomatoes
Amazon: $3.99
FreshDirect: 12-ounce package for $4.49
Peapod: $4.49
Walmart: 10-ounce package for $2.86