15 Organizations Doing Business With ICE — and How Much They're Making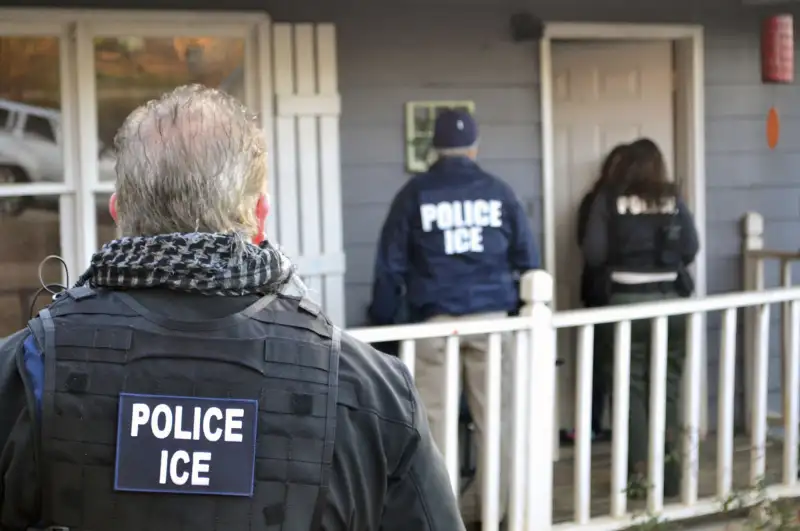 Following last week's outpouring of concern and outrage over federal border policies, people all along the political spectrum are condemning or calling for the abolishment of the U.S. Immigration and Customs Enforcement, known as ICE. Founded in 2003, ICE is seen as one of the central agencies enforcing the hardline Trump administration policy that separated thousands of immigrant children from their parents.
But ICE is far from just a government organization. Private companies and educational institutions are in business with the agency — and starting to take heat for it.
A prime example is Microsoft, where more than 300 employees penned an angry open letter after discovering the company has a $19.4 million contract with ICE. They asked CEO Satya Nadella to cut those ties immediately.
"We are providing the technical undergirding in support of an agency that is actively enforcing this inhumane policy," the letter read. "We request that Microsoft cancel its contracts with ICE, and with other clients who directly enable ICE. As the people who build the technologies that Microsoft profits from, we refuse to be complicit."
(In a blog post, Nadella said he was "appalled at the abhorrent policy" and that "as both a parent and an immigrant, this issue touches me personally." He then explained that Microsoft was only giving ICE email, calendar, messaging and document management services, not helping with any projects related to family separation.)
ICE declined to comment on whether the buzz around immigrant family separations has caused any companies to cut their contracts short. But Microsoft isn't the only high-profile business doing business with ICE. Records show that several companies and universities that are household names have contracts with the agency to provide everything from copy machines to training sessions — despite the fact that, in some cases, their executives have publicly criticized the family separations.
Money combed through USAspending.gov, a database operated by the Treasury Department, to identify 15 organizations with recent ICE contracts. Although many of the deals don't appear to involve border policies, the breadth of the $6 billion agency's business ties helps to illustrate ICE's large and growing influence.
Northeastern University
Paul Marotta—Getty Images
About $2.7 million has been obligated in the college's ICE contract for "exploratory methods mapping (EMM) process services for big data sets." The agreement has a potential award amount of roughly $7.8 million if all options are exercised and goes through August 2021.
Renata Nyul, Northeastern's vice president of communications, tells Money the university has a contract for faculty "to look at trade data related to illegal export of weapon technologies." She added that "Northeastern is a global institution with a global community of students, faculty and staff."
Its law school recently launched an immigrant justice clinic in which students manage cases in partnership with the Political Asylum/Immigration Representation Project, a group that gives free legal services to people who have been unjustly detained or sought asylum in the U.S. The university also previously joined onto an amicus brief opposing President Donald Trump's travel ban.
Ernst & Young
Raymond Boyd—Getty Images
The government has agreed to pay nearly $4 million in an agreement with the accounting firm to provide ICE with "accounting, program management, budgeting and financial support services" through September 2018. ICE also recently completed a $98,000 Ernst & Young purchase order for leadership training.
Ernst & Young declined to comment to Money.
Thomson Reuters
Robin Marchant—Getty Images for Advertising Week New York
Thomson Reuters Special Services, which is a subsidiary of the company you may know for its news coverage, has a contract with the potential to exceed $4.7 million through July 2021 for its Web of Science subscription services. Web of Science is a citation database. The company also has a $2.1 million purchase order with ICE for "risk mitigation services," as well as a $126,000 one for "consulting services."
Meanwhile, Thomson Reuters Special Services CEO Stephen Rubley is a board member at the ICE Foundation, which supports employees, runs awareness campaigns, helps victims and gives financial aid to families of agents killed or wounded on the job, among other things.
A spokesman for Thomson Reuters tells Money that it provides ICE "with products that support active criminal investigations and priority cases involving threats to public safety and/or national security," noting that the special services products "are not used by the Border Patrol Division for purposes of patrolling the border for undocumented immigrants or their detainment."
Motorola Solutions
Paco Freire—SOPA Images/REX/Shutterstock
The communications company has an active contract with ICE with a total value of about $3 million. Covering a period from September 2016 through March 2019, the delivery order is for "core upgrade/GPS project/mobility project," which is further categorized in documents as "integrated hardware/software/services solutions." ICE also awarded the company a contract for a "tactical communications program" with a potential award amount of $15.3 million.
Motorola Solutions, Inc. did not return Money's request for comment.
Deloitte
James Brittain—VIEW/REX/Shutterstock
ICE awarded Deloitte Consulting LLP a contract with a potential award amount of about $1.2 million for "administrative and data/records management support services." The company has several other large contracts with the agency, as well, including one in which the government has already promised to pay about $13.5 million for "program management office support services."
Deloitte did not return Money's request for comment.
Johns Hopkins University
Patrick Semansky—AP/REX/Shutterstock
The private research university has an indefinite delivery contract to provide university-level education and training services. Johns Hopkins has various ICE agreements for tactical medical training (potential award amount: about $992,000) and Gettysburg staff rides (a potential $455,000), which are visits to historic battlegrounds to learn leadership and decision-making, according to the Johns Hopkins website.
In a reply to Money, a university spokesman said he was looking into it.
Dell
Smith Collection/Gado—Getty Images
Dell Federal Systems LP, a branch of the company you probably know for its computers, has a handful of agreements with ICE, including one for a potential $500,000 for software and one for a potential $42,000 for laptop licenses.
Dell did not respond to Money's request for comment. CEO and founder Michael Dell made headlines last year for not criticizing Trump's travel ban in an internal memo. Instead, Dell said he planned to "advocate for immigration reform that supports our business, our customers, our team members and their families."
Xerox
Michael Nagle—Bloomberg via Getty Images
The Xerox Corporation has a few ICE contracts, most of them for maintenance on printers and copiers. One is in the amount of about $130,000 and covers a period that started last September; another is for over $4,000 and started this past April.
Xerox did not return Money's request for comment.
Canon
Marc Pfitzenreuter—Getty Images.
Known for its cameras, Canon has several agreements with ICE covering the purchase of multifunction copiers and repairs, including one delivery order with a potential award amount of nearly $53,000 and another for as much as $44,000.
Canon did not return Money's request for comment.
Vermont State Colleges
Lisa Rathke—AP/REX/Shutterstock
The system was awarded with a roughly $12,500 ICE purchase order to "provide group leadership development series training." It also recently completed a $12,000 contract for a four-credit college managerial accounting course.
Vermont State Colleges did not comment to Money. Chancellor Jeb Spaulding has previously supported the Deferred Action for Childhood Arrivals (DACA) program, saying in a September 2017 statement that "the diversity that immigrants and foreign students bring to our colleges strengthens the learning experience for all our students and will be good for our country's future."
Amazon
Rick T. Wilking—Getty Images
Amazon.com LLC has a nearly $12,000 purchase order for RRT supplies, possibly an acronym for "rapid respond team." The contract started in May and goes through July.
Amazon did not return Money's request for comment, but workers aren't happy. A group of employees sent CEO Jeff Bezos a letter last week asking him to stop giving ICE access to facial recognition software and allowing ICE contractor Palantir to use its services, saying that "in the face of this immoral U.S. policy, and the U.S.'s increasingly inhumane treatment of refugees and immigrants beyond this specific policy, we are deeply concerned that Amazon is implicated, providing infrastructure and services that enable ICE and [the Department of Homeland Security]."
Time Warner Cable
Andrew Burton—Getty Images
Time Warner Cable Enterprises LLC has a roughly $6,000 agreement through April 2019 to provide cable and internet services for two locations in Texas. Another purchase order ensures ICE will have cable and WiFi at an office in Buffalo, N.Y.
The company did not return Money's request for comment.
Comcast
Jeff Fusco—AP/REX/Shutterstock
Comcast Cable Communications, LLC has a $4,800 contract to provide ICE with cable and internet through November. The records are vague, but the primary place of performance is listed as Atlanta, where NPR reported that the number of arrests of immigrants without criminal records more than tripled in 2017.
Comcast did not return Money's request for comment.
LinkedIn
David Paul Morris—Bloomberg via Getty Images
The job networking site has a roughly $3,600 contract with ICE for what's described as a "license agreement for unlimited library access." It started this past March and extends through April 2019.
Specifically, LinkedIn spokeswoman Suzi Owens tells Money the contract is for access to Lynda.com, an online education company that offers classes in leadership, project management and other subject areas. Owens notes that LinkedIn helps many federal agencies with recruiting and professional development.
She also says the company opposes "any actions taken by the U.S. immigration authorities to separate families at the border," adding that "LinkedIn is not working with the U.S. government on any projects related to separating children from their families at the border."
UPS
Patrick Gorski/NurPhoto—Getty Images
The government has agreed to pay the United Parcel Service Co. $3,500 so far as part of an ICE agreement for "domestic delivery services" through August. But the award amount could potentially reach to $31,500 if all options are exercised.
UPS did not return Money's request for comment.
An earlier version of this story incorrectly referred to Stephen Rubley as the CEO of Reuters. He is the CEO of Thomson Reuters Special Services.