This Annoying New Fee Marks the End of an Era in Las Vegas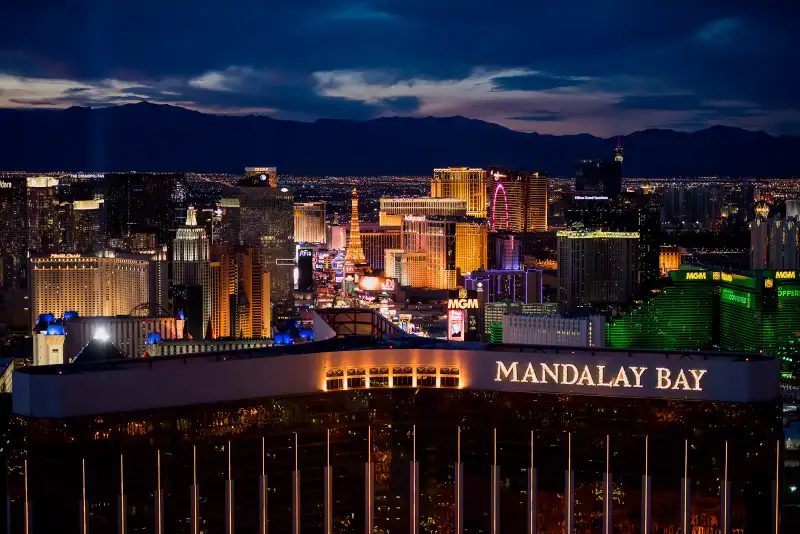 David Paul Morris—Bloomberg via Getty Images
Give customers the idea that they're getting special treatment—or better yet, something special for free—and odds are, they'll be happy customers. Specifically, they'll be the kind of happy customers who hang around and spend money, and come back again and again.
That has traditionally been the business model at Las Vegas casinos. It's the rationale for why high rollers get meals and rooms comped, why buffets and steak dinners have often been dirt cheap, and why drinks served to gamblers by cocktail waitresses are usually free (if they're tipping and gambling enough). And it explains why parking is free at casinos on the Strip.
Or rather, why parking was free. Recently, MGM Resorts announced it was spending $90 million to expand and upgrade parking at its Las Vegas properties, while simultaneously introducing "a modest parking fee" for people who self-park or use valet parking. "Parking fees will be moderate when compared to similar fees in other markets," MGM stressed of the charges, which will become policy sometime in the second quarter of 2016. "An overnight guest utilizing a self-park facility will pay $10 or less."
Yet for many Sin City regulars accustomed to free parking, the institution of any such fee is outrageous by definition. MGM Resorts, a corporate monolith that owns properties like Mandalay Bay, Luxor, Excalibur, MGM Grand, and New York-New York and is adding parking fees to all of them, seems to be "breaking a cardinal Vegas rule," in the words of the Las Vegas Review-Journal.
"In Las Vegas, where free parking has been a way of life and a clear sign that we're all getting something for nothing, it's tantamount to calling Elvis a girlie girl and saying Sinatra was a so-so saloon singer," the Review-Journal columnist John L. Smith explained.
Angry (former) MGM guests have done what all consumers do nowadays when they're upset with the latest greedy corporate initiative: they launched a Change.org petition pressuring MGM to drop the fee, and clogged the MGM Resorts Facebook page with negative comments. "You guys are destroying Las Vegas," one commenter stated. Another wrote:
Many commenters said that they will simply take their business elsewhere. Plenty of non-MGM properties still have free parking, for the time being. But most people assume that MGM will start a trend, and before long the competition will follow suit with parking fees of their own. Las Vegas Weekly noted that this is the "conventional wisdom" for how things will play out. The Weekly also pointed out that the likely trickle-down effects of the new parking fees include a decline in car rentals, longer waits to get in and out of parking garages, and higher pricing on rides with Uber or Lyft as demand increases.
For visitors who remember the Vegas of old, the arrival of parking fees is just the latest in a long string of changes meant to address declining gaming revenues as casinos have spread throughout the U.S. and gambling has become less of a novelty. While Las Vegas visitation numbers regularly increase, the average amount spent on gambling has headed south, hence the need for casinos to milk guests for cash in other ways. That's why cheap buffets have disappeared and resort fees have become standard, and why you're likely to hear regulars complain that casinos have become stingier with free drinks and comps.
"When gambling was the be-all and end-all to our business models, we gave away anything we could to increase the gambling revenue, including cheap rooms and cheap food," Jim Murren, MGM Resorts CEO, wrote in a company blog post published on Thursday. Times have changed, Murren explained, as 59¢ breakfasts and free hot dogs have disappeared, celebrity chef-run restaurants are now everywhere on the Strip, and guests have "come to expect high quality restaurant experiences in Las Vegas over free or low cost food."
"Many of the traditional features of a visit to Las Vegas are now part of our long ago history," Murren wrote. "The current parking model is decades old."
So, if what you liked most about Las Vegas was snagging cheap deals—$1.99 buffets, $25 rooms, and yes, free parking for all—then you're out of luck. That Vegas appears to be long gone.