People Venmo Money to Their Friends Just to Say 'Hi'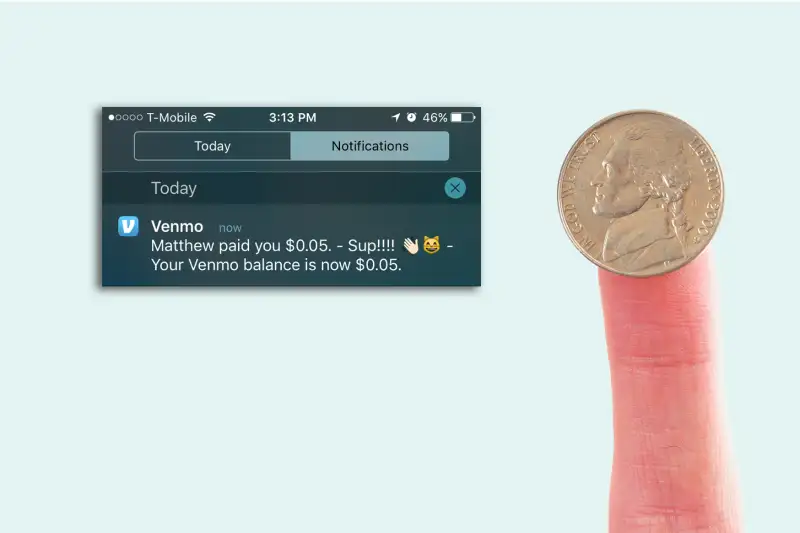 Evan Sharboneau—Getty Images/Hemera
Christina Varela, a college student from San Pedro, Calif., sometimes Venmos $5 to her close friends, with captions like, "Because Mondays suck and because I love you" or "I miss you."
"It's the little things that can turn people's day around," 21-year-old Varela says.
She's part of the growing number of people who use peer-to-peer payment systems like Venmo to send small, unexpected sums to friends just because. Close to 40% of Americans engage in this behavior, according to a survey of 1,000 people ages 18 to 55 last month conducted on behalf of PayPal, which owns Venmo. They've dubbed this phenomenon "penny poking."
While the survey didn't distinguish between electronic and snail-mail penny pokes, it's safe to say that most Americans aren't putting small bills into envelopes and dropping them into a mailbox. The increased use of mobile technology has accelerated these unexpected gestures, says Pablo Rodriguez, senior director of global consumer initiatives at PayPal.
Peer-to-peer payment apps and platforms make up more than one-third of all repayments between friends, according to the study. The rest of repayments are made by cash and checks.
The average American sends more than $1,500 to friends through peer-to-peer payment systems over the course of the year, according to the survey. Millennials send more than $2,000. Unsurprisingly, the most common reason for repayment was reimbursement for food and meals.
Of those who send "penny pokes" — those unexpected transfers of $1 to $5 — the most common reason is to say thank you, followed by to cheer the recipient up.
When it comes to Venmo and other payment apps, it's best to keep transactions among family and friends, experts say. These apps generally don't automatically wire money to the recipient's bank account. In the case of Venmo, for example, funds are put into the recipient's Venmo account, which the recipient then needs to transfer to his or her bank account. Scammers have taken advantage of this lag time, and the misperception that money gets wired immediately, to rip off people who are selling goods online and agree to accept payment via a peer-to-peer platform: They'll pick up the merchandise and then cancel the transaction. In this respect, transfers via Venmo and other peer-to-peer platforms are more like checks than cash.